My Favorite Nail-Polish Colors for Fall
BY: FAVIN THE MAVEN | 10.3.2014 |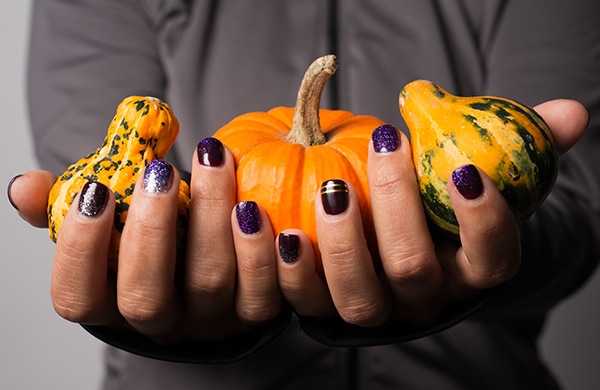 Manicures are hands-down (no pun intended) my favorite beauty treatment—especially because I love my nail technician, Mai Tan, at Chicago's Elle Nail Spa. The manicure in the picture above is all her, and if you follow me on Instagram, you've seen a lot of her work. She did this neon-tipped french mani and this stars and stripes one for the Fourth of July.

Those were summer manicures, though, and summer's pretty much over. (I almost cried when I typed that sentence.) To get ready for fall, I chatted with Mai about the season's polish trends. She explained that a lot of people have neon fatigue, so neons are out and more muted grays, taupes, and burgundies are in. She's also seeing a lot of funky finishes, especially matte grays and pinky-neutral polishes dusted with gold glitter.
With all that in mind and a little help from Mai, I picked out my five favorite polishes for fall.
Usually I think that red polish looks too glam, but this one has pinkish undertones that make it a little less black-tie-only. Mai said her clients have been requesting this one a lot.
Navy is an unexpected take on neutral polish, but it works! I love this one's subtle sparkle and saucy name. (According to the website, "bluey" is old-school slang for an adult film. Let's bring it back, guys!)
This metallic purple is sort of like burgundy—if burgundy was going to a rave.
Mai said this is the most requested polish at her salon, and I'm not surprised. It's not too neon, not too goth. Basically, the perfect middle ground between summer and winter colors.
I'm pretty sure From the Heart is a play on how this polish looks like blood, which means this color is perfect for Halloween. And it's warm but neutral, so it'll look great for the rest of fall and winter!
BY: Favin the Maven
Favin the Maven
Beauty blogger working at Groupon. For me, both beauty and fashion need to be accessible and not intimidating. I love a great deal and a good DIY beauty treatment. I pride myself on trying new trends, being open minded and getting a great treatment without breaking the bank. In the name of beauty I will try anything once.