My New Best Friend Might Be a Miniature Car Buffer
BY: Favin the Maven |
Apr 22, 2014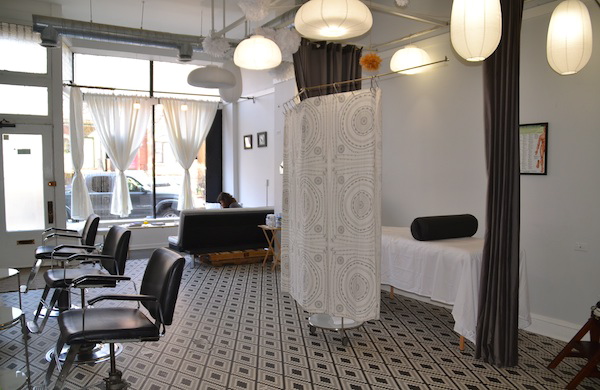 Buff Boutique's vibrating body buffer, the BFF, would be my actual BFF if it could talk. It massaged me, exfoliated me, and sloughed off all my leg hair.
When I first walked into
Buff Boutique
 (723 W. Wrightwood Ave), I thought it looked like a sunny hair salon. Pristine white walls, white curtains, and what looked like three hair dryers, each hanging in front of a numbered salon-style chair. (Instead of 1-2-3, they're numbered 3-1-2, a cute little shout-out to Chicago.) The hair-dryer-ish things aren't hair dryers, though. They're body-buffing machines that inventor and Buff Boutique owner Josh Grabowski lovingly calls BFFs. The BFF works a little like the buffers at a car wash. Its head, which is about the size of a saucer, spins around. Depending what cover (or "bonnet," as Josh calls it) you put on it, it can boost circulation, get rid of your stubble, or moisturize your skin. It's an innovation Josh compares to the Clarisonic. "The Clarisonic [skin-cleansing brush] was a whole new way to take care of your face," Josh said. "It was a whole new category of product. This is kind of the same thing, but for the body." Josh was great at explaining the three-part treatment, but since it's a new thing, "you kind of have to feel it to know it," he said. So he buffed me for 30 minutes, and here's how it felt:
amazing!
If "amazing" isn't enough for you, though, here's my more detailed breakdown of my first friend-date with my BFF.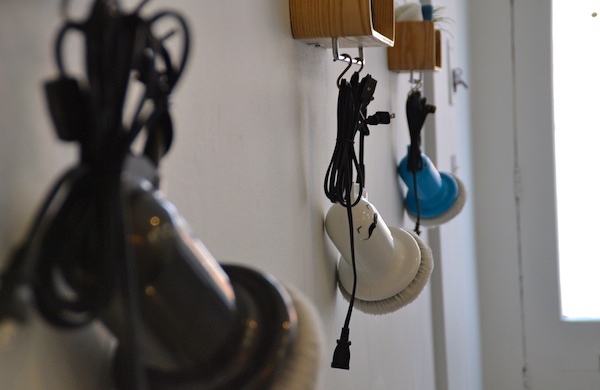 Part 1: Dry Massage
What happened:
Josh gave me an over-the-clothes body massage with the buffer. Its head rotates
and
vibrates, so it boosts blood flow wherever it touches—sort of like a magic wand. The vibrations get more intense over time, too, as your body loosens up. And he was able to get all the major areas of my body, as we moved from a salon chair, to a massage chair like
this one
, to a massage table.
How it felt:
Like getting run over by a tractor, in a good way. For me, it was especially soothing on my back, feet, and hands (probably because I sit at a desk and type all day).
Afterward:
I felt a little itchy, but Josh said that was a good thing. Apparently it meant my body was releasing toxins and histamines.
Part 2: Hair Removal (Optional)
What happened:
Back at the salon chair, Josh covered the buffer head in a microgrit sticker, which felt a little like a pumice stone. Then he buffed my legs, which meant he exfoliated them…and
removed all my leg hair
. It seriously came right off! Josh says this part of the treatment works best on short, stubbly hair on the arms and legs. It also only works on bare skin, but no worries if you're wearing long sleeves or pants. The boutique has plenty of super-plush robes.
How it felt:
This felt more like a massage than one of those exfoliating treatments with microbeads. There was no sensation of roughness, even though it worked like a charm.
Afterward:
My legs were smoother than when I shave them myself! They were covered in a white film of dead skin, too, but that was remedied in the last part of the treatment.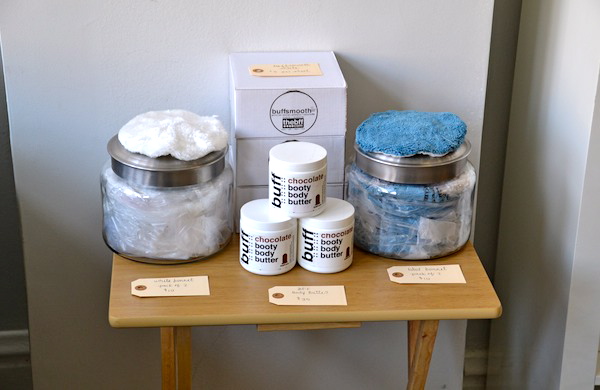 Part 3: Body Butter
What happened:
Josh scooped some shea butter moisturizer onto the buffer (now covered in a microfiber cloth). He then buffed my legs, and they morphed from ashy white back to skin colored.
How it felt:
It
still
felt like a massage, but with a hydrating sensation on top of that. It was great—all the fun of moisturizing, without all the hassle of moving my hands!
Afterward:
My legs felt like they belonged to a runway model, and I was super relaxed. It probably didn't hurt that they gave me a complimentary mimosa while I was in the chair.
If you live in Chicago, you can schedule a Buff Boutique appointment here. If you don't, you can buy a BFF for your own personal use here.
Photo: Mae Rice, Groupon
BY: Favin the Maven
For me, both beauty and fashion need to be accessible and not intimidating. I love a great deal and a good DIY beauty treatment. I pride myself on trying new trends, being open minded and getting a great treatment without breaking the bank. In the name of beauty I will try anything once.