Nature's Shrunken Head of Lettuce
BY: Katie Cortese |
Mar 25, 2013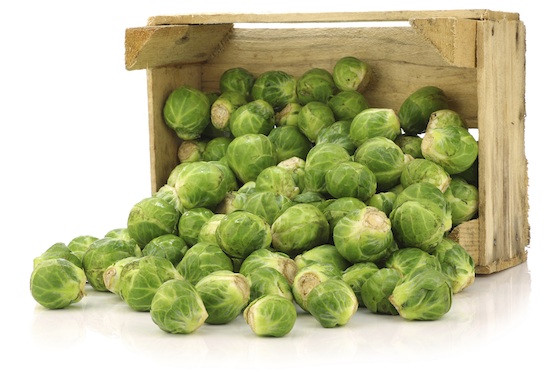 Brussels sprouts get a bad rap. Some people accuse the leafy greens of tasting bitter. Others place blame on a repugnant odor that wafts around the buds when cooked. Executive Chef Lee Guidry, who mans the kitchen at Sushisamba in Chicago, has a soft spot for the sprouts in his culinary heart. "I am a simple guy," he said. "I can do just [sprouts coated in] olive oil and lemon juice."
Though the most common ways of cooking brussels sprouts include boiling, steaming, stir-frying, and roasting, Chef Guidry prefers a different method: grilling. At Sushisamba, he brings brussels sprouts into the kitchen on special occasions and chars them on a robata, or Japanese grill. A hearty coating of yuzu kosho butter—a blend of butter and Japanese seasoning made from fermented yuzu peel, chili peppers, and salt—finishes off the easy and delicious recipe that can be re-created at home.
Robata-Grilled Brussels Sprouts
What You Need
Brussels sprouts, as many as your heart desires




Olive oil, enough to coat sprouts




Salt and pepper




Yuzu kosho butter, enough to coat sprouts



What You Do
Cut off the stem and trim the tough outer leaves of each sprout. Cut in half lengthwise.




Bring a large pot of water to boil. Add salt and blanch sprouts quickly.




Cool off sprouts and then toss with olive oil and a pinch or two of salt and pepper.




Char the sprouts on a grill. Chef Guidry uses a robata, or Japanese grill, but any grill will do.




In a mixing bowl, toss sprouts with yuzu kosho butter.




Compare the sprouts' delicate, charred edges to those of the framed parchment maps you keep inside your car.



The eclectic eatery that is Sushisamba—think illuminated paper cocoons spread across the ceiling and a sunken-in dining pit edged in dangling beads—pumps out these delicious treats on Chef Guidry's command. Ask nicely and maybe he will command it.