Neon, Stiletto, and Floral: The Growing, Yet Still Tiny, World of Nail Art
BY: Emily Wachowiak |
Jun 13, 2013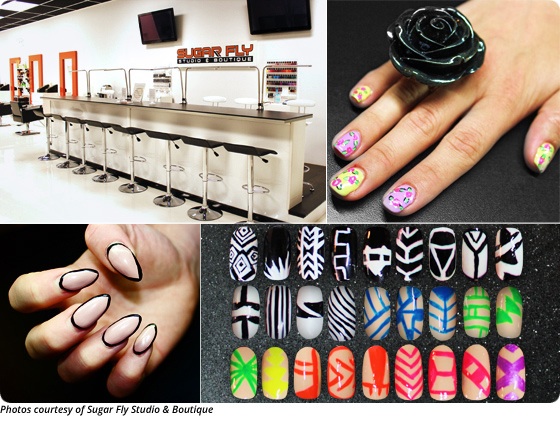 Hand models aren't usually known as cover girls, but that's starting to change. Nail It!—the first North American consumer magazine devoted to nail fashion—just hit newsstands in February 2013, and Claudia Del Leola was one of its first subscribers. The owner of Bucktown's Sugar Fly Studio & Boutique, Claudia has been following nail trends closely since her first trip to Tokyo four years ago. There, exotic nail art is the norm, with women sporting shockingly long, jewel-studded digits as everyday wear. Inspired by what she saw, Claudia brought some of Japan's nail-art 'zines back to the States to begin trying out new designs on her own. Claudia is thrilled that the intricate art is finally going mainstream in the Western hemisphere, and she couldn't wait to share some of this season's new designs.
Graphic Prints in Black/White and Nude/Neon
GROUPON: Where do you look for new nail-art trends? What inspired those patterns?
CLAUDIA DEL LEOLA: It's pretty much fashion that dictates what the new nail trends are going to be, whether it's new nail-polish colors, graphics and designs, [or] textures … [These patterns are] what's in style now. There's been a lot of tribal, linear, graphic prints.
G: Do most people mix and match patterns, or do they go for a more uniform look?
CDL: [Clients] usually like to get some more fancy, intricate ones and then some that are a little more plain, but you usually don't find someone who wants the same design on all 10 fingers. They want a little something different on each one.
G: Do clients pick out patterns from your examples, or can they collaborate with the manicurist on the design?
CDL: They can pick from patterns that we have, but a lot of times people see something on social media, like Facebook or Pinterest especially, and they'll come in with an image and say, "Do you do this? I want this."
G: Are the lines painted freehand, or do you use any special tools?
CDL: Freehand! That's why it's so special. It really is art.
Outline Manicure on Stiletto Nails
G: This look seems to be especially popular with celebrities. Where did you first encounter this trend?
CDL: I've seen [this trend] on Lana Del Rey, Kelly Osbourne, Rihanna … and stilettos are so big now. Everyone's calling in about stiletto nails. I think when they first came out about three years ago, people were like, "Ugh, what's that? Those are too pointy! You can't do anything with that!" And now everyone's like, "Do you do stiletto nails?" Because now they see it in all the fashion magazines, and all the celebrities have them.
G: This style looks elegant, but relatively basic. What tools would you need to try this look at home?
CDL: You'd need a tiny striper brush. They sell nail-art stripers—that would be the easiest thing to do. I know they have nail-art pens. I think those would be easy to maneuver as well.
G: I noticed that you used a dark black to outline a neutral pink tone. What color combinations could achieve a more dramatic effect?
CDL: You could do black and red, and in reverse of [the neutral style], you could do a white outline on a dark nail, too—like a royal blue with a white outline—and that will give it more pop. You can do any color combination, pretty much.
Floral Prints
G: Floral patterns have a very vintage feel, mirroring the throwback styles of designers such as Cath Kidston. How does this design correspond with current fashion trends?
CDL: They're very vintage-y, very feminine. You're seeing a lot of pastels this season. [The floral trend] started early last year, last summer, but I think it was with darker hues, like black. And now you're seeing it come back again this summer, but in lighter shades, so you're seeing a lot of the pastel yellows, pinks, lavenders, [and] mints.
G: So is this a seasonal spring/summer trend, or is it here to stay?
CDL: I don't really see too much floral in the winter. Yeah, more with spring and summer. And that's not to say it's going to continue again next summer. It just so happens [that] it was introduced and people liked it and wanted to see it in different color variations again. But I haven't seen floral come back for a while now … It's having its time again.
G: Would you pair this manicure with simple fabrics and solid colors to emphasize the design, or would you blend it with busy patterned prints?
CDL: I know the people that have nail art on—especially if it's a pattern—it attracts a lot of attention, so I think if they were to wear a patterned top [with] the patterned nails, they would fight against each other for attention. So I think [this would go better with] a more basic type of ensemble, and then maybe their shoes or an accessory could have a floral to continue that theme through it.
Claudia was quick to stress that nail art can be worn on both natural and artificial nails. And her staff of manicurists are by no means limited to preset designs—they definitely take requests, ranging from fishnet patterns to kitty cats. "We haven't had anything too outrageous," says Claudia. "Not yet. So not like Katy Perry's ex-husband's face, nothing like that."
No matter the design, the Sugar Fly staff will paint it using Zoya's vegan, cruelty-free nail polish, in line with the salon's selection of organic and eco-friendly hair products. Claudia also invites clients to match their mani with a new outfit or accessory from the salon's street-style boutique.
Nail art can be added to any manicure, which start at $20. Graphic prints start at $5 per nail, outline manicures require a $5 surcharge, and floral prints run $10 for a set of four. Sugar Fly is currently running an introductory $25 special for a full set of stiletto gel nails.