Never Heard Balkan Music? Boy, Are You in for a Surprise.
BY: Stephanie McDaniel |
Mar 21, 2014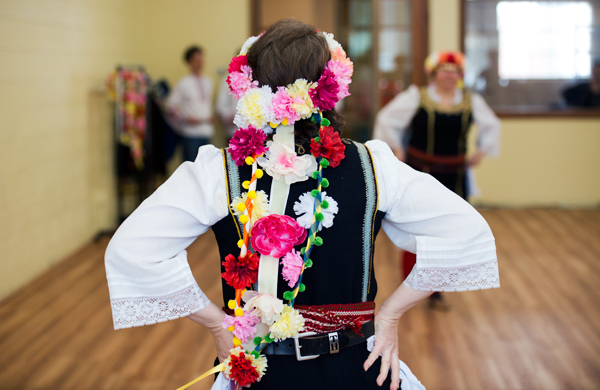 We asked the programming director of the Balkan Spring Festival for a crash course in Balkan music. He gave us this mind-melting playlist.
Dissonant music snakes its way through the International House's Assembly Hall at the University of Chicago. Dancers—some in ethnic costume, some in skinny jeans—walk in a tight spiral, their feet moving in time to the complex rhythms of Balkan music. This sight would be jarring any other time of the year, but it's fairly common at the annual
Balkanske Igre's Spring Festival
(March 28–30). This year marks the festival's 49th iteration, and the schedule is set to include workshops on Bulgarian, Macedonian, Turkish, and Roma dance; a concert with performances by dancers and musicians; and evening dance parties with live music. John Kuo, the longtime leader of Chicago ensemble
Balkanske Igre
, is excited to see some new faces at the festival this year. "We're looking forward to seeing lots of people being exposed to this for the first time. And it may open doors … to new rhythms, music, and dance that they may not have previously encountered." "This is the real stuff," Kuo says. "Our festival is very different. We're bringing the masters of this tradition." In that spirit, we asked Kuo to share his top 10 Balkan songs for people who know absolutely nothing about Balkan music. The resulting playlist is charming and strange, and—fair warning—it's probably going to make your head spin a little.
1. "Chaje Shukarije"
"In recent years," Kuo says, "there's an increasing interest in the music and dance of the Balkans—especially of the Roma." Though the satirical film
Borat
is based on a character from Kazakhstan, about half of its soundtrack comes from the Balkans. This includes the opening song, "Chaje Shukarije," recorded by Esma Redzepova, who is basically the Billie Holiday of Roma music.
2. "Mundo Cocek"
According to Kuo, Boban Markovic Orkestar is the "greatest brass band in the world." Their music has inspired countless contemporary fusion bands and other media, including the soundtrack for the film
Underground
, which explores the history of Yugoslavia from World War II through the Cold War.
3. "Izlel e zhelyo haidutin"
This Roma tune has traveled further from Earth than almost any other song in history. In 1977, the
Voyager
spacecraft launched with a set of gold-plated phonograph records filled with images and songs that would represent Earth's culture to extraterrestrial life. Carl Sagan helped pick these songs, and he didn't neglect to include "Izlel e zhelyo haidutin."
4. "Jelem Jelem"
Throughout their history, the Roma people have traveled across Asia and the Balkans and into Western Europe. The song "Jelem Jelem," which translates to "I wander, I wander," represents the spirit of that long journey. Its meaning runs so deep that it was adopted by the World Romani Congress as their anthem.
5. "Ederlezi"
Use this song to celebrate St. George's Day, when Romani people are known to jump into local rivers and lakes. The music's calm, watery sound is similarly—though not quite as literally—immersive. Kuo believes that these personal cleansing rituals provide a unique anthropological insight and "may be a throwback to [the Roma's] original Hindu rituals."
6. "Makedonsko Devojce"
This Slavic song is "enjoyed and known pretty much everywhere in the Balkans." It describes the virtues of the Macedonian girl who has hair like silk and resembles a flower picked from the garden. The dance features a simple series of steps and often concludes parties such as the Spring Festival.
7. "Improvisation for Bulgarian Tapan"
Balkan music is distinct because of its complex rhythms, the fact that they constantly cultivate dissonance, and a quality of melancholy that's tied to the region's tumultuous history. That last part should strike a chord with fans of Celtic music. In fact, Balkan music has penetrated Celtic traditions in a more direct way. When
Gaelic Storm
played for the film
Titanic
, they borrowed a
tapan
(a large two-handed drum) from a Balkan group based in Los Angeles. If you look closely, you can see them playing it in the film.
8. "Zeibekiko"
This bluesy Greek song has a 9/4 meter that's danced in a style called
reibetika
. It's unique enough to have inspired the composers of various films, including
Zorba the Greek
and
Never on Sunday
. Though originally considered a dance of the lower classes, it was so widespread by the 1970s that even middle-aged Greek matrons were dancing along. "In a former era," Kuo says, this "may have been considered risque or even scandalous."
9. "More Sokol Pie Voda Kraj Vardarot"
For a song you'll always have an opportunity to dance to, try "More Sokol Pie Voda Kraj Vardarot," which translates to "The Falcon Drinks from the Vardar Waters." This song is "instantly recognizable to Serbians, Bulgarians, Macedonians, and Greeks" because Macedonia is centrally located and its culture touches all of the surrounding countries.
10. "Miserlou"
When Kuo teaches his annual lecture at the University of Chicago, he plays this song and asks students what it reminds them of. Their response? Either "Pump It" by the Black Eyed Peas or Quentin Tarantino's
Pulp Fiction
. But "Miserlou" was originally a Turkish song brought to the US by Greek immigrants. This version is by Reptile Palace Orchestra, a group out of Madison.
Like what you hear? Tickets for the Friday- and Saturday-night Spring Festival dance parties at the University of Chicago's International House start at $15 and $25, respectively. Click here for more information.