Never Mind the Jukebox: An Interview with Punk Rock Karaoke Chicago
BY: Collin Brennan |
May 30, 2013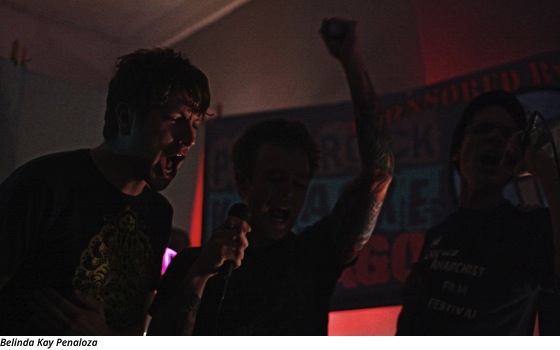 "We're gonna have a TV party tonight! We're gonna have a TV Party, all right!"
It may have been intended as satire, but Black Flag's "TV Party" loses some of its irony when you're following the lyrics on a blue screen. This phenomenon is made possible by
Punk Rock Karaoke Chicago
, a collective dedicated to producing sing-along renditions of punk's most iconoclastic anthems. The collective started in 2011 to raise funds for local charities and has since blossomed into a movement with several chapters and a summer tour in the works. I sat down with original members Belinda Kay Peñaloza and Ephran Ramirez Jr. (his friends call him "Monkey") to ask about the charities they support and how they protect their monitors from the mosh pit.
GROUPON: How did Punk Rock Karaoke Chicago get started? Was there a specific charity you wanted to support, or were you just bummed that you couldn't sing Bikini Kill at the local karaoke bar?
BELINDA KAY PEÑALOZA: We're all radicals, if not straight-up anarchists. Most of us were initially hoping to start a radical community space on the North Side, so we were looking at alternative ways to sustain that. We were just brainstorming different ideas. I suggested we have a laundromat, and [cofounder] Patrick Tyrrell even suggested a pizza place.
G: So it was an easier alternative to a storefront or a business that you had to run all the time.
BKP: Exactly. A problem every radical comes across is that it's really hard to come up with the money for all these ideas. So much of our money goes into the projects we love, so we were like, "OK, what are some ways we can sustain what we do without access to our own community space?"
G: What are some of the charities you've supported in the past?
MONKEY: In the past, we've worked with a lot of animal-rights groups. We're all vegan, so it makes sense to team up with grassroots organizations like
Broad Shoulders Animal Rescue
. BKP: We also did
Chicago Action Medical
, which is a group of nurses who train street medics specifically for demonstrations and protests. A lot of protests get really violent, and it's gotten to the point where there are people who have to specialize in medical training for these events.
G: Wow, that sounds great. I hear you also have plans for a summer tour. Can you tell us more about that?
M: The tour is happening right now, actually. It kicked off in Toronto on May 18, I believe, and it should be going until early July. It will pass through Chicago on June 14 [at LiveWire Lounge].
G: I imagine that some of the bands on your song list—Crass comes to mind—would be hard to get instrumental tracks for. How did you go about getting these? 
M: For the tracks we can't find, we record our own instrumentals at
Mystery Street Recording Company
. One of the collective members, Joe [Tessone], owns that studio. Some members of our New York chapter also record tracks, so we're able to pump out new songs either way. BKP: We also buy some of the tracks that would be impossible to record—I think we bought the two Gogol Bordello songs.
G: How many songs have you recorded so far? Are there plans to record more?
M: Right now we have around 500 songs. We take suggestions, and we try to record two or three new ones for each event.
G: When PRKC started, you worked with a lot of unlicensed DIY spaces. Now, it seems to be mostly bars and age-restricted music venues. What was the rationale behind this switch?
M: So we're actually trying to do more all-ages stuff that's more inclusive because more people do show up to those events. But right now there's a crackdown on [DIY] punk shows in Chicago. If you post a punk show on any social-media outlet with an address, the cops are going to show up and bust the space. It's a really difficult environment to work in. BKP: We have a friend who owns
LiveWire Lounge
[in Irving Park] and
Underground Lounge
[in Lakeview], so he helps us out a lot. M: When we're working with a group to raise money for, we encourage them to find a venue that works for them. But we're trying our best to find more all-ages spaces.
G: Speaking of age, I noticed that your song list skews heavily toward first- and second-wave punk. Does this help bring in an older crowd that might not regularly attend punk shows?
M: It's a pretty mixed crowd. With karaoke, we do get people that are a little older than you might see at a DIY punk show, but probably the same age you'd see at a larger concert. Sometimes it's pretty surprising for me because even people I know who are older—I wouldn't expect them to know some of these songs.
G: So what's your go-to Punk Rock Karaoke song?
M: I'm kind of cheesy, so I'm partial to "Baby, I'm an Anarchist!" by Against Me! BKP: I'm all about diversity. I made sure there were some Spanish songs included from the very beginning. So for a while, I would only sing the Spanish songs. It was a bit weird, because I do the backup vocals for some of those, and I was basically singing over my own voice.
G: What's the proper way to sing a punk song at karaoke? Do people generally try to stay in key, or is there a lot of screaming and shouting?
M: It's all about having fun—if you're not having fun while you're up there, then the crowd isn't going to be having fun. BKP: Honestly, as long as you do it with heart, you'll be fine. If you're screaming at the top of your lungs and going crazy with it, people just love it.
G: Which punk singer—dead or alive—would you most like to sing a duet with?
BKP: I don't know that I have the voice for it, but I would be psyched to sing with Exene [Cervenka] from X. I saw them when they came through town, and her voice is still amazing! M: My answer's very stereotypical, but I'd probably go with Ian MacKaye. I mean, he's still alive, so it can still happen.
G: That's a good choice. Maybe Henry Rollins, too, so long as he's hopped up on six cups of coffee.
M: [laughs] Yeah, but he'd probably charge a fee.
The next Punk Rock Karaoke will be at LiveWire Lounge on Friday, June 14, at 8 p.m. Check out the collective's website and Facebook for information about upcoming events.
BY: Collin Brennan
Guide Staff Writer
Collin is a senior editor and a staff writer for Consequence of Sound. He self-publishes zines and moderates writing workshops for The Chicago Publishers Resource Center (CHI PRC).