New "Game of Thrones" Beer from Brewery Ommegang Makes its Chicago Debut with a Logan Square Costume Party
BY: Courtney Ryan |
Sep 20, 2013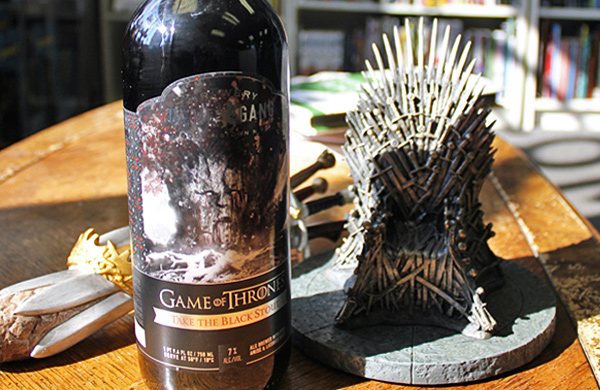 Brewery Ommegang released its
Game of Thrones
–inspired blonde ale, Iron Throne, last spring, and it promptly disappeared from Chicago shelves. This fall, the brewery goes dark with
Take the Black Stout
, a complex, rich brew inspired by the story's northernmost military order, the Night's Watch. To debut the limited-release beer in Chicago, Brewery Ommegang's distributor, River North Beer, is teaming up with the
Logan Theatre
and
G-Mart Comics
to throw a costume party on Saturday, September 21, complete with a contest, an episode screening, and prizes. We spoke with representatives from River North Beer, the Logan Theatre, and G-Mart Comics to learn how to play the game of thrones at this RSVP-only event.
If you're playing to win:
Shaylah Paul, the Logan Theatre's general manager and events director, says to "Go all out." She's working on teaming up with a local salon that specializes in film makeup to prep would-be lords' and ladies' hair and makeup before the event. To the G-Mart staff, it's the incorporation of fantasy creatures that makes one fit to rule the realm (or, you know, win sweet prizes). Manager Don Alsafi says, "I would be very impressed to see someone incorporate a dragon." Co-Manager Ryvre Hardrick, on the other hand, is holding out for a
White Walker
.
If you just want to selflessly serve the realm:
While it might not be enough to win big prizes, Alex Wilgus (G-Mart's events coordinator) expects—or at least hopes—to see plenty of brothers of the Night's Watch. As the sworn guardians of the Wall, a towering barricade of ice that protects the realm from barbarians, giants, and the aforementioned White Walkers, members of the Night's Watch are a brooding lot. They make a fitting match for the new stout, and possibly also one of Logan Square's key demographics. "The black cloak with the sword, the real kind of shabby look," Alex says, "I feel like hipsters tend to fit well with that sort of garb. It fits with the beards, the stout, so I'm hoping to see as many Night's Watchmen there as we can."
If you're wondering whether the prizes are truly fit for a king, queen, queen regent, or khaleesi:
One of the prizes is a small replica of the coveted Iron Throne. "It's kind of amazing," Ryvre laughs. "It's not a little plastic thing. It's a nice substantial little throne. And you can put any of your action figures on there. In fact, we had a Cyberman from
Dr. Who
sitting on there for a while." The throne is going to be raffled off to anyone with an RSVP for the event. Obviously, this approach stands in contrast to the ruthless cunning and brute force required to take the throne in the story. When pressed as to whether this inconsistency bothers them, Alex says, "We generally try not to condone murder at our events." Don simply shrugs, "Whatever happens happens…"
If you want to make an educated guess as to the "surprise" episode:
Shaylah could neither confirm nor deny that they'll be submitting viewers to the heartbreaking Red Wedding scene, but she does promise that the screening will feature one of the more epic episodes. "We don't want to stream the episode, so we want to make sure we have a DVD copy. If we don't get a copy of season three from HBO, then [the episode] will be from season two," she hints. "We're toying with the idea of showing the premiere of the next season so stay tuned for that."
If you're more about the beer:
The digital marketing manager at River North Beer, Matt Tanaka, is the only one who has already tasted Take the Black Stout. He says to expect "a Belgian mixed with a dark, kind of spicy stout."
If you want to bring your direwolf:
Matt goes on the record: "I'm hoping to see a
direwolf
. We actually set up the event just to see if one would show up. If someone brings a direwolf, then I will personally walk them through the theater."
The costume party begins at 7 p.m. on Saturday at the Logan Theatre, and the screening of the
Game of Thrones
episode starts at 9 p.m. The event is expected to be popular so plan to arrive early.
Photo courtesy of River North Beer