GROUPON GUIDE TO NEW YORK CITY
The Donut Pub: A New Fad at an Old New York Institution
BY: Amy L. Hayden |
Aug 5, 2014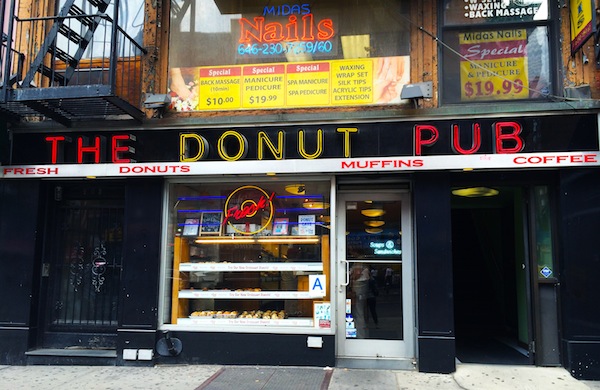 It's just past 9 p.m. on a Thursday, long after most of Manhattan's trendier donut shops have closed for the night. But
The Donut Pub
will be open all night long, neon sign a-blazing—just as it has been every evening since 1964. Inside the shop on 14th Street in Chelsea, "Magic Mike" stands behind the back counter with his magician's supplies spread out before him, ready to perform tricks and illusions for the steady stream of customers who will come through the door. He's been a regular at the Pub for 38 years—"Can't you tell I love donuts?" he asked, pointing to his belly—and after he retired from the New York City Fire Department, he took up magic, bringing his act to his favorite neighborhood hangout. (He also performs private shows and sells magic supplies at the Pub and elsewhere.)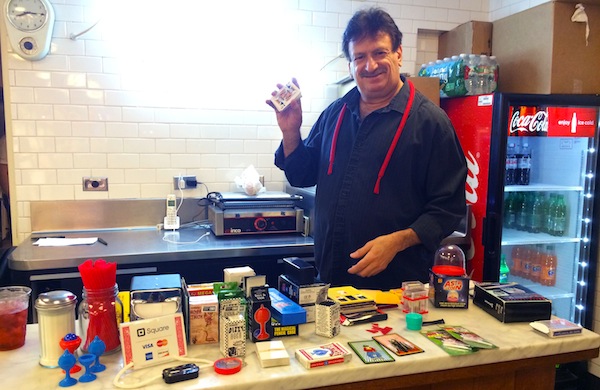 But Magic Mike is only one of many regulars at the 24/7 shop. There are also the dozens of businessmen who appear every morning with their copies of the
Wall Street Journal
and
New York Times
to order the Sip & Dip special (coffee and a donut for $2.90) to accompany the day's news. Operations manager and baker Gus Markatos started working at the Pub while in high school in the 1990s and has held his current role since 2002. He's a regular sight behind the counter every morning and not an unusual one in the evenings, either. Most anyone who visits the Pub on the regular knows Gus, and the feeling is mutual—though "there are so many regulars [he] can't even count," he knows them all by sight and many by name. Gus isn't the only familiar face behind the counter. There's also Buzzy Geduld, the retired Wall Street multimillionaire who founded and still owns The Donut Pub. Patty, who works from 7 a.m. to 3 p.m. every weekend, has been at the Pub since it opened and has the stories to prove it. (More than a few late-late-late-night revelers come in asking for a beer with their donuts, not realizing that the "pub" name isn't quite literal, she said.) Sammy, who works various afternoon and evening shifts during the week, has been at the Pub since 1980. Other counter staffers come and go regularly with the seasons. Though the Pub and its clientele seem unchanged through the decades, its neighborhood is not. Just a few blocks uptown, a much-changed
Chelsea Hotel
now houses the
Doughnut Plant
, a decidedly froufrou spot whose signature crème brûlée donuts cost upwards of $3 each. You'd think that with all this gentrification, The Donut Pub would have seen some hard financial times. But according to Gus, it's been the exact opposite. "We've put two Dunkin' Donuts out of business," he said. "One on 14th Street a few blocks down and another around the corner." And he doesn't think that "artisanal" donut shops have anything on the Pub, either, no matter how trendy their flavors or presentation may be. "We are better than the competition: always fresh, and they are made with love."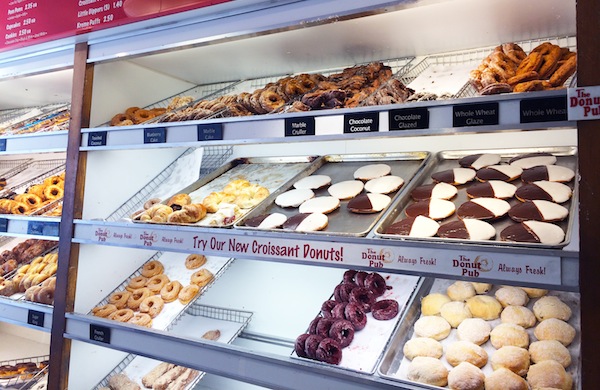 There's lots of love to go around here. The
Village Voice
named the Pub's chocolate cake donut among the city's best.
CBS NY7
did the same for its honey dip donut, whereas both
Gothamist
and
Tasting Table
ranked its jelly-filled donut among the best. (My personal favorites are the boston creme and the sugar-raised, but I'd take
any
of them before walking out empty-handed.) Gus isn't stingy with the love on the baking side of things, either. It's not unusual to see him coming out of the back room with a rack of freshly baked croissants that he happily shares with regulars, sometimes on the house. (
Yes
, The Donut Pub has a full line of pastries, including muffins, cookies, biscuits, bagels, and bialys.) He has even developed his own version of the crazy-popular cronut, which some daresay is better than the one
you-know-who
makes (and people wait on line for hours for). Gus's black-and-white cookie is among the best in the city—I can vouch personally for its ability to single-handedly soothe even the worst sort of New York heartbreak. That includes at least one romance that both began and ended at The Donut Pub, with Gus and company as witness. To their professional credit, they didn't take sides, and the cookie was on the house. But the best part about
working
at The Donut Pub? Sammy and Gus agree: it's the donuts. "I eat a donut every day," Gus said. But as he stands there framed by racks and racks of tempting sweets, it's hard to believe he stops at just one. No one else I know is able to.
The Donut Pub is open 365 days a year, 24 hours a day, and is located at 203 W. 14th St., just west of 7th Avenue.
Photos by Amy L. Hayden.
Check Groupon for deals on coffee and treats in New York City.
BY: Amy L. Hayden
Amy L. Hayden
Amy L. Hayden is Publicity Manager at Seven Stories Press, a freelance writer/editor, and the author of the forthcoming self-published NYC: Ten Lessons in Frugality and Faith (Or: How I Learned to Love Living in Manhattan on $1,000/Month). She was formerly (among other things) Kids Editor for Time Out Chicago, a web editor for MTV Networks, and a college English instructor. She is a fan of the Oxford comma, the subjunctive, the "only in New York" story, and street photography. A NYC resident and Chicago ex-pat since May 2012, she currently makes her home in Chinatown.