Nine Fashionable Ways to Carry Your Phone During a Workout
BY: MEL KASSEL | 6.3.2014 |
Whether they're playing pump-up music, mapping a jogging route, or even tracking reps, cell phones have become our workout buddies. But they can also be cumbersome—no one wants to hold onto a small, slippery rectangle during a run. Here are nine ways to safely secure your phone while you exercise, all of which are more stylish than just duct taping it to your chest.
Armbands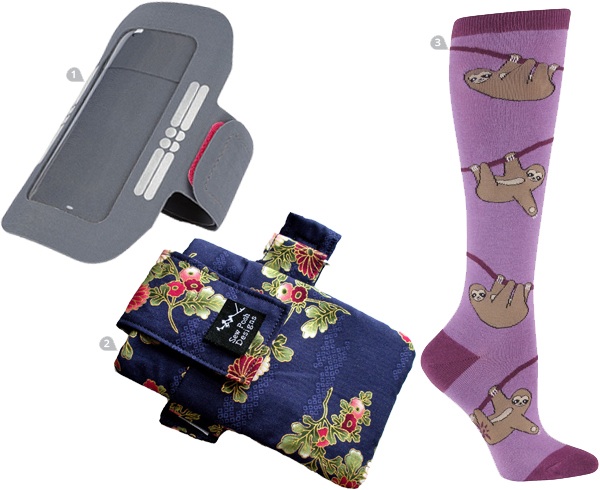 Most exercise armbands were designed without fashion in mind—they're big, black, and blocky. Sweaty Betty's charcoal-colored armband is a notable exception, and even has a reflective logo for increased visibility on nighttime runs. Over on Etsy, Sew Posh Designs sells handmade armbands crafted from patterned fabric, and they're just as cute as they are functional. If you have a long enough sock, though, you can always make your own armband in less than a minute. We suggest this sloth sock for some workout irony.
1. Media armband; Sweaty Betty ($49)
2. Handmade armband; Sew Posh Designs on Etsy ($29)
3. Sloth knee sock; Sock It to Me ($12)
Belts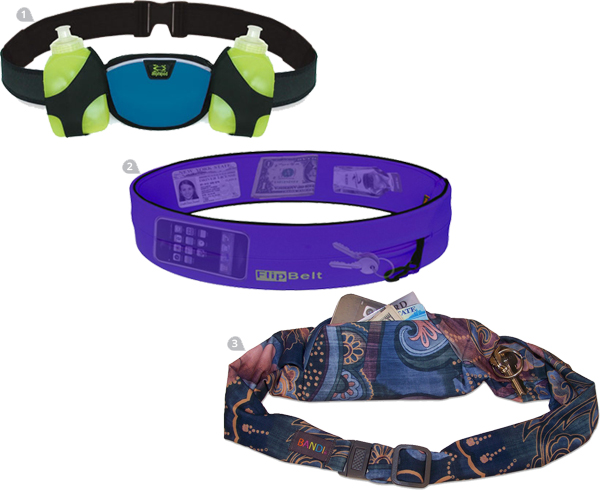 In the fitness industry, belts have evolved from holding up pants to holding personal items. Amphipod's bottle waistpacks have a zippered pocket for your phone, as well as specialized bottles for on-the-go hydration. The FlipBelt is a tad more subtle—just slip it on, tuck your phone inside, and turn it inside out. Bandi Wear makes similar belts, but they come in eye-catching prints. They also include a divider within the central pocket that separates your phone from other objects.
1. Profile UltraLite bottle waistpack; Amphipod ($45)
2. FlipBelt ($28.99)
3. Vintage Scroll belt; Bandi Wear ($28)
Pockets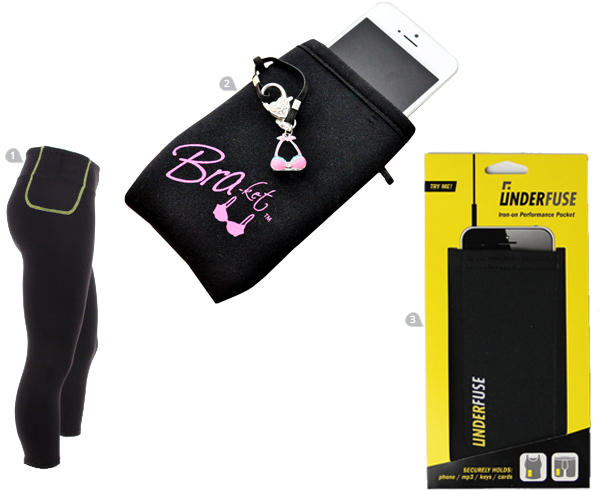 Perhaps the most traditional solution for phone security, pockets still don't come standard in the majority of workout apparel. These Sound Solutions capris buck the trend with their "bounce-proof" pockets, whereas the Bra-ket protects phones with a sweat-resistant pouch meant to fit snugly inside a bra. Underfuse pockets are more flexible: you can iron them onto clothes you already own.
1. Sound Solutions capris; Fit Plus Wear ($88)
2. The Bra-ket ($34.95)
3. Underfuse iron-on pocket; Underfuse ($9.99)

BY: Mel Kassel
Guide Staff Writer
Mel writes about food and beauty trends. She would rather give up chocolate than onions.