Nine Hair, Skin, and Body Treatments You Can Make Right Now
BY: Colleen Loggins Loster |
Sep 30, 2013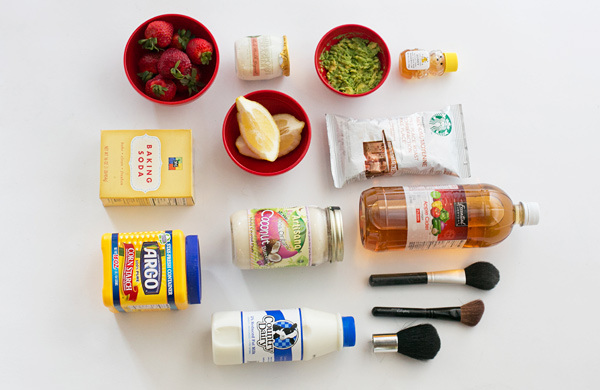 The average person's bathroom is likely already home to a slew of store-bought beauty products: acne treatments, wrinkle fighters, shine-boosting hair treatments, and scores and scores of moisturizing lotions. But more and more people are becoming leery of factory-made products and the potentially harmful chemicals they contain. The solution? For many, it means turning to natural remedies and creating homemade products to fight their skin and hair woes. Still, no one wants to rush out and empty their wallets on essential oils or scour beauty-supply stores for beeswax and raw shea butter. Instead, here are some easy DIY beauty recipes that don't require you to travel any farther than your kitchen to gather the necessary ingredients.
For the Face:
1. Acne Fighter:
Mash 1/4 cup of fresh strawberries together, then mix in 1 tablespoon of honey with the juice from a quarter of a lemon. Apply to your face and leave on for 10 minutes. The strawberries contain salicylic acid, a product commonly found in over-the-counter acne fighters. Honey has antibacterial properties, and lemon juice is a natural astringent.
2. Dry-Skin Fix:
Mix together 1 teaspoon mashed avocado, 1 teaspoon plain whole-milk yogurt, and 1 teaspoon honey. Coat your face with the mixture, and let it set for 30 minutes before rinsing. The fats in the avocado deeply moisturize, and the lactic acid in the milk exfoliates. The honey is a humectant, which means it draws in moisture from the air and retains it.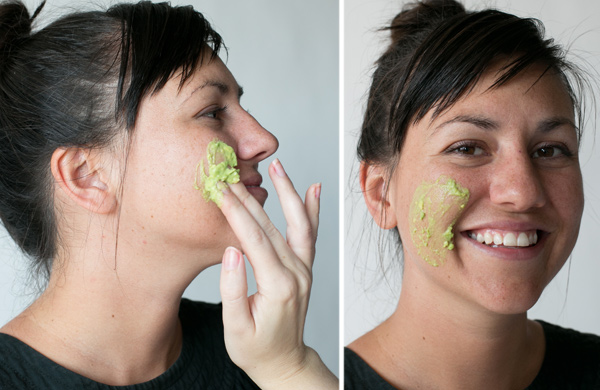 3. Teeth Whitening:
Mash one ripe strawberry with 1/2 teaspoon of baking soda. Apply to your teeth with a toothbrush and let it set for five minutes before brushing your teeth with regular toothpaste. Apply once a week. The malic acid in strawberries acts as an astringent that removes discoloration, and the baking soda helps buff stains away.
For the Body: 
1. Exfoliating Body Scrub:
Mix one part oil (olive, coconut, vegetable) to two parts sugar or salt. Rub it onto skin—dry is best—and then rinse off.
2. Cellulite Fighter:
Mix 1/4 cup ground coffee with 3 tablespoons hot water, and let it sit for 10 minutes to form a paste. Next, mix in 2 tablespoons olive oil, which binds the solution together and makes it easier to apply. Apply the mixture to cellulite-prone areas and, using hands or a washcloth, massage in a circular motion for two to four minutes before rinsing. Aside from increasing circulation, the caffeine in coffee dilates blood vessels, which temporarily tones and tightens.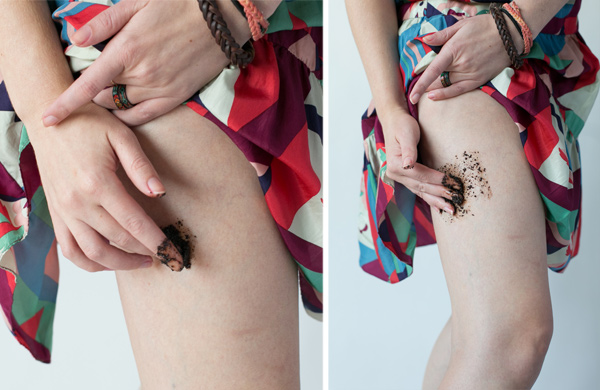 3. Foot Soak:
Fill a footbath or bucket with warm water. Add 1 cup whole milk and 3 tablespoons honey. Soak as long as you want. Honey has antibacterial, antifungal, and moisturizing properties, and the lactic acid in milk exfoliates rough skin.
For the Hair:
1. Dandruff Remedy:
Mix 1/4 cup of apple-cider vinegar with 1/4 cup of water. Apply the mixture to your roots and wash it out after 15–60 minutes. The vinegar helps prevent yeast from growing on the scalp.
2. Conditioning Treatment:
Mash up a ripe avocado and drizzle in 2 teaspoons coconut oil. Coat your hair with the mixture and wash it out after 15–60 minutes (two rinses might be needed). The rich avocado nourishes dry strands and, when mixed with coconut oil, leaves hair noticeably softer.
3. Dry Shampoo:
For light hair, sprinkle cornstarch or baby powder—both of which will absorb excess oil on the scalp—onto roots and shake out excess. For dark hair, mix 2 tablespoons unsweetened cocoa powder with 2 tablespoons cornstarch and apply to roots.
Photo: © Stephanie Bassos, Groupon
BY: Colleen Loggins Loster
Colleen is a makeup/skincare junkie who has a serious Sephora problem. She writes about all things beauty and occasionally does hand modeling for work. Her job is strange.
Beauty & Spas Deals in Chicago