Nine Pies for Sweet and Savory Teeth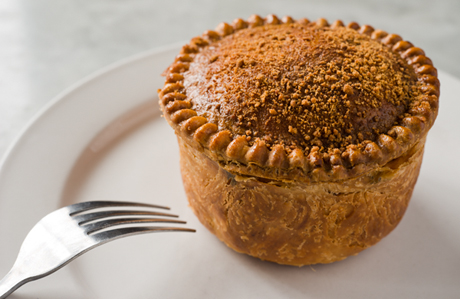 Fresh-baked pies will always smell like home for me. Every holiday growing up, my father put my sister and I to work on one or two. His grandmother had owned a pie shop back in the day, and we followed her recipes, which called for lard crusts and sugary fillings. As we cleaned up after, the kitchen would fill with the scent of baking apples, pumpkin, or blueberry, depending on the season.
That meant a lot of delicious dessert pastry, but also a lot of work. Luckily, you won't have to labor in a kitchen to get the pies in this roundup on your plate, and you don't have to go to your parents' house, either. From key lime and pumpkin to raspberry-mint chess, here are nine pastry circles that make it feel good to be (not) home. – Nathalie Lagerfeld
Mushroom and Kale Pie from Pleasant House Bakery (Bridgeport | 964 W. 31st St.)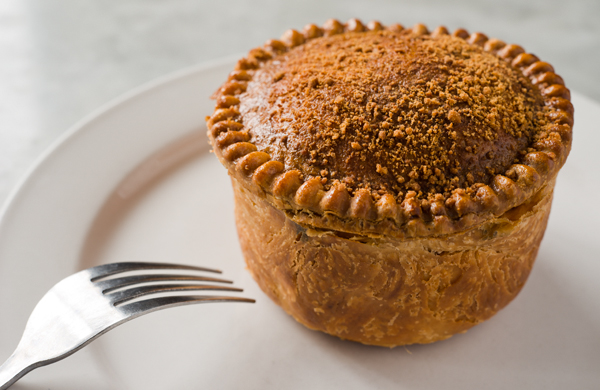 In the world of Chicago pies, there's got to be room for a savory dimension, and Pleasant House has the local market roped. With a buttery smell in the air and a mom-and-pop feel from across the counter, I chose this meat-free version and my companion chose the steak and ale pie. Both heaped more food than it seemed could physically fit inside their flaky, crispy crusts, and I found that I immediately unlearned whatever it was that frozen grocery-store pot pies once taught me about how a savory pie should taste. It took but a fork pierce to release the aroma of all three mushroom varieties in their salty, creamy, white-wine-and-parmesan filling, and watching the stuff ooze onto the plate was pure bliss—almost as much as eating it. Winter is coming, but I'm pretty sure the more I eat here, the less my belly will know it. – Sandra Kofler
Lemon Meringue Pie from Gilt Bar (River North | 230 W. Kinzie St.)
I'll admit I was skeptical of this "diner-style pie" when I saw it on the menu. Most trendy, upscale restaurants serve petite desserts antithetical to a diner's generous portions. As such, the massive pie slice and its mile-high meringue caught me off guard in the best possible way. On my first bite, the light, sweet meringue perfectly balanced the tart lemon custard in both texture and taste. Not long after, I stared woefully down at an empty plate as I licked the spoon. It tasted like the pies my mom used to make, but maybe just a teensy bit better. — Michelle Schuman
Strawberry Rhubarb Pie from Bennison's Bakery ( Evanston | 1000 Davis St.)
I have a hard time with crusts, of any sort. I remove them from everything—toast, pie, even Pop Tarts. But Bennison's pie was delicious from top to bottom. The thin, moist crust, sugar-coated along the edge, made me clean my plate for the first time ever. The fruit-to-crust ratio achieved perfection by putting the emphasis on fruit. The strawberries had intense flavor, and large chunks of rhubarb added texture to a thick, slightly applesauce-like filling.
Better even than the pie, Bennison's staff made my experience pleasant. Frannie, a staff member, worked with me and a friend as we picked our way around the pastry counter, choosing macaroons, cherry slices, and donuts. She offered suggestions about her favorite bites and didn't try to rush us once, despite the crowd. – Stephanie McDaniel
Apple and Pumpkin Pie-lettes from It Tastes Like Love! (Online or Saturdays through October at the Downers Grove Farmers' Market)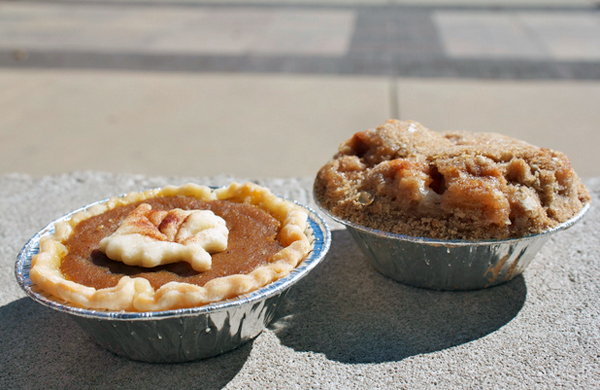 Last weekend, I visited the farmers' market to pick up some fresh, local veggies…and bought pie instead. Whoops! But these fall pie flavors looked too delicious to resist, so I picked up two pie-lettes, or mini pies: pumpkin for me, apple for my husband.
Both had buttery, flaky crusts. The pumpkin one was Thanksgiving incarnate: warm spices, a hint of ginger. The apple pie, however, made the bigger impression. Its brown-sugar-and-butter topping melted in our mouths—and the filling, made with fresh Michigan apples, truly sang. As cute as the pie-lettes are, I may just have to spring for the full-size version of that apple next time. – Rachel Matuch
Plum Pie from Bang Bang Pie Shop (Logan Square | 2051 N. California Ave.)
This was the first slice of pie I've ever had at Bang Bang Pie Shop, and it didn't disappoint. The very thin crust was sweet and flaky, the way you'd expect on an almond croissant. But what really impressed me was the fruit filling—not at all mushy, and definitely not too sweet. I'm not sure, but I also thought I detected a hint of nutmeg in among the plums—maybe the chef's way of tipping his or her hat to the fall season. – Nathalie Lagerfeld
Chocolate Chess Pie from Hoosier Mama Pie Company (West Town | 1618 W. Chicago Ave.)
I love every piece of pie I've ever had from this tiny shop's talented baker, which is good, because she provided the desserts at my wedding. As luck and toasts would have it, my wife and I only got to sample one of the five types of pie we had at our reception. So, we resolved to work our way back through the kinds we missed on each anniversary. This year, we revisited the chocolate chess pie, which is really more like a fudge brownie that happens to be in a pie crust. The bulk of the filling is a dark, cake-like chocolate, so moist it might be mistaken for cream or mousse. It's pretty bitter, but a delicate sprinkle of powdered sugar offsets it with a little sweetness. The crust itself must be made the old-fashioned way, with plenty of lard, as it is at once flaky and chewy. This treat goes well with a scoop of vanilla ice cream on the side, but really requires no more garnish than a fork. – Zach Bosteel
Raspberry-Mint Chess Pie from Patchwork Pies (Pilsen | 2230 W. Cermak Rd.)
It was almost impossible not to want three slices of this pie. Who am I kidding: if left alone in a room with it, I would have eaten the whole thing. Patchwork Pies is a small two-person operation with seasonal pies for sale by pre-order only (around $30, depending on the pie; patchworkpies@gmail.com), but their goods are the kind of stuff you bring somewhere to impress. The custardy raspberry-mint chess pie is at once sweet, tart, and creamy with flavors that work so well with one another, you'll be placing bets on what it is you're tasting (spoiler: that's lavender in the shortbread crust). The bakers work herbs into just about every pie they make, and get their inspiration from seasonal ingredients, whether it's apple, dried figs, and brandy in winter or rhubarb and botanical gin in summer. – Sandra Kofler
Apple Pie with a Slice of Melted Cheese from Mars Cheese Castle (Kenosha, WI | 2800 W. Frontage Rd.)
I was skeptical of this whole "cheese on pie" thing, but I'm willing to admit when I'm wrong. The cheese really held the pie together and wasn't intrusively salty. The apples were just the right level of sweetness, and bits of caramelized sugar and lard in the crust gave it a nice crunch. The pale blonde Belgian ale I was drinking (Delirium Tremens from Huyghe Brewery) helped me cope with the amount of time the pie was taking off my life. – Cody Braun
Key Lime Pie from First Slice Pie Café (Andersonville | 5357 N. Ashland Ave.)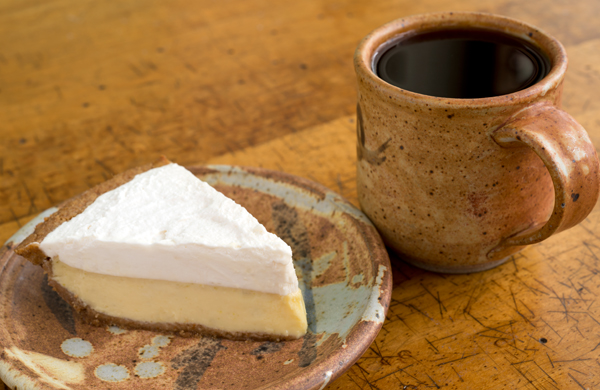 Not everyone equates key lime pie with autumn. But for me, a particularly memorable Thanksgiving dinner has forever linked the two. Luckily, First Slice Pie Café serves key lime pie all year long, so I was able to indulge my craving. I found the filling to be the perfect tart level, but its pudding-like consistency was not stiff enough for me. Once I got past my mouthfeel issues, though, I began to notice how the cream topping—which tasted freshly whipped, with just a hint of sweetness—played against the lime's tartness. The graham-cracker crust was crumbly, but did not completely fall to pieces, which I realize is a pet peeve of mine. And though it seems a little silly to complain about a cookie crust being too sweet, I am going to complain that the cookie crust was too sweet. But, overall the pie was highly enjoyable, or in the words of my 2-year-old companion, "Num." – Emily Donelan
Photos: Mushroom and Kale Pie and Key Lime Pie: © Andrew Nawrocki, Groupon; Apple and Pumpkin Pie-lettes: © Rachel Matuch, Groupon