GROUPON GUIDE TO WASHINGTON-DC
Nine World Cup Teams, Their Fans, and Their Drinks of Choice
BY: Tyler Clark |
Jun 10, 2014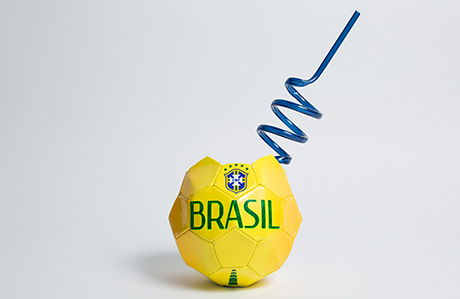 Forget the breathtaking athletic feats, gripping international storylines, and heartening displays of patriotic fandom: the World Cup is basically a globally sanctioned excuse to get a little tipsy on a summer weekday afternoon. But what if you don't know who to root for, or worse, what to drink? We've taken the liberty of creating the following beginner's guide to World Cup drinking, which should arm you with all the knowledge necessary to hold your own with futbol diehards and get buzzed in the process.

The home team and overwhelming favorites in this year's tournament, Brazil looks to win its first title since 2002 with the help of single-named phenoms such as Neymar, Fred, and Hulk. Before you ask: yes, he
is
incredible.
You're also a fan of:
The Yankees, Heat, and Duke Blue Devils.
Your drink:
A
caipirinha
, Brazil's national cocktail made with the sugarcane spirit cachaça. In the spirit of Brazilian dominance, serve in a sliced-open soccer ball.

For the overmatched Socceroos, the trip to Brazil is less about winning the tournament and more about learning to say "I'm vacationing from Sydney and desire a cold one" in Portuguese.
You're also a fan of:
Participation medals, impossible odds, marsupials.
Your drink:
A
dark and stormy
, made with aged rum similar to that of
Beenleigh
, Australia's oldest distiller. To capture the holiday vibe, serve it with a paper umbrella.

Despite inventing the game, boasting the world's greatest club league, and winning it all in 1964, England's greatest contribution to the World Cup in the last 50 years was a
New Order song
.
You're also a fan of:
The 1960s, meat pies, once-great empires.
Your drink:
A few bottles of
St. Peter's English Ale
. Serve chilled next to an English bulldog. Every time England allows a goal, mutter glumly and let the bulldog lick your face.

Traditionally purveyors of catenaccio, a defensive style of play favoring knockout counterstrikes, the Azzurri recently switched to an offense-first strategy. There's still no word on whether this affects their ability to crumple at the least sign of physical contact.
You're also a fan of:
Vespas, cockiness, falling down.
Your drink:
Limoncello
. Every time you take a shot, collapse and writhe in pain. After 30 seconds, get up like nothing happened.

One of Africa's best teams, and the vanquishers of the United States in both the '06 and '10 tournaments. Asamoah Gyan and the Black Stars once again meet the US in this year's tournament, giving them the chance of inflicting Team USA with the rare heartbreak trifecta.
You're also a fan of:
Underdogs, rivalries, nicknames that sound like superhero teams.
Your drink:
Nsafufuo, a wine made from the fermented sap of Ghana's native palm trees. At the bottom of each glass, tape a picture of sad American players from previous Ghana victories.

This year, Portugal's team is made up of all-world player Cristiano Ronaldo and…22 other guys. Although that may sound like a weakness, Ronaldo is transcendent enough to win even if you replaced his teammates with lifelike mannequins.
You're also a fan of:
Superman, MVPs, the Age of Explorers.
Your drink:
A small glass of Taylor Fladgate's 40 Year Old Tawny, sipped while reciting an essay on
Great Man Theory
during halftime.

Named one of the tournament's most exciting teams by
Deadspin
, Japan could make a deep run thanks to its precision passing and knack for winning the possession battle.
They've also got Pikachu on their side
, so expect success if they're matched up with a team weak against electricity.
You're also a fan of:
Quickness, Pokemon, well-chosen mascots.
Your drink:
Takara Shochu
, an ultra-light clear spirit often called Japan's answer to vodka. Serve on the rocks with
this video of dancing Pikachus
. If Japan wins, finish your drink, hit play, and dance along.

After a grueling qualification run that saw them fire their manager and barely make the tournament, Mexico limps into this year's World Cup at a crossroads. Their reward? A match against tournament host (and uncaring juggernaut) Brazil.
You're also a fan of:
Taking stock, finding silver linings, looking ahead to 2018.
Your drink:
Leyenda Mezcal
and water. Pour two shots for each player on Mexico's team. When something good happens to a player, drink the water. When something bad happens, drink the mezcal.

Team USA plays in the
Group of Death
, has a match in
the middle of the Amazon
, and will be without
the hero of the '02 and '10 tournaments
. It might be a long couple of weeks.
You're also a fan of:
Apple pie, the 4th of July, wiping away tears on the sleeve of a Landon Donovan jersey.
Your drink:
A fifth of
Wild Turkey
served with a crazy straw. With matches against Ghana, Germany, and Portugal, you're going to need to make your own fun.
Photos: Tyler Clark, Groupon