Nobody's Ever Heard Sabers, But That Shouldn't Stop You From Seeing Them
BY: Roy Ivy |
Mar 11, 2014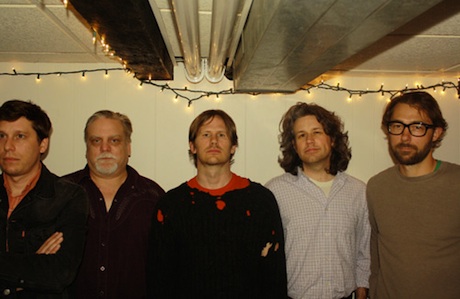 Sabers currently doesn't have a single album available to the public. But that will all change on March 22, when they play their first album-release show at The Hideout.
How can you plug a band you've never heard? I don't have a Soundcloud link (there was one, but it's down). I don't have blurbs from other critics. All I've got is my big fat gut—which is always fat, and always right. I should have seen Sabers already. I've had a few chances, although I've missed them every time. But since their long-awaited debut album is about to have its release party, I'm going to make up for my mistakes, and so should you. Since Sabers only has
a trio of songs
currently available to the public, my faith in the band primarily comes courtesy of Josh Chicoine, former leader of the beloved Chicago psych-garage-pop outfit The M's. His past projects prove that he's got hooks out the wazoo, plus he possesses one of those reliable narrator voices that just pulls you into his songs. Josh is also the founder of the
Chicago International Movies and Music Festival
, because he apparently doesn't sleep much. Then you've got guitar wiz Shane Schroeder from Hot as Hell,
Mazes
bassist Edward Anderson, and Dave Max Crawford (who's collaborated with Wilco) on keys. And if Sabers wasn't enough of a localized supergroup already, they had to go and get one of Chicago's greatest weapons, Colby Starck, on drums. I think it was Sartre, or maybe Stephen Malkmus, who said, "Drummers are, if you have to rank things, the most important after the songwriter in terms of how the band sounds." Anyone who's seen Starck can certainly attest to that. Despite his skills, he's never a showoff and always serves the song, whether banging away with Bobby Conn, Head of Femur, The Faders, or a spot-on Minutemen tribute band. Luckily, I'll be able to catch these five virtuosic players together on Saturday, March 22, when they play
The Hideout (1354 W. Wabansia Ave.)
after sets from Forgotten Species and Kate Adams. Hopefully you'll be there too, squeezing past my trustworthy gut as you make your way to the front of the stage.
Sabers' album-release show starts at 9 p.m. Tickets are $8, and can be purchased here.
Listen to Sabers on WBEZ's Morning Shift, via Soundcloud.