Not Your Father's Woodstock, Part One: Woodstock Folk Festival
BY: Tyler Clark |
Jun 14, 2013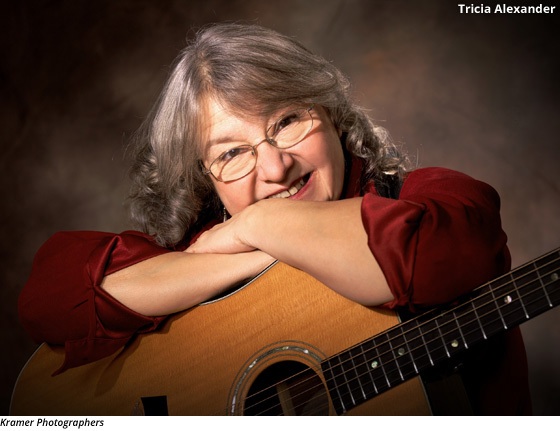 WOODSTOCK FOLK FESTIVAL Sunday, July 21, 12:30 p.m. to 6 p.m.
Woodstock, Illinois, is somewhat of an anomaly. At first glance, the small community is sleepy—almost pastoral. But the quiet streets, tiny railroad station, and gently swaying trees are offset by a bustling arts scene. A proliferation of open mics and intimate performance spaces—most notably the historic Woodstock Opera House—make the town a must-visit destination for musicians throughout the region.
For Tricia Alexander, it's just home, albeit a somewhat unlikely one. An inveterate wanderer for most of her adult life, Tricia made a career out of life on the road. Whether she was opening for Loudon Wainwright III or the late Steve Goodman at a packed concert hall or teaching youths the healing power of creativity as an artist-in-residence in Chicago, Tricia never stayed in one place for very long. But, after stints in England, India, and countless towns across America, she was ready for a break.
"After about 30, 32 years, it just stopped being fun, being out on the road. I knew that I didn't want to be in Chicago. It's just too intense."
So, after some trial and error, she wound up in Woodstock, where the intersection of city convenience with country charm helped her ease into her new surroundings. In addition to discovering a place to set down roots, she also found herself in the middle of the vibrant artistic community.
"When I decided to quit touring, I realized that I was settling into a kind of semi-retirement, from being on the road almost all the time to doing a handful of concerts a year, and I wanted to be a part of a community where I could give back some of what I experienced. The organizations are here, and they're incredible. They're organizations that are not closed off. They're always looking for ways to interact and support each other and help things grow. In a town this size, it just feels like a miracle."
From the Unity Spiritual Center of Woodstock, where she works as the creative manager of the music ministry, to art spaces and venues such as Stage Left Café and the Old Court House Arts Center, where she performs her spiritual brand of blues and folk music, Tricia has quickly become a mainstay of the Woodstock music scene. It's that dedication, coupled with the passion for community arts development that she showed on the road, that inspired the Woodstock Folk Festival to honor her with this year's Lifetime Achievement Award.
"To be acknowledged for what has been my life's work, I get teary just talking about it. And to be acknowledged by this community I call home is just very special."
In addition to honoring Tricia, this year's festival, which takes place in Woodstock Square on Sunday, July 21, will also welcome music from artists including singer-songwriters Brother Sun, folkie Judith Avers, and string-based fusion band Sultans of String. The festival will also operate an open-mic stage at Stage Left Café, where locals and guests alike can share their music with a like-minded audience.
It's this concept of sharing that continues to inspire Tricia, who, in addition to prepping her new album and continuing to perform around the area, is currently working on an expanded series of concert-storytelling events at Stage Left and the Lakeside Legacy Arts Park. Far from settling into the boredom of retirement, she increasingly finds herself reenergized by the town she calls home.
"Here I am, 62 years old, thinking maybe I should slow down another notch, and instead, there's been another burst of energy and new ideas and new connections and new faces supported by this wonderful community," she says with a laugh.
"I love it here. Can you tell?"
BY: Tyler Clark
Tyler is a writer, storyteller, and musician from Chicago. His stories have appeared on stage at shows including Mortified, Story Club, and Lethal Poetry.