Not Your Father's Woodstock, Part Two: Wasted Plains
BY: Tyler Clark |
Jun 18, 2013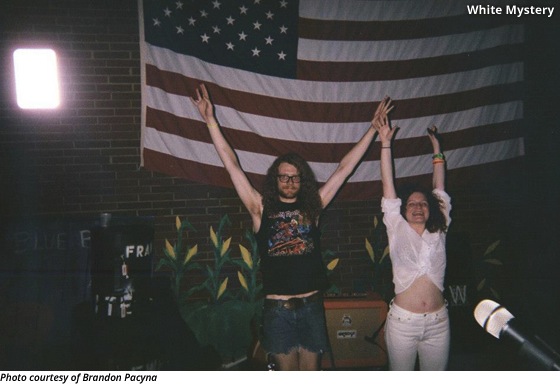 Cheap beer, a dozen bands, and a VFW parking lot. For Wasted Plains organizer Brandon Pacyna, it's not about the size of the festival but how you use it. Part Two of our series on Woodstock's music scene.
WASTED PLAINS
Saturday, August 17, at 2 p.m.
For many Chicago music fans, the term "festival organizer" conjures images of Perry Farrell tooling around Lollapalooza in a golf cart or the Pitchfork brain trust clipping away at their lineup as if it were the world's hippest bonsai tree. Brandon Pacyna never wanted to join this fraternity. Sitting behind a wobbly desk in a house on one of Woodstock's many lazy streets, he says he just wanted to to hang out with some friends. "Three years ago, the lead singer [of Cousin Dud, the band Pacyna manages] shot me a text and said, 'Hey, why don't we throw together a big party?' We had about 90 days before summer wrapped up, and I was like, 'Yeah, let me try to throw something together here.' I'd never done anything like it, so I just put together a rough draft of what could be an all-day event and started scouting around Woodstock." A chat with the manager of the local Veterans of Foreign Wars post quickly revealed a similar desire to start up an all-day rock event. "It was kind of eerie," Pacyna says. With a venue secured, Pacyna called in some friends' bands, printed up a poster, and hoped for the best. Held in the waning days of August, the inaugural edition of Wasted Plains welcomed 150 partygoers. It was no small feat given the compressed schedule, but Pacyna had bigger plans—with a full year to plan and a successful first run under his belt, he was ready to expand. Sporting four stages and appearances from Chicago up-and-comers
White Mystery
and
Ezra Furman & the Harpoons
, the 2012 edition more than doubled the crowds from the previous year. Pacyna credits the rise in popularity to the festival's unique status within Woodstock. "We have a lot of history in Woodstock, but I think this is something more on the alternative side," he says. "It's nothing alternative where it's offensive or abrasive or against the grain. It's just noticeably different, but in a positive way." Held on Saturday, August 17, the 2013 edition of Wasted Plains already promises to build upon the formula from years past. Now held entirely outside in the VFW's parking lot, the fest will feature a
dozen musical acts
(including a headlining set by Portland post-punks Hockey), a craft fair, and a full spread of food and drink vendors. For Pacyna, the compressed space is key to the festival experience. "I want it to be mayhem for 12 hours. On Saturday, I want you to walk through, get your stamp, get your wristband, and be completely submerged. … I think, for this town, it's going to be a good slap in the face."
BY: Tyler Clark
Tyler is a writer, storyteller, and musician from Chicago. His stories have appeared on stage at shows including Mortified, Story Club, and Lethal Poetry.