Nothing Can Spoil a "Singin' in the Rain" Party
BY: Amelia Buzzell |
Apr 9, 2014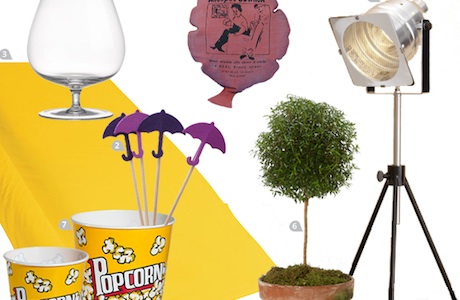 Cover the table in rain-slicker yellow and mix dark 'n' stormy cocktails in honor of the classic musical. Oh, and if something goes wrong, just dance your troubles away.
When spring rainstorms hit, there's just one thing to do: swing around the nearest lamppost like Gene Kelly in
Singin' in the Rain
. If you can bear to stop splashing around and come inside, bring the sunny spirit of the 1952 musical with you by throwing a party that even Lina Lamont would approve of—so long as nobody pops out of a cake. Cover the table in a slicker-yellow tablecloth, and stick an umbrella-shaped pick into each guest's drink. A tiny spotlight illuminates anyone you'd like to serenade with "You Were Meant for Me" (ladder optional)—if things get too sappy, a whoopee cushion hidden under each guest's chair should lighten the mood and is virtually guaranteed to "Make 'Em Laugh." A mini topiary centerpiece, meanwhile, is the perfect place to hide a microphone, which will pick up every "crunch" and "slurp" as guests eat popcorn from an old-timey tub and sip dark 'n' stormy cocktails from snifters. But be prepared: if the drinks are strong, your guests may suddenly find they just "
Gotta Dance
"!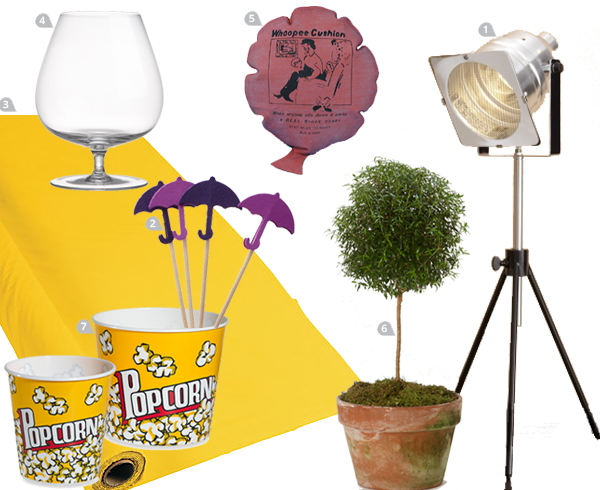 1.
Spotlight table lamp
, Aeropostale; ($59.50 on sale) 2.
Purple umbrella drink picks
, BelowBlink on Etsy; ($3.99 for 24) 3.
Yellow tablecloth roll
, Oriental Trading; ($27 for 300 sq. ft.) 4.
Gran brandy glass
, Crate and Barrel; ($12.95) 5.
Whoopee cushion
, Windy City Novelties; ($10.80 per dozen) 6.
Myrtle topiary
, Terrain; ($110) 7.
Cinema-style popcorn tub
, Bed Bath & Beyond; ($2.99+)