Of Fishnets and Face Paint: A Look at the (Literally) Fierce Fashions of Roller Derby
BY: SARA TREMBLAY | 7.16.2013 |
For many, roller derby conjures images of women in cute shorts and tights, but not much else. Yet your typical roller-derby match is a badass show of athleticism. The jammer skates ferociously through the pack, demonstrating nimbleness, speed, and strength as she tries to lap her opponents to accumulate points. She often collides with the opposing team's blockers, creating tangles of limbs and wheels that regularly result in broken bones, torn muscles, or at the very least, gnarly bruises.
False perceptions of roller derby may have something do with the fact that the sport used to be completely fake. In the 1930s, roller derby started to evolve from simple skating races to a contact sport. As matches became televised in the late 1940s, commissioners incorporated scripted displays of showmanship that included staged fights, alter egos, and cartoonish costumes. Some players liken this era to the current state of the WWE.
This showmanship only got bigger and flashier as the years pressed on. By 1989, television sets were airing RollerGames, an American Gladiators–style competition featuring female skaters racing around a figure-eight track, avoiding obstacles such as an alligator pit. The gimmicks eventually backfired, and the derby trend disappeared in a puff of glittery smoke.
But in the early 2000s, there was a grassroots revival in Texas that sought to bring all-female leagues to the mainstream. This time, women weren't out for cheap hits and melodramatic fights. Instead, the teams—which were by this point run by their own skaters—banded together to legitimize the sport. This included creating stricter rules and regulations, a process that would lead to the formation of the Women's Flat Track Derby Association (WFTDA) in 2004. Today, more than 450 national and international derby leagues skate under the WFTDA.
Though the atmosphere of roller derby has become more organized, the spirit of the sport remains the same: to entertain and inspire. To that effect, some of those early theatrics have stayed, most notably the skaters' savage alter egos and the fierce uniforms they wear. I met with veteran skaters Mimi Furst (Shawna Gallagher) and Pain "PG" Gwen (Megan Larcher), who both skate for the Chicago Outfit. They talked me through what makes a memorable, yet wearable uniform.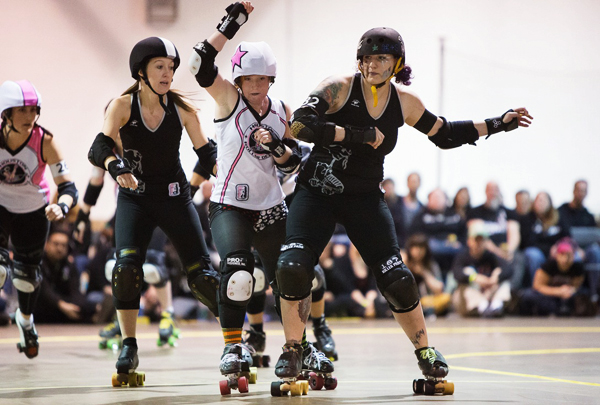 DEALING WITH FISHNET BURN
"When most [rookies] start out…they want to wear the fishnets and sparkly booty shorts," said Mimi Furst (a play on the phrase "Me first!"). But those skaters soon realize fishnet burn hurts. A lot. So many forgo "sexy/cute outfits" for more athletic attire (think leggings, athletic shorts, and sports bras).
As for the Chicago Outfit, all skaters must wear black. This means black tops, black bottoms, and absolutely no white socks.
"The idea is to be more uniformed," said Pain Gwen (pronounced like penguin—get it?). But regardless of individual clothing choices, all uniforms must include WFTDA-required gear—a mouth guard, elbow pads, kneepads, and a helmet. But not any old helmet, PG pointed out. The rise of concussions has many skaters opting for hockey helmets, including those with face shields.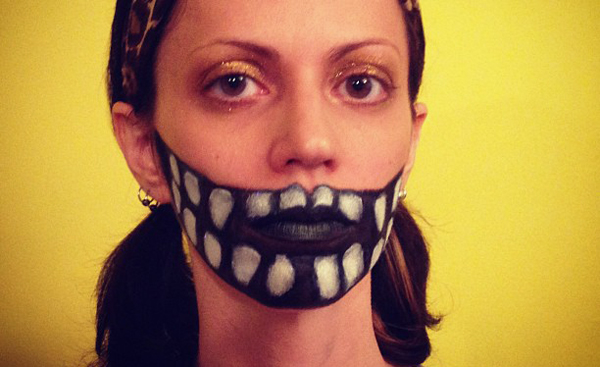 SHOWING OFF WAR PAINT
Because the Chicago Outfit uniforms don't provide much room to experiment with color, the team has taken another approach to liven up their duds: themed face paint. From zombies and blood to galaxies and sugar skulls, the team has done it all. But wearing face paint isn't just a way to unite the team or up its intimidation factor. PG said, "The sport has really gotten serious and intense…so [the face paint] reminds you that you are having a good time and you do [roller derby] for a reason. Because you like it."
But face paint isn't for everyone. Mimi recalled the first and only time she wore it: a black stripe across her eyes that quickly smeared as she constantly wiped sweat from her face. That hasn't deterred her from finding another way to jazz up her ensemble, however.
Mimi's signature accessory is a leopard-print scarf gifted to her by another skater on the team. "I've worn it with me every game I've played in…and it's now a part of my uniform."
As for PG, she is all about color. From her vibrantly hued shoelaces to the glittery makeup she sports across her eyes. "I like my neon…[and] I'm always wearing glitter. It's my thing."
...AND WAR WOUNDS
Though the outfits and alter egos may be for show, the skating, hip checks, and falls are all real. "I think when people come to see a game, that's when they really get it," Mimi said.
But as the popularity of roller derby rises, the traditions that once distinguished the sport are slowly diluting. Case in point: newer teams are finding it harder to create original alter-ego names, so they default to skating under their real names.
And as for the fashion, PG said, "I think the sport's athletics will take over and the theatrics will die out." As unfortunate (and far in the future) as that may be, both Mimi and PG agree that it will be well worth it if it means roller derby will finally get the respect it deserves.
So what will they do if that day arrives? Mimi put it best: "If I want to show off to somebody, I'll show them my bruises."
BY: Sara Tremblay
Guide Staff Writer
Sara is a filmmaker by trade, copywriter by choice, and forever in love with British television.