Off the Wall: Chicagoland's Weirdest Mini-Golf Holes
BY: Collin Brennan |
May 17, 2013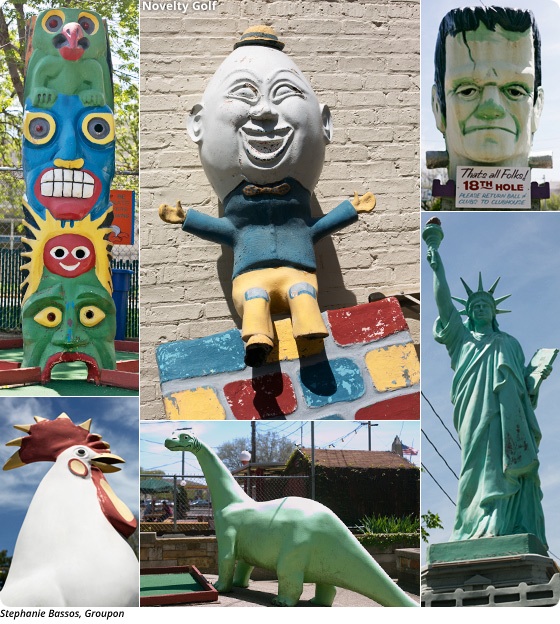 The ancient Scotsmen who invented golf weren't afraid to take creative liberties with their sport. (How else to explain the seemingly random number of holes in a game?) That said, even they might shake their heads in disbelief at some of today's miniature-golf courses. Words like "creative" only begin to describe the spiraling tunnels and gravity-defying double loops that characterize the oddest holes in Chicagoland. We've braved madness and botched our share of bank shots to arrive at this list of the weirdest around:
Paint Job Most Likely to Recall a Fever Dream: The Dragon Hole at Putting Edge in Norridge
Putting Edge gets medieval on its mini-golfers with a trio of psychedelic dragon cutouts rendered in fluorescent neon paint. If this isn't enough to send your mind spinning, the rest of the black-lit indoor course should do the trick. Nearly all of the obstacles—including a kraken with a pulsating frontal lobe—glow in the dark, and booming music can be heard loud and clear from each of the 18 holes. The overall experience approximates what it might be like to show up with a putter at a rave—a rave with dragons, that is.
Obstacle Most Likely to Level the Playing Field: The Giant Roulette Wheel at Par-King Skill Golf in Lincolnshire
Par-King's claim to have "The World's Most Unusual Miniature Golf" is a bit audacious, given the game's penchant for upping the ante on weird. But the Lincolnshire course backs up its case by strapping balls into roller coasters, feeding them to carved wooden tikis, and funneling them through the tunnels of a miniature Mount Rushmore. The course's final hole is arguably its most inventive. Players must putt away their points on the greatest of equalizers—a giant roulette wheel that determines the score.
Best Place for a Bigfoot Sighting: The Eagle Course at Wilderness Falls in Bolingbrook
Though most photographs of Bigfoot are blurry, one thing is clear: he rarely goes anywhere without his mini-golf putter. The ape-like creature makes his home at Wilderness Falls, taking shelter in a darkened cave behind a 40-foot waterfall. Of the park's two courses, the Eagle Course promises the best views if and when Bigfoot decides to emerge from his lair. He climbs all the way to the mountaintop, forcing players to cope with the most unforgiving of hazards: gravity.
Most Harrowing Water Hazard: The Congo Rapids at Congo River Miniature Golf in Hoffman Estates
If you don't want your ball to take an unintentional bath in Congo River's rapids, you'll have to tune out the distractions that abound near Hole 13. Granted, that's like asking Indiana Jones to tune out a boulder that's rushing toward his head. Thundering waterfalls, rope bridges, and a stalled safari jeep surround the multilevel hole, making it hard to focus on the task at hand: keeping your ball from being swept away in the steady current.
Most Visually Terrifying Obstacle: The Humpty Dumpty at Novelty Golf in Lincolnwood
Novelty Golf's Humpty Dumpty obstacle once drew unfortunate comparisons to Norwood Park's own John Wayne Gacy. In an ironic twist of fate, Humpty Dumpty actually fell off his wall recently, cracking his head and a few of the teeth in his evil grin. While he's getting patched up, Chicagoland's most historic mini-golf course remains perfectly safe for children. They'll likely fall in love with the giant Frankenstein head and tyrannosaurus rex, both of which somehow manage to instill less fear than the out-of-commission egghead.