Ohio State Football Fans, Please Report to McGee's
BY: GREG KESTER | 11.27.2013 |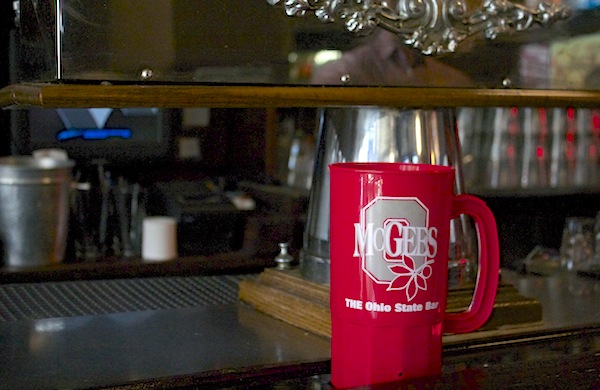 In the midst of Ohio State's 20-plus game winning streak, we sent our writer (an OSU grad) to McGee's Tavern & Grille (950 W. Webster Ave.) in Lincoln Park on a November Saturday morning to watch the Buckeyes battle the Illini. From this report, he dispatched a list of reasons why McGee's in the best Ohio State alumni bar in Chicago. Watch them there for the regular season's final game against Michigan on Saturday, November 30, at 11 a.m.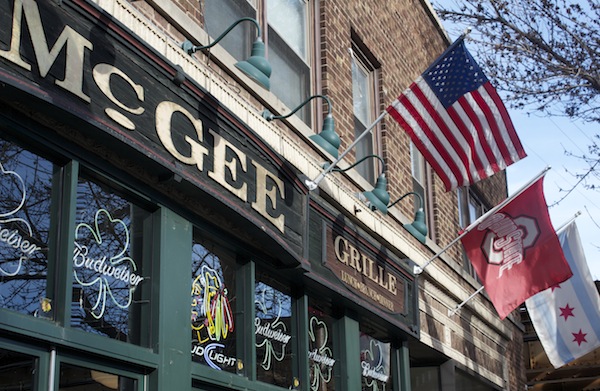 1. The call-and-response. Throw out a rousing "O-H," and you're guaranteed to get a return "I-O." You'll be welcomed instantly.
2. Scarlet and gray everywhere. Speaking of which, wear scarlet and gray if you want to fit in (maize and blue if you want to be shunned, a Kirk Herbstreit mask if you want to be loved, hated, and then driven from the state).
3. The 32-ounce, custom red plastic mugs filled with great, cheap American beer. The mug itself costs $2 (refills are $8), and it bears the school's Block O logo.
4. The bone-rattling air horn. It blares every time Ohio State scores. Situated above the main bar in the front, it doesn't appear any different from a fire truck's horn. Even when bracing yourself all the way at the back of the house, the sheer volume startles. One can't help but tense up in anticipation. Many cover their ears. When I was watching the Illinois game, the Buckeyes won 60-35. That's nine blares from the air horn.
5. The confetti cannons. The bartenders shoot them off after touchdowns. When they do, be sure to cover up your mug, though expect to accidentally ingest several of the colorful, fibrous, Fruity Pebbles-ish strips.
6. The two-for-one O-bombs. The offer is announced over the loudspeaker every time Ohio State scores, and stands for 15 minutes. For the uninitiated, O-bombs are about as simple as drinks come: Red Bull mixed with Bacardi O. It's not a shot, exactly—it's probably about 3 ounces of liquid—but the idea is to throw it back like one so that you barely taste its signature citrus-y, chemical-y flavor.
7. "Hang on Sloopy." The school's adopted song since forever plays frequently over the loudspeaker. In fact, as I approached the bar from Webster Avenue, I could hear it playing down the block. It was a pleasant reminder of Saturdays back on campus.
8. The inflatable Brutus the Buckeye. He's posted up just outside the front door, welcoming Buckeye faithful.
9. Tom Piazza. The owner of McGee's opened the spot up in 1987, before Lincoln Park had become sanctuary for breakfast cafés and multimillion-dollar mansions. Tom says: "I've seen this area go from one of the most dangerous parts of Chicago to one of the nicest."
10. Ohio State Alumni Club of Chicago. They hang out at the front door at McGee's, which makes regular contributions to the alumni club, and just this year sponsored a tailgate in Evanston for the Northwestern game. "No bar does a better job or recreating that hometown feeling," Ken Pietsch, the club's Gamewatch Chair says as a guy slaps him on the shoulder in passing. "…[Alumni] love having a place to go where they can experience the same atmosphere as they would on campus."
11. The breakfast burritos and thin-crust pizza. A breakfast burrito and omelet represent respectable weekend brunch options, but they appear nowhere near as popular as the thin-crust pizzas.
12. A crowd. When I was in attendance, the bar was packed by 11:30 a.m. For a game against Illinois.
13. "Carmen, Ohio." The ritual singing of this song is a scene any Buckeye relishes: strangers bonded by mutual experience, their arms draped over each other's shoulders, singing the final stanza: How firm thy friendship…O-HI-O!
Photo credit: Greg Kester, Groupon
BY: Greg Kester
Guide Staff Writer
Greg is a Chicago-based writer and Ohio State fan.