Okra Is In Season at These Five Chicago Restaurants
BY: Katie Cortese |
Jul 22, 2014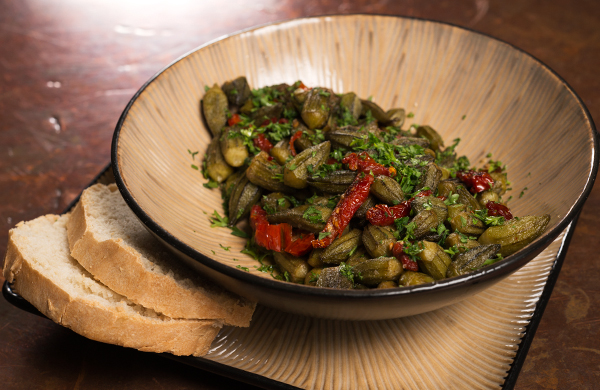 Okra may be in season right now, but it doesn't mean everyone wants to eat it. The veggie often gets a bad rap for its slimy coating, which emerges when it's cooked. But according to Chef David of
Taxim
restaurant
in Chicago's Wicker Park, the veggie is actually quite versatile—and nearly slime-less—when cooked properly. He himself cooks with it every day. "It is a delicious, delicious vegetable," David said. "I think okra is much maligned by the way it is prepared in the States. The thing people are uncomfortable with is the sliminess of okra." Chef David said that the slime problem is exacerbated when okra is sold too large. "Larger okra is intended for pickling or to add mushiness to stews like gumbo," he explained. Some parts of the world harvest okra much smaller to reduce the sliminess—and that's how Chef David likes it, too. At Taxim, he only uses tiny okra, some as small as the nail on a pinky finger. What does he use these tiny veggies for? He cooks a staple Greek dish,
bamies laderes
.
Bamies
is Greek for
okra
, and
laderes
refers to the Greek method of cooking during the summer months: veggies cooked with olive oil and very little else. "The Greeks don't use butter, so the laderes is vegan and gluten-free," David said. And around the world, the versatile vegetable is cooked to reflect a culture's cooking techniques and flavors. Okra can be stir-fried, deep-fried, breaded, stuffed, and boiled. It can be simmered in a thick stew, curry, or soup. It can even be eaten raw. Below, find five dishes that celebrate okra in five distinct ways:
Southern
What to order:
southern-style fried okra
Where to eat it:
Milt's Barbecue for the Perplexed
 in Lakeview
Greek
What to order
: Bamies laderes, a dish with baby okra, sun-dried tomatoes, fresh coriander, and olive oil
Where to eat it:
Taxim
 in Wicker Park
Indian
What to order
: Bhindi masala
, 
a semi-dry curry of okra cooked in an exotic blend of North Indian spices. Also, an appetizer of bhindi amchur, a plate of deep-fried, wafer-thin slices of okra sprinkled with Indian spices.
Where to eat it:
India House Restaurant
 on the Near North Side
Ethiopian
What to order
: Okra quosta
,
 an entree with okra and chopped spinach simmered in a mild sauce of spices, onions, and fresh garlic
Where to eat it:
Ethiopian Diamond Restaurant
 in Edgewater
Afghan
What to order
: Bamya chalaw okra, a stew with sliced okra cooked with onions, tomatoes, and exotic spices, served with basmati white rice
Where to eat it:
Afghan Kabob
 in Irving Park
Photo by Andrew Nawrocki, Groupon
Shop for deals on Chicago vegetarian restaurants.