Olympic Luger Erin Hamlin Won Bronze. I Won My Manhood.
BY: Tyler Clark |
Feb 13, 2014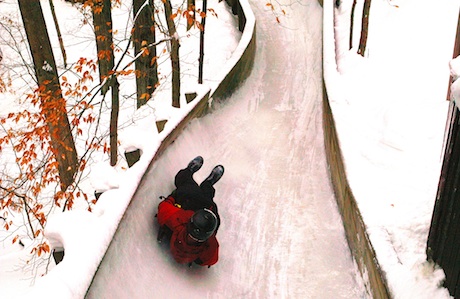 Before Erin Hamlin won bronze at Sochi, Americans didn't have much to celebrate in Olympic luge. But why? A young man throws himself down a tunnel of ice in search of answers.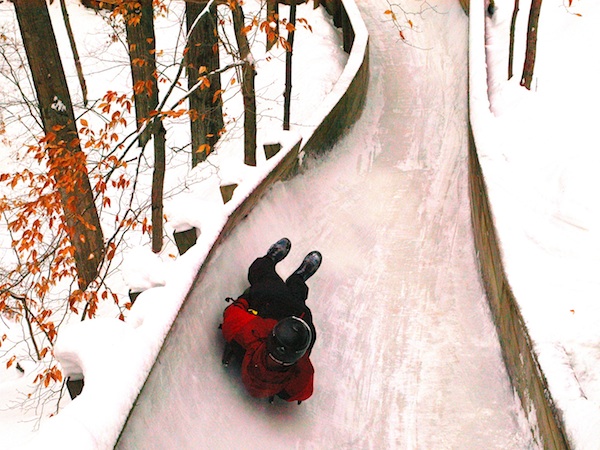 It finally happened. On Tuesday night, American Erin Hamlin
rocketed her way to a bronze medal
in the women's single-luge event at the 2014 Winter Olympics. The podium finish marked the first time an American athlete—male or female—earned an individual medal in luge since the sport's introduction to the games in 1964. It was an historic moment, one nearly overshadowed by the media's coverage of more "important" US luge stories. Surely you saw the athletic feat that was
Kate Hansen's pre-race Beyoncé dance
. And there's no forgetting the romantic plight of men's luge star Tucker West, whose father
went to extraordinary lengths
to find a girlfriend for his "very single" son. Until Hamlin's medal-worthy runs, much of the luge at this year's Olympics had come and gone unnoticed in the States. The sport has been relegated to NBC's graveyard shift in favor of more telegenic sports like
snowboarding
and
making fun of Bob Costas's eye
. It doesn't help that German gold medalists Felix Loch and Natalie Geisenberger have, in what has become an Olympic tradition, shredded their opponents like so much sauerkraut.
Asked before the event
how Loch could be taken down, US luger Chris Mazdzer didn't exactly talk strategy. "He crashes," Mazdzer said, hardly batting an eye. Despite Mazdzer's less-than-rosy outlook, a lack of confidence alone cannot explain the dearth of Americans lugers on the medal podium. Here's something that can: you can count the number of luge tracks in the United States on one hand. Overcome with patriotic fervor and determined to save our country from embarrassment in four years in Pyeongchang, South Korea, I decided to visit one of these tracks and see if I have what it takes to be an Olympian. Or at least make it to the bottom of the track alive.
Greetings from Muskegon
Situated on Michigan's western shore just 200 miles north of Chicago, the track at the
Muskegon Winter Sports Complex
doesn't boast the competition-grade amenities of former Olympic tracks in
Lake Placid
, New York, or
Park City
, Utah. A little shorter and a little slower, the track is mostly used as a training tool by the country's junior program. More importantly, it's also the only luge track in America that's open to the public. For just $45, anyone with health insurance and a warm jacket can rocket at 30 miles per hour down a sliding track designed by three-time Olympian
Frank Masley
. This year, I decided to be that anyone. On Groundhog Day, some friends and I piled into my hatchback and headed through the snow toward Muskegon. Aside from a few childhood visits to the ice rink and bunny hill, our collective winter-sports experience consisted mainly of our daily attempts to not slip to our deaths on icy L platforms. Still, what what we lacked in practice, we made up for with enthusiasm. Oh, and nerves. Lots and lots of nerves, which we tried to suppress by filling the three-hour drive with as many luge-related puns as possible. "Did you remember to put the address into the GPS? I wouldn't want us to
luge
our way." "I heard NBC is doing a new winter-themed weight loss show.
The Biggest Luger
." And so on. You get the idea. We pulled in to the track just as the puns stopped being funny. With temperatures hovering just below freezing, the lodge bustled with the sights and sounds of winter athletics. In addition to the luge track, the complex boasts facilities for
ice hockey
and
cross-country skiing
, as well as a few
sledding
runs and trails for
snowshoeing
. As we signed our waivers, we were surrounded by kids lacing up their skates for slapshot practice in the rink outside. It looked like a pleasant enough way to spend the afternoon, but we didn't have time to dawdle. Having arrived slightly after our scheduled start time, we had a sport to conquer and only two hours to do it.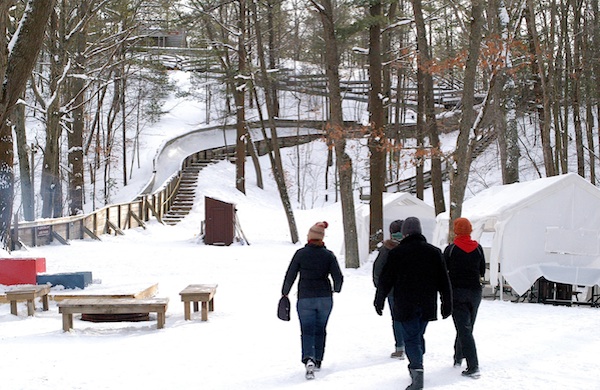 How to Keep Cool on a Frozen Track
Whether you're on time or not, the complex's
Learn to Luge
program begins with a group safety and equipment lesson. After donning the required helmet and forearm pads, we met the sleds. Crafted by masters in Austria, they are elegant in their simplicity: consisting of two runners connected by a metal crossbar, they'd find their way safely to the bottom with or without a pilot. In fact, the only human-friendly features on these sleds are a flat fabric seat, two handles, and a set of bows used for guiding the runners. Suitably acquainted with our sleds, we turned to one of the complex's junior competitors for a quick lesson on steering, which is done with the calves. We listened with the solemn attention of soldiers preparing to charge the battlefield. "Keep your feet up. Think of it as one long leg lift."
OK, that seems reasonable.
"Don't tense up. If you tense up, you'll be fighting the sled the whole way down."
Not sure how to stay loose when I'm so nervous, but sure …
"Keep your shoulders and head back, or you'll start to fishtail."
But how the hell will I see where I'm going … ?
"Be sure to keep your hands on the handles. We want you to come down with all 10 fingers."
Tell my mother I love her.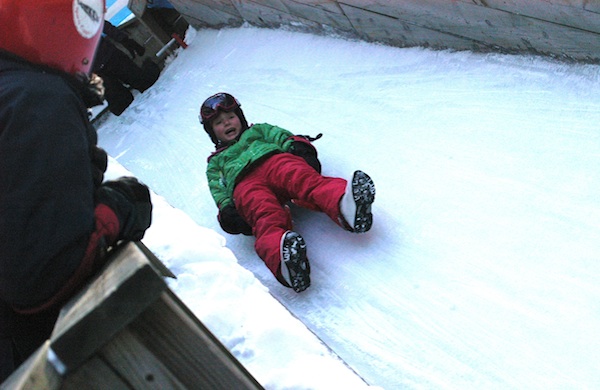 Searching for Answers at 30 Miles Per Hour
After our brief and terrifying lesson, we shouldered our sleds (at 25–40 pounds each, this was no picnic) and trudged up the steps to get in line with our fellow students. They were already on the track, filling the air with a clattering rumble as, one by one, they zoomed toward the crash pads at the bottom. As I stood at the back of the pack, a boy zipped by on one of the youth-sized sleds. In a moment I am less than proud to recall, I was physically and emotionally intimidated by an 11-year-old. The luge runs at the Learn to Luge program are quick. Launching from the three-quarter mark on the track, most riders hit the finish in less than 19 seconds. Thus, our wait in line was brief. A mere 15 minutes after climbing the stairs for the first time, I found myself sitting at the launch, hands on the paddles, waiting for the public-address announcer to declare the track clear. "Don't worry," said the merciful track attendant. "I still get nervous before my first run of the day." Strangely, though, in those last moments before I shoved off, I was no longer anxious. I was too busy reflecting on what had brought me to this point. Was it my New Year's resolution to stop being a big fraidy cat? Did my Winter Olympics mania run deeper than I first realized? Or, like anyone who watched Erin Hamlin on Tuesday night, did I just want a taste of the thrill that makes some athletes devote their lives to a sport that most of America only remembers every four years? "Track clear! Track clear!" I lay back on the sled, staring up at the snowflakes falling lazily toward the track. Gripping the launch paddles with both hands, I eased myself gingerly out of the gate, sliding down the ice in search of answers.
 Olympic luge coverage finishes tonight with the final runs of the doubles event. The Muskegon Winter Sports Complex's Learn to Luge program runs every weekend through March 9. Register here.
Photos: Collin Brennan