Groupon GUIDE TO LOS ANGELES
On Location: L.A. Restaurants Immortalized in Film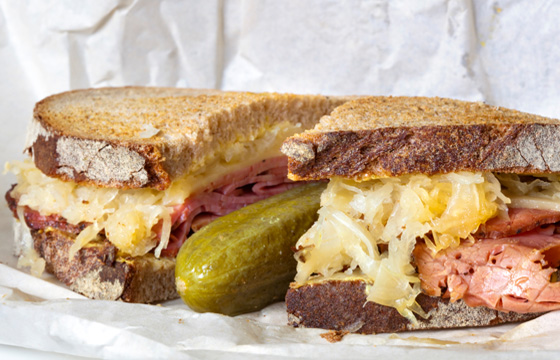 If the film industry resides in Hollywood, the greater city of Los Angeles is its backyard. Filmmakers have taken to exploring this backyard in their movies, and local residents have come to accept that a routine trip to the deli can quickly turn into a cameo in the latest blockbuster. Though tourists have taken to camping outside celebrities' homes for a glimpse of fame, there's a less invasive—and far tastier—method of stargazing. Here, we follow the cameras to seven restaurants made famous by their appearances in film.
If you're flying in to LAX, your first stop should be Randy's Donuts on West Manchester Avenue. No, Randy's was not named after Randy Newman. It was, however, briefly featured in the music video for the singer's 1983 paean to his native city, "I Love L.A.". When the giant donut that sits atop the shop isn't appearing in action films such as 2012 and Iron Man 2, it acts as a beacon, enticing pilots to visit during long layovers at the nearby airport.
Next, take a drive over to Canter's Deli in the Fairfax District. Though countless celebrities have feasted on Canter's pastrami sandwiches since 1931, Walter Matthau bears the rare distinction of doing so on camera in Neil Simon's I Ought to Be in Pictures (1982). Current owner Marc Canter recently penned a book about Guns N' Roses, whose frequent visits to his deli evince the band's appetites for things other than destruction.
If pastrami and hair metal don't satisfy your taste for decadence, head to the lavishly appointed Cicada Restaurant downtown. In a memorable scene from Pretty Woman (1990), Julia Roberts flings a snail across the restaurant's art deco-inspired dining room. Her costar, Richard Gere, would return to the restaurant just a few years later in Final Analysis (1992). Perhaps he was drawn back by the mallechort elevator doors or gold-leafed ceiling—traces left over from the restaurant's former life as a 1920s haberdashery.
Cicada's transformation seems minor compared to that of J & J Sandwich Shop. The 6th Street delicatessen was stripped of its walk-up sandwich counter and injected with a dose of 1950s noir for L.A. Confidential (1997). Recast as the Nite Owl Coffee Shop, J & J became the scene of a multiple homicide and ground zero for the movie's pulpy action.
Hop on the 101 freeway and exit at Franklin for a post-lunch coffee or milkshake at the appropriately named 101 Coffee Shop. Restaurateur Warner Ebbink carefully designed the shop's interior—complete with swiveling counter chairs and plush leather booths—to mimic the funky diners of the 1960s. According to the New York Times, Jon Favreau and Vince Vaughn frequented the diner back when it was called the Hollywood Hills Coffee Shop. They repaid the hospitality by immortalizing the shop in their hit comedy Swingers (1996).
Get back on the 101 and take it out to the San Fernando Valley for the last stop of our tour, which brings us to a nondescript strip mall in Granada Hills. This is the site of Vincenzo's Pizza, which the filmmakers behind the neo-noir Drive converted into Ron Perlman's latest criminal lair. Though one of the film's most violent scenes takes place inside the renamed Nino's Pizzeria, it's worth risking your life for a slice of Vincenzo's New York–style pepperoni.