On the Hunt for the Greek Frappe
BY: Kristy Doukas |
Apr 22, 2013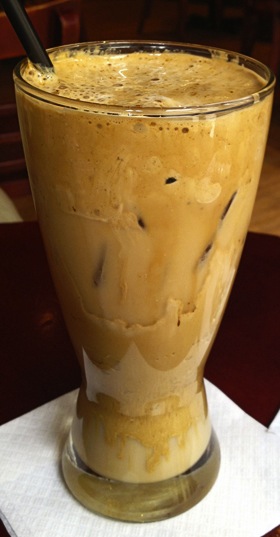 The first time I visited Greece was in the summer of 2003—the year before Athens hosted the Olympic Games. "We won't have the stadium done in time. There's no way," a taxi driver mused to my family. We all laughed, only to see firsthand what he was talking about. Construction workers, it seemed, averaged anywhere between three and five coffee breaks
per hour
. As a Greek myself, I can attest that we as a people are not procrastinators, nor are we lazy. We simply believe life is meant to be enjoyed—preferably with a cup of coffee. Walk through the hilly streets of Athens on any given day, and you'll catch what seems like everyone sitting outside the city's countless cafés, some playing backgammon, others idly chatting, but all drinking the same thing: a frappe. There are two main components to this iconic drink: water and instant coffee (the preferred brand being Nescafé). To the coffee snob, the use of instant coffee might seem criminal, but don't let it dissuade you. Once shaken with ice water, the mix becomes frothy, delicious, and addictive. I tasted what seemed like every frappe in Chicago, hoping to find a taste of Athens right in my own backyard. Some were authentic and most were delicious, but those I found at these five places really hit the spot.
The Parthenon Restaurant | Greektown
Bitter with a touch of sweetness, the frappe at this Greektown restaurant—a staple of the neighborhood since 1968—is everything it should be, with its authenticity enhanced by the lively and familial ambiance. Yanna, the owner's daughter, works the dining room and the front door, treating every guest with the familiarity of an old pal. On one particular night, she spat out anecdotes about her name ("I'm like Yannis, except I have boobs"), warned us not to touch her coffee or e-cigarette, and even shared food right off her own plate. Affable and funny, she embodies Greek hospitality to a tee, making the frappe that much more enjoyable.
Food Tip: Try the gyros. Unlike the majority of Greek restaurants, which use meat by the Kronos company, Parthenon makes its own in house and without any corn or soy fillers.
Nine Muses | Greektown
Games of backgammon at a Greek café are as commonplace as laptops at an American coffee shop. Nine Muses upholds the tradition. Sit at the bar and you'll find yourself surrounded by the constant buzz of Greek chatter and dice clanking against the board. And, despite many Greek and Lebanese beers on special, everyone always has a frappe in hand—and it's no question why. Muses' version offers the same gritty, almost crunchy, coffee-crystal texture that I first experienced—and fell in love with—in Greece.
Food Tip: Order the meze plate for two. For $22, you'll get enough gyro meat, charbroiled chicken, and deliciously lemony pork tenderloin for three (very hungry) people.
Iguana Café | River West
Helmed by Spartan natives, this River West spot embodies the Greek dining tradition in one very important way: a laid-back attitude. Order your frappe the traditional way or ask for it with a shot of Baileys. Just be ready to sip at a leisurely pace because, true to Greek form, the waitstaff is a bit on the slow side. Don't mistake that for poor service, though—rushing guests in and out just isn't their thing.
Food Tip: The bakery makes a wonderful bougatsa, a breakfast or dessert pastry with custard sandwiched between flaky layers of phyllo.
Sip Coffeehouse & Garden | Near West Side
Though it's an "American" coffee shop—complete with the cushy couches and generally quiet and studious customers—Sip's frappe tastes like it came straight from a
kafeneio
in Athens. It's no wonder really, since the shop does indeed use real Greek Nescafé. The only hitch? Sip's version comes with milk and sugar, so if you prefer yours
sketos
(Greek for black), you better speak up.
Food Tip: With a display case full of delicious muffins and scones, you can't go wrong, especially if you enjoy your coffee and snack on the back patio.
Gyro Mena | Lakeview
Blended with a ton of sugar, milk, and cream, this frappe is nary a Greek one. But, boy, does it go down smooth. The coffee flavor is bold, and when mixed with the sugar and cream (a lot of cream), it leaves almost a chocolaty aftertaste. It's less of an everyday treat than it is a dessert—one particularly suited for chasing down some authentic Athenian gyros.
Food Tip: While the American-style gyros (the typical mash-up of lamb and beef) are decent, try the pork or chicken versions instead. They're pretty close to the ones you'll find in Athens, including the ever-important finishing touch: fries placed inside the sandwich.