On the Red Carpet, Navy Is the New Black
BY: Michelle Schuman |
Mar 4, 2014
Even the rain couldn't dampen the mood at the 86th Academy Awards. Ellen DeGeneres kept her guests happy and well-fed with some pizza delivery, Pharrell Williams performed his nominated song "Happy" with an ensemble of dancers in bright-colored outfits, and the world celebrated 12 Years a Slave's history-making victory in the Best Picture category. It's the first time a film from a black director won the film industry's highest honor in 86 years of the Academy Awards.
Rumor has it that many actors' ensembles weren't delivered on time because of weather-induced travel delays and cancellations. Some celebrities may have donned second-choice dresses or last-minute looks, but you wouldn't know it from the photos. Below, we've rounded up our favorite trends from the red carpet as seen on the celebs we thought wore them best.
Navy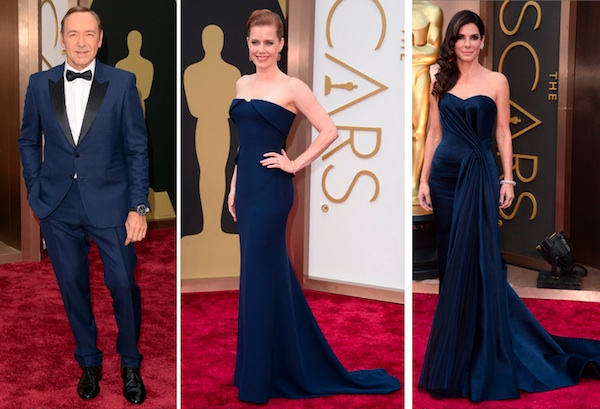 Our favorite: Kevin Spacey. His navy Burberry tux with contrasting black lapels was right on trend.
Honorable mentions: Amy Adams and Sandra Bullock. Adams reportedly selected her Gucci gown without the help of a stylist, but you'd never guess since it fit her like a glove. The sweetheart neckline and draping on Bullock's Alexander McQueen gown recalled old Hollywood glamour, especially when styled with sideswept curls.
White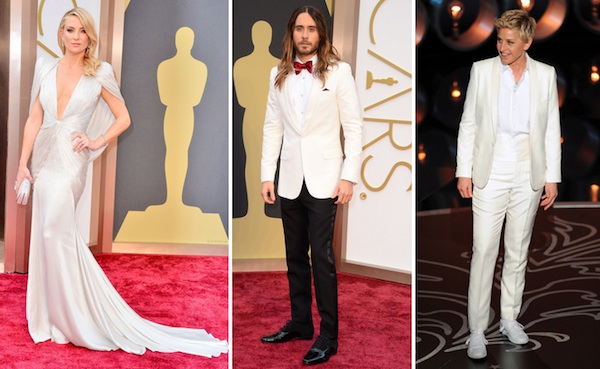 Our favorite: Kate Hudson. Her curve-hugging Versace gown featured a plunging neckline worthy of Lady Edith Greensley. When she took the stage to co-present the short film awards, she'd ditched the cape, revealing beautifully beaded shoulders.
Honorable mentions: Jared Leto and Ellen DeGeneres. Best Supporting Actor–winner Leto told reporters that he never wears suits, which makes his success with this black-on-white tuxedo and playful red bow tie even more impressive. DeGeneres's white tux was her first costume change during the broadcast. The simple white sneakers and lack of necktie reflected her laid-back humor, and reminded us a bit of Marlene Dietrich's signature menswear looks.
Black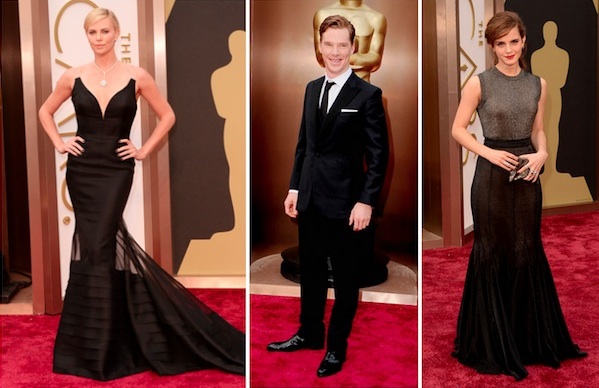 Our favorite: Charlize Theron. Her Dior dress proved black need not be safe. Transparent straps held up a fitted bodice with a low back. Sheer panels added a little extra edge.
Honorable mentions: Benedict Cumberbatch and Emma Watson. Cumberbatch looked handsome in a classic three-piece suit updated with wide lapels and a simple white pocket square. Watson, like Theron, stunned with a surprising spin on basic black designed by Vera Wang: a glittery top and trumpet skirt that read like separates.
Pastels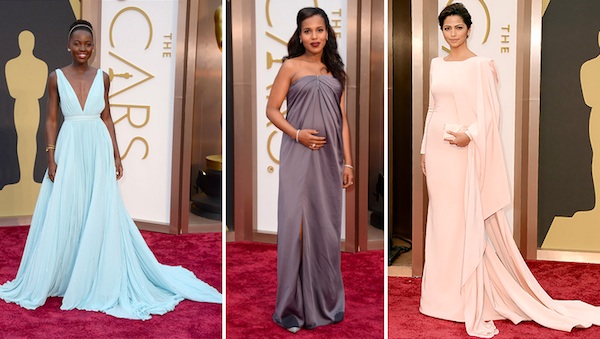 Our favorite: Lupita Nyong'o. The newcomer paired a gold headband with a light azure Prada gown, drawing comparisons to Cinderella. She told a reporter that she loved the color of the dress because it reminded her of Nairobi.
Honorable mentions: Kerry Washington and Camila Alves. Washington showed off her baby bump in a mauve Jason Wu gown, which she styled with an unexpected oxblood lip. Mrs. McConaughey was statuesque in a draped blush-colored gown by Gabriela Cadena.
Beading
(Yes, we know beading is not a color.)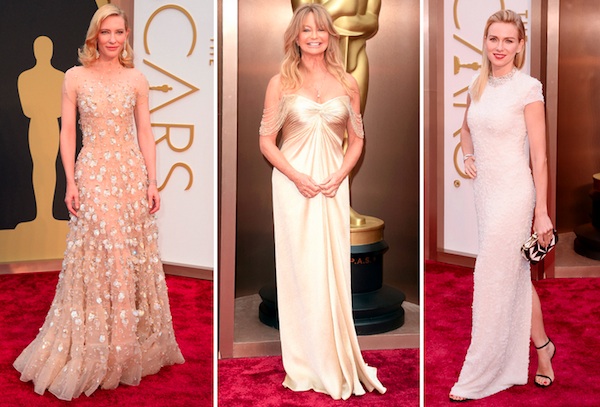 Our favorite: Cate Blanchett. The Aussie was elegant as always in a nude gown with an illusion neckline from Giorgio Armani.
Honorable mentions: Goldie Hawn and Naomi Watts. The ageless Hawn looked radiant in champagne Versace. A webbed Bulgari necklace put the perfect editorial touch on Watts's cap-sleeve Calvin Klein Collection gown.
Photos courtesy of E! Online
BY: Michelle Schuman
Michelle is a freelance fashion designer and dancer from Detroit. She has traveled the US extensively (and loves it!), but her biggest goal is to travel abroad.