One Song from Every Year of the '90s That (Probably) Influenced The Pains of Being Pure at Heart
BY: Collin Brennan |
Apr 23, 2014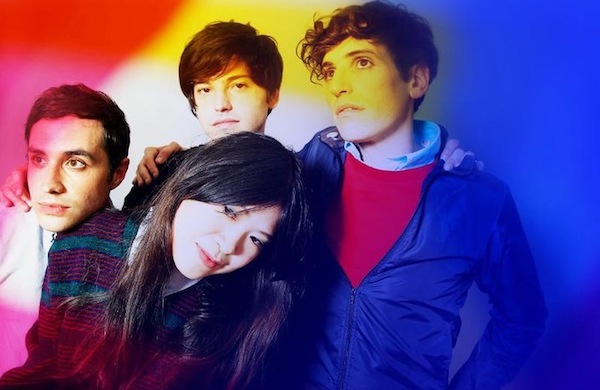 Aside from owning the best band name in a crowded indie-pop marketplace,
The Pains of Being Pure at Heart
have a knowledge of '90s music that would shame most of their peers. The band's self-titled debut baffled even a fair number of critics, who had to frantically Wikipedia groups like The Field Mice and Black Tambourine to make sense of what they were hearing. It's not that The Pains play challenging music. Their wistful, guitar-driven twee pop has always been easy on the ears, even when they cranked up the distortion to Billy Corgan-esque levels on 2011's
Belong
. It's just that the band sounds like they're out of place in the current era of pop music. With new album
Days of Abandon
dropping on Tuesday, May 13, we look back at some of the groups we're, let's say, 90% sure influenced the band:
1990: Ride – "Kaleidoscope"
Ride subscribed to the My Bloody Valentine school of "That sounds good, now let's add 87 layers of distortion." The Pains aren't quite so maximalist in their approach, but they do evince the same tendency to gaze at their shoes every so often.
1991: The Field Mice – "This Love Is Not Wrong"
We can't be certain, but we'd bet our Walkmans that "This Love Is Not Wrong" influenced a Pains of Being Pure at Heart song that bears
an uncannily similar title
.
1992: Another Sunny Day – "Anorak City"
One of indie pop's forgotten bands, Another Sunny Day enjoyed a brief, uh, moment in the sun following the release of tongue-in-cheek single "You Should All Be Murdered." But the best song on their lovely 1992 album
London Weekend
is opener "Anorak City," a response to music critics who derided indie pop as just a bunch of skinny guys singing out their feelings in form-fitting parkas.
1993: Slowdive – "Alison"
Slowdive is basically My Bloody Valentine stripped of everything that resembles punk. That sounds like an insult, but it's not. It's also a pretty damn good description of The Pains of Being Pure at Heart. That sounds like we're giving ourselves a compliment, but we're not.
1994: The Jesus and Mary Chain – "Sometimes Always"
Sure, The Pains owe a few of their fuzzier moments to The Jesus and Mary Chain's landmark 1985 album,
Psychocandy
. But their sound more closely resembles the latter days of JMC, when the band dropped the curtain of fuzz to reveal the sparkling melodies found on "Sometimes Always."
1995: The Smashing Pumpkins – "1979"
The first 10 seconds of the Pains' second album,
Belong
, wallop the listener with a two-by-four of sludgy distortion. It was their way of saying, "Look! We aren't
always
pretty!" Somewhere—and despite all his rage—a man named Billy Corgan smiled.
1996: Belle and Sebastian – "Get Me Away from Here, I'm Dying"
What else is there to say about Belle and Sebastian? They birthed a few classic albums, a few thousand precious copycats, and a few million fake Scottish accents. Unlike the more egregious offenders, The Pains take only the best of what B & S has to offer: charming lyrics, catchy hooks, and a rather, um, sensuous love of literature (see below).
1997: Beatnik Filmstars – "Look Up and Be Amazed"
Beatnik Filmstars were once members of the same Slumberland Records roster that The Pains of Being Pure at Heart now call home. But their similarities extend beyond the label—listen to "Look Up and Be Amazed" and tell us you don't detect the seeds for a certain indie-pop band from Brooklyn.
1998: Manic Street Preachers – "If You Tolerate This Your Children Will Be Next"
The Manics were never quite as big in America as they were in England. They still seem to have wormed their way into Kip Berman's ears, so jolly good job, lads.
1999: The Magnetic Fields – "The Luckiest Guy on the Lower East Side"
As a final treat, we're going to ruin this song for you forever. Listen to that squishy plunger sound in the background.
Squish, squish
. It never stops. Let this be a lesson to The Pains of Being Pure at Heart: never use a drum track that sounds like a toilet being unclogged.
The Pains of Being Pure at Heart play at the Empty Bottle (1035 N. Western Ave.) on Monday, April 28, at 8:30 p.m. Fear of Men and Ablebody open. To purchase tickets, click here. Or check out Groupon's deals for other concerts in Chicago.
BY: Collin Brennan
Guide Staff Writer
Collin is a senior editor and a staff writer for Consequence of Sound. He self-publishes zines and moderates writing workshops for The Chicago Publishers Resource Center (CHI PRC).