GROUPON GUIDE TO WASHINGTON-DC
This Vietnamese Dessert Is Like a Cool, Frosty Rainbow
BY: Nathalie Lagerfeld |
Aug 13, 2014
The dessert case at Chicago's Ba Le is full of jewels. Or at least, that's what it can look like to hungry visitors in line for bánh mì at the shop in the city's Little Vietnam.
The colorful items in the case's frosty confines are actually cups of chè—a cold Vietnamese treat usually made from a mix of tropical fruits, coconut milk, sugar syrups, and jellies. It's easy to succumb to the temptation to try a new flavor on each visit (I still haven't managed to work my way through all of them yet).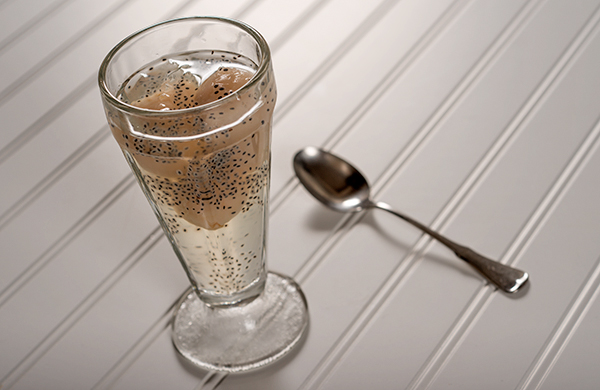 That's partly because in Vietnamese, "chè" is a catch-all term for a pretty eclectic group of desserts. All of them are cold, and some of them are lightly flavored with pandan leaf, which has an herbaceous aroma similar to that of basmati rice.
But beyond that, almost anything goes in chè world.
The treats can be topped with a rainbow of flavored jellies and an orchard's worth of tropical fruits. Some resemble a fruit cocktail floating in light syrup, like the chè hột é vải with lychees and basil seeds.
But most chè come topped with something creamy. My favorite of this type is also one of the simplest: a cup of purplish taro root crowned with snowy-white coconut milk, with no fruit or syrup to be seen. Taro's nutty flavor and starchy texture contrast nicely with the sweet, creamy topping. For paleo dieters, this might be the only cupcake substitute they'd ever need.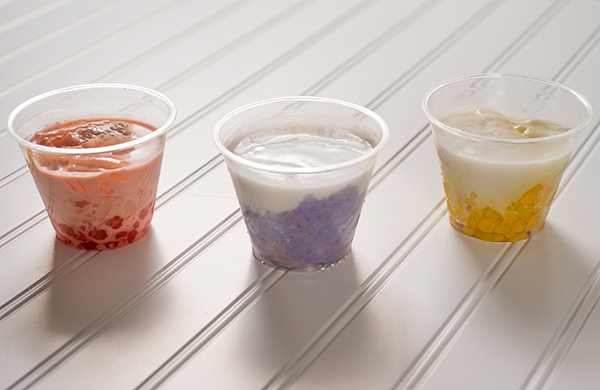 Left to right: chè thái (jackfruit, water chestnuts, tapioca noodles), chè khoai môn (taro root), chè bap (corn).
At the other end of the spectrum, there's the significantly more complicated chè thái. This Vietnamese take on a popular Thai sweet drink throws zigzag-cut tapioca noodles in the mix, as well as crunchy water chestnuts and sweet, juicy jackfruit.
The resulting blend of textures might feel unfamiliar to a contemporary Western palate, but remember: just a few generations ago, we were all eating perfection salad at fancy dinners. Our culinary traditions have much in common, at least where gelatin is concerned.
Many chè also incorporate beans—a common feature of many Asian but few Western desserts. Chè ba màu, or three-color chè, is usually made with red beans, mung beans, and black-eyed peas. (Some versions substitute bright green grass jelly.)
Not all versions come in dainty little cups, either. At Ba Le, the chè rau câu's blend of coconut milk and clear jelly is served in a hollowed-out coconut, recalling chè's roots as tropical street food.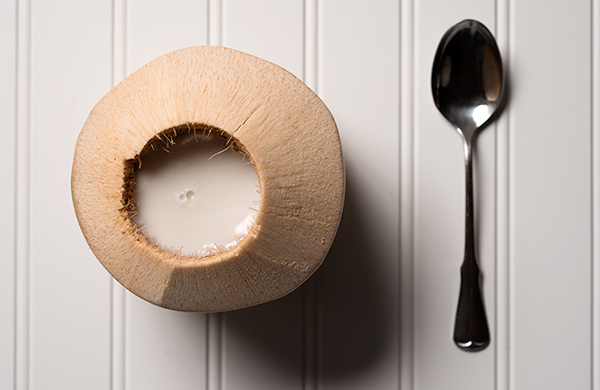 You don't have to buy a bánh mì sandwich (or visit Chicago) to enjoy the taste of chè. Many Vietnamese restaurants offer a version of the dessert, alongside less exotic sweets like mango with sticky rice. Ordering this way can feel a little risky compared to picking something out of a display case. You won't know exactly what you're getting, particularly if you don't recognize the words that come after "chè" on the menu.
But I'd recommend going for it anyway—after all, it's just dessert. And who doesn't like their sweets with a side of danger?
Photos by Andrew Nawrocki, Groupon.