Order Like a Frenchman This Bastille Day
BY: Kristin Price |
Jul 10, 2014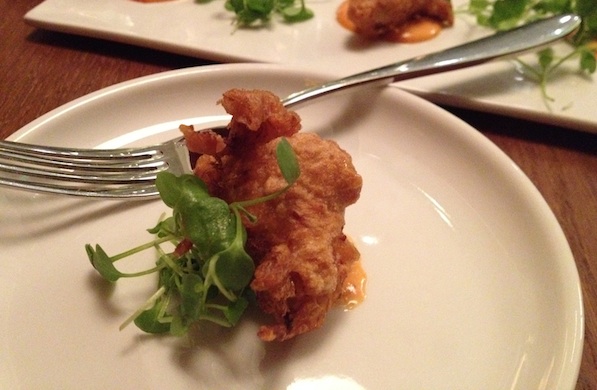 Bastille Day—also known as French National Day—commemorates the French Revolution and is typically marked by military parades, picnics, dances, and fireworks … in France. In the United States, however, it's just a great excuse to enjoy some French food and wine. But just in case your high-school French is a bit rusty, we put together this cheat sheet—complete with a pronunciation guide!—highlighting popular French delicacies and the Seattle restaurants that serve them.
Pommes Frites
(pom freet)
What it is:
In French, this term sounds romantic. In English, it translates to "potato fries," more commonly known here as french fries. In French restaurants, dishes served with fries are marked "et frites"—as in "moules et frites" (mussels with fries).
Where to try it:
Try the frites and aioli—another French word for a sauce made with garlic, olive oil, lemon juice, and egg yolks—at
Bastille Café & Bar
(5307 Ballard Ave. NW) in Ballard.
Charcuterie
(car-chu-kur-ree)
What it is:
This word actually refers to a type of preparation and preservation of meat. Most accurately, it means "cold prepared meats."
Where to try it:
Le Pichet
(1933 First Ave.) in Pike Place Market offers an extensive list of charcuterie. Selections include Lyon-style sausage with pork and pistachios and duck-liver terrine with green peppercorns.
Beignet
(bean-yay)
What it is:
A French term for fritter, meaning anything dipped in batter and deep-fried. Many people are familiar with the sweet, powdered-sugar variety popular in New Orleans, but beignets can also be savory, incorporating vegetables, meat, or seafood.
Where to try it:
The crab beignets at Chef Thierry Rautureau's downtown restaurant,
Loulay Kitchen & Bar
(600 Union St.), are made with dungeness crab and served with harissa aioli.
Boeuf Bourguignon
(boof boor-gee-nyawn)
What it is:
A beef stew made by slow-cooking the meat in red burgundy wine with herbs and vegetables.
Where to try it:
Voila! Bistrot
(2805 E. Madison St.), a French restaurant in Madison Valley, features a boeuf bourguignon with braised short ribs, red-wine sauce, and yukon potatoes.
Cassoulet
(ka-soo-lay)
What it is:
A white-bean stew made with various meats, vegetables, and herbs that is slowly cooked or baked in an oven.
Where to try it:
The menu at
Place Pigalle
(81 Pike St.) in Pike Place Market boasts a rabbit cassoulet prepared with braised rabbit leg, white beans, and housemade sausage.
Foie Gras
(fwah grah)
What it is:
A paste of liver made from specially fattened geese or duck that is usually served with toast or as part of another dish.
Where to try it:
Maximilien
(81A Pike St.) in Pike Place Market—known for its romantic setting and amazing views of Elliott Bay—prepares a decadent duo de foie gras: house-cured and seared foie gras with bing cherries, pear chutney, butter brioche, and balsamic reduction.
Tartare
(tahr-tahr)
What it is:
Raw meat that has been very finely chopped.
Where to try it:
Café Campagne
(1600 Post Alley) in Pike Place Market offers a rich tartare de boeuf, made with rib eye, shallots, capers, dijon, and quail egg and served with toasted baguette slices.
Gougeres
(goo-zhair)
What it is:
A bite-sized savory pastry puff made with cheese.
Where to try it:
Try the light and airy gougeres (made with thyme and gruyère) fresh out of the oven next time you visit
Pair
(5501 30th Ave. NE), a local wine bar and café in the Ravenna neighborhood.
Rillettes
(ri-lets)
What it is:
An appetizer similar to pâte made from chopped meat (typically pork) that has been seasoned, slowly cooked, then preserved in fat. It is usually served with bread for spreading.
Where to try it:
Rillettes du jour at
À La Bonne Franquette
(1421 31st Ave. S) in the Mount Baker neighborhood features an ever-changing roster of rillettes served with baguette, chutney, cornichon, and mustard.
Confit
(kawn-fee)
What it is:
Meat (usually duck leg) that is preserved by first being salted and cooked in its own juices, then stored in its own fat.
Where to try it:
The European-inspired bistro
Gainsbourg
(8550 Greenwood Ave. N) in Greenwood serves its duck confit stewed with white beans, vegetables, braised kale, and apple cider.