Motor City Movies: Where Our Favorite Non-"Robocop" Flicks Were Filmed
BY: Allison Shoemaker |
Feb 23, 2016
Let's make one thing perfectly clear: the first stop on any Detroit movies tour should be the Robocop statue. But until that dream statue finally becomes a reality, we'll have to make do without. Luckily, thanks to the many movies filmed in Detroit (not to mention the movies about the city itself), there's plenty to see beyond a re-creation of Peter Weller's chiseled chin. Grab your camera and your life-sized cutout of Neil Patrick Harris, then hop in the Batmobile and hit a few of these Hollywood-worthy spots. We'll bring the popcorn.
Detroit Opera House: Frescoes, Chandeliers, and Harold & Kumar
There are plenty of movie theaters in Detroit, but some of the city's most iconic buildings are theaters of a different sort. First opened in 1922, the Detroit Opera House has seen its share of stars, including Luciano Pavarotti, who headlined its grand reopening gala after the theater suffered years of neglect. But there's only been one former child actor/smart kid doctor/Emmy- and Tony Award–winning movie star to make an appearance. The opera house served as the backdrop for the "Neil Patrick Harris Christmas Special" scene in A Very Harold & Kumar Christmas.
Masonic Temple: Lots of History and a Vampire Slayer
Vampires aren't real. That said, if they were, it wouldn't be surprising to find one preening in the Masonic Temple's third theater, which to this day remains unfinished. Both Vamps, a 2012 comedy about lady vampires played by Alicia Silverstone and Krysten Ritter, and the Hugh Jackman movie Van Helsing filmed in the legendary, not-quite-complete space. The theater also welcomed Sean Penn and company as they filmed This Must Be the Place. (See the building's façade above.)
Lafayette Coney Island and American Coney Island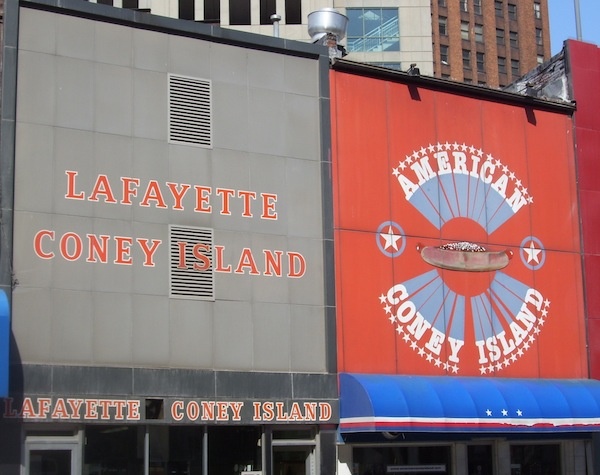 Someone hurry up and make a movie about the rivalry between these two storied spots. According to local legend, hot-dog restaurants Lafayette Coney Island and American Coney Island were originally founded by a pair of Greek brothers. The two entities split after a family squabble, and decades later, the diners are still next-door neighbors. While the backstory might beg for a cinematic adaptation, plenty of other stories have been told here as well: look for both joints in Whip It, LOL, and the television series Detroit 1-8-7.
Pretty Much Everywhere Superman Can Fly
Batman v. Superman: Dawn of Justice hasn't hit the big screen just yet, but fans eager for a scenery spoiler or two could simply wander through downtown Detroit (and even hit a few suburbs). The city stars as a stand-in for Metropolis, Superman's fictional town, meaning that the swarms of movie-goers flocking to see the two superheroes face off will get numerous glimpses of Detroit's skyscrapers, neighborhoods, and street corners—an experience likely to be even more thrilling to those sitting in Detroit movie theaters.
Photo: Lafayette Coney Island and American Coney Island on West Lafayette Boulevard in Detroit Michigan by Benlmoyer under public domain.