GROUPON GUIDE TO LOS ANGELES
Out of the Park: Where to Find LA's Best (Non-Dodger) Dogs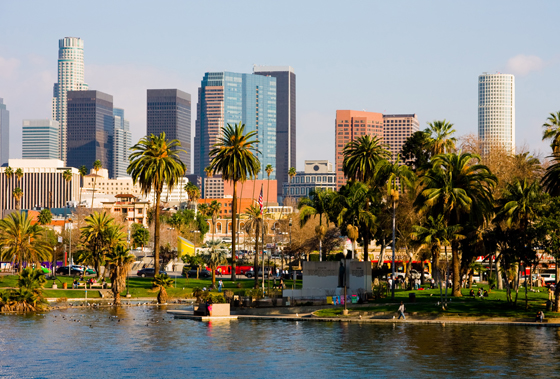 Ordering a Dodger Dog is a ritual. Customers queue up in one of two lines—one for grilled dogs and the other for classic steamed. They inch ever closer to the counter where stadium workers dole out foot-long franks that stretch far beyond the confines of steamed buns. Finally they head over to the condiment stations to load up on mustard, ketchup, chopped onions, or relish. Dodger stadium's divide-and-conquer approach is the product of years of experience. Many estimate that the millions of Dodger Dogs sold each baseball season outrank sales of any other frank in the league. But once foodies have had their fill of the gargantuan Dodger dogs at the stadium, or even purchased at local markets, they've only just begun exploring the diverse hot-dog scene in Los Angeles. Take the Korean-style franks of
Seoul Sausage Co.
. They're a bit harder to track down than a ballpark frank. Without a food truck or retail space to call home, these succulent, grilled delicacies crop up at street fairs and catered events all over LA, where their inventive cooks offer up a kalbi-flavored sausage topped with tangy kimchi relish, and a spicy pork sausage crowned with apple-cabbage slaw. For a taste of the increasingly hard to find LA street dog, enthusiasts can hunt them down at
Skooby's
, where decadently bacon-wrapped franks nestle into fresh buns delivered by a local bakery. Perhaps the crowning glory of LA's hot-dog inner circle is the chilidog, which local favorite
The Hat
has been slinging since 1951.
Pink's
, on La Brea and Melrose since 1939, is now practically a regular set piece on TV shows and movies set in LA for its addictive dogs and cheerful, familiar sign. Their ode to the chilidog is a love letter to its loyal patrons written with all-beef franks slathered in chili, mustard, and onions. Elsewhere in the city, more progressive—even avant-garde—culinary sensibilities shape the future of the humble hot dog. At
Let's Be Frank
, nitrate- and hormone-free dogs are made fresh from grass-fed beef and layered with toppings and veggies sourced from local farms. At
The Stand
, diners can customize their low-fat turkey dogs or chicken-apple sausage with quintessentially Californian toppings including avocado and corn salsa. At
Vicious Dogs
, the whimsical 8-bit-inspired art of cook Stacey Hughes colors the walls. The eatery's Thanksgiving turkey dogs arrive smothered in all the trimmings—stuffing, gravy, and cranberry sauce. Adventurous patrons can even go off the menu and try their hand at topping Stacey by building their own creations, including Latin-inspired, deep-fried doggie flautas.