Over the Hype: Things to Do in Bucktown/Logan Square When You're Nearing 40
BY: Roy Ivy |
May 10, 2013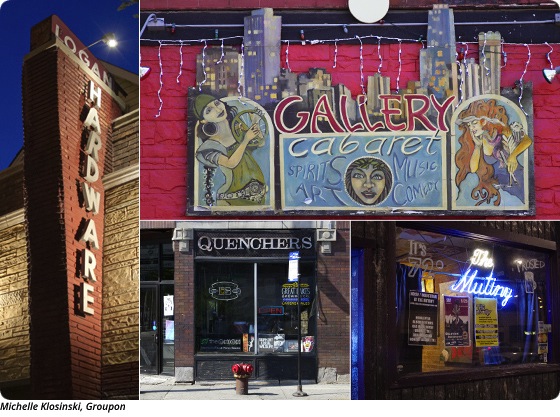 The 60647 zip code is often misrepresented as a hood where it's a prerequisite to own two dogs, a hatchback, a jogging suit, and an impressively modular baby stroller—and that's partially true. But for every dog sweater and yoga mat, there's a flowing tap, the chance to see a show that ignites your guts the ways shows used to, and a crowd that doesn't crowd you.
The Gallery Cabaret | 2020 N. Oakley Ave.
At the corner of Oakley and McLean Avenues, just a couple of blocks from the Western-O'Hare Blue Line station, sits an unassuming red building. There's a hanging Leinenkügel sign, which is a pretty good indicator of midwestern, working-class hospitality. "Spirits, Art, Music, Comedy," says the crest above the door, and The Gallery Cabaret isn't kidding. That's what's going on, and it never takes a night off. Monday could be anything—maybe a local rock band, a magic act, or a 24-piece jazz ensemble. Tuesday night is always the blues jam, and Wednesday is a mixed bag of songwriters and poets. Thursdays and Sundays are free open-mic nights, which are typically fraught with amazement, amusement, or pure schadenfreude. And Saturday night's Two-Hour Comedy Hour is one of the biggest steals in the city. From 7 p.m. to 9 p.m., some of Chicago's most established standups, promising up-and-comers, and caustic wiseacres knock it out of the park; cohost Katie McVay is the manic pixie dream girl version of Gilbert Gottfried. Before the show gets too big for its Gallery britches, savor the bawdy, raunchy laughs without two-drink minimums, hecklers, and 2 a.m. cab rides home from Old Town.
Logan Hardware | 2410 W. Fullerton Ave.
Owner Jim Zespy's labor of love is a candy store for record connoisseurs and every 8-bit nerd jonesing for a real joystick. Logan Hardware sells records—lots of them. Sure, it stocks reissues galore for the 180-gramers, but it attracts a dizzying amount of first pressings and rarities without pricing them like a collector. The rock section is huge, the soul and funk stacks are glorious, and you could lose a day digging through the 45s. Its gear runs the gamut from predigital stereo equipment to USB turntables. It'll even fix up your busted old table—Jim goes out of his way to find belts, styluses, and cartridges for ailing turntables like a passionate mechanic saving the life of a Studebaker. By the register, two doors lead to Logan Hardware's prized playground, its vintage arcade museum. Big fat hulking machines of lovingly maintained 1970s and '80s history beep, blink, flash, and clang down every alley of memory lane. Jim should be charging a fortune for this nostalgia, but the games are free and the token slots are disabled. You're a good person, so you'll buy a record or two or three before asking to bask in the backroom glory.
Quenchers Saloon | 2401 N. Western Ave.
Beers from every country—even those that you thought didn't have beer—are stocked behind Quenchers' wooden refrigerators, inspiring the amateur Rick Steveses of Bucktown to pen sudsy travelogues. Sometimes it's enough to sit and savor a triple-fermented monk beer that causes eye albinism, but other times you need somebody else to entertain you. It's good to have a choice, and Quenchers parses them out every night of the week. Typically, there's a cover charge to pass from the bar to the stage area. It's usually a suggested donation, but you can probably overhear the acts from the bar before deciding to throw down. There's not a lot of room for sitting in the showroom, but on a slow night, it's easy to occupy a table. There's also one piano near the stage—just one, rarely played—and the
calendar
is loaded with wild cards. Touring indie rockers. Local heavy hitters. Folk, metal, comedy acts, polka bands, theater events, and open mics that have turned into rap battles. Audiences tend to possess an attention span, and the sound guy lets the woodwork do the work. On the way out, swing into the photo booth and try to make it to the fourth frame without blinking your nictitating membranes.
The Mutiny | 2428 N. Western Ave.
"Bands Wanted" has been painted on the The Mutiny's window since 1990, and it's one of the most inviting things in a city that doesn't make it easy for upstart musicians. Inside, it's dank and dark, like the walls are sneaking cigarettes when the ceiling isn't looking. The stage is stuffed in the back, where those "bands wanted" slowly become wanted bands. They might be amazing, or they might be the shoddiest thing you've heard all year, but they're going for it. The free shows, especially the no-holds-barred punk ones where kids leave blood on the mic, can awaken nostalgia in the craggiest former leadman. Sometimes it's too loud, but the people are never abrasive. Everybody has an old soul and the air is all armpit and no pretense. It's like the fountain of youth in a toilet, and hopefully it never changes.
BY: Roy Ivy
Guide Staff Writer
Roy left The Polyphonic Spree choir and his punk band The Tah-Dahs to become a balding Chicago writer and folksinger. Find him on Twitter @RoyIvy.