5 Tips for the Ultimate Miami Girls Getaway
BY: Stephanie Camargo Ruiz |
Sep 7, 2012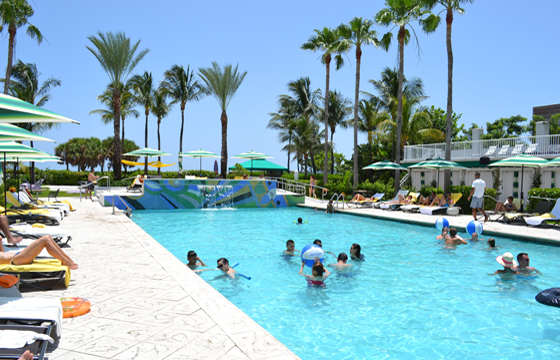 As a long time South Florida local who likes to explore the scene and blog about the best Miami has to offer, one of the most frequent requests I get from my readers involves helping them coordinate an upcoming weekend trip to South Beach. (Guess I could give all the Miami party planners a run for their money.) The questions range from help with planning "my best friend's bachelorette party" or "the ultimate girl's weekend getaway" to smaller requests such as "what are the hottest lounges and restaurants to visit" or "best brunch spots on the beach". Of course Miami is the perfect option for a quick weekend getaway, especially one with the girls, because this city offers everything you could want out of a fun-in-the-sun-filled weekend. Pool parties, endless miles of sunny beaches, foodie hotspots, stellar spas and so much more make Miami one of the best cities in the country. Okay, so looking to plan your very own ultimate girl's weekend in Miami? Here are my top 5 recommendations: 1. Book your hotel at least 3-6 months in advance if possible; you'll get a better deal! Remember that the summer months are low season in Miami where as Nov. – April is high season. 2. Try to stay on Collins Ave anywhere between 14th - 24th streets; you'll be closer to all the hot spots and easy access to the beach. 3. Book a poolside cabana at any of the popular hotels for your own private pool party – its money well spent when you're looking to treat yourself to a nice, relaxing time. 4. It's all about the details: create a gift bag for all the girls in your group and fill them with fun, quirky gifts (nail polishes, picture frames, etc.) or make a fun music mix you can listen to during the trip. 5. Book a photographer to help capture you and your pals in funny poses and use the pool/beach as your backdrop. It'll be the perfect way to remember your vacation! A few weeks ago I was able to put my party-planning hat on and take some of my own advice for a weekend trip I planned for eleven of my best friends. I'll walk you through some of the highlights from the weekend where I was able to put some of my best advice to the test. This year, my friends and I all turn 30 and we wanted to celebrate. So, what better excuse than to celebrate such a big milestone together? Although most of us grew up partying in Miami, more than half of the crew has since moved to other cities all across the country so a weekend in Miami Beach was welcomed by everyone. At the end of the day, we wanted lots of pool/beach time, great foodie spots to eat at, a couple of cool lounges to let off some steam, and most importantly, spend lots of unforgettable moments together. So what does such a weekend entail? Well, because we were such a big group it was decided early on that we would stay in the heart of South Beach so we could walk to places and have access to lots of venues without having to walk far or catch expensive cab rides. The Surf Comber was the perfect hotel because not only do they have the ideal location, they had all the amenities we needed to ensure a fab weekend; a pretty pool with beach access, nice, comfy rooms, great restaurant for meals and beautiful hotel bar for pre-dinner drinks. Once we had our hotel picked out, the next step was to make meal reservations at various spots. This included a couple of dinner reservations at Haven, Lantao and Pubbelly and a special goodbye brunch at the ever-popular YardBird Southern Table & Bar. It's always good to call ahead for places on the beach, especially when you have a big group. The highlight of the trip had to be the time we spent in our private poolside cabana that we rented for the day. The cabana came with our own cocktail waitress who ensured we always had plenty to eat and drink and we had plenty of private space to talk, catch up, lay out and even host our own dance off (thanks to a lively playlist created just for the occasion). Each girl contributed to the weekend in their own unique way, bringing with them gifts, food and drinks, make-up tips, clothes to borrow, you name it. But one in particular came through with a marvelous idea. She booked a photographer to come out and capture the entire crew (all 12 of us, or how we called ourselves, the dirty dozen) in spontaneous fun poses so we would each have a memento of the weekend to keep (and post on Facebook, Twitter, etc.). This was by far, a fantastic idea and one I would recommend to anyone planning a vacation with friends or family.
BY: Stephanie Camargo Ruiz
Stephanie is an award-winning lifestyle blogger from South Florida who enjoys writing about her neighborhood and beyond... She makes it her mission to share all the latest on local venues, bars, restaurants, fashion trends, beauty and of course, adventures with her hubby and puppy Lola. Although the inspiration for MidtownChica first came when she was living in NYC, her move back home to South Florida was the actual push she needed to begin her writing escapades. Stephanie received her bachelor's degree in PR from UF and started her blog back in 2009.
Fun & Leisure Deals in Miami