Peek Behind the Fences of the Bucktown Garden Walk
BY: Daphne Sidor |
Jul 16, 2013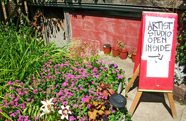 Sitting just north of Wicker Park, Bucktown is a patchwork of recently built condos, modest old brick cottages, and glass-and-steel modernist masterpieces. What the homes share is a small lot size that often lends itself to cozy, creative garden spaces tucked just out of view—except on the Bucktown Garden Walk, when the public gets a chance to hop through the backyards of friendly strangers. Below, a few photos of the neighborhood's surprising living designs, and some of the stories behind them.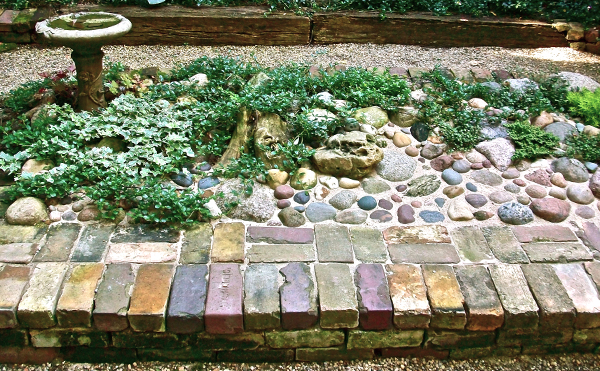 Serenity, Below Sidewalk Level | 1623 N. Honore
Behind an ivy-covered fence and down a few stairs lies a sunken garden with the feel of a terraced hillside. The previous owners used the long front yard as a dog run, but 20 years later, it's a shady summer haven. Like many of the gardens in the area, there are a few Asian-inspired touches, but this one's unique for its nod to Japanese zen gardens. On one of the raised rectangular garden beds—built up so high partly because the soil on the lot was unusable—the owners have created a collage of beach and field stones. At first glance, the stones appear to be set in cement, but actually, it's sand, making a mosaic that can be rearranged whenever inspiration strikes. In a corner stands a cultivar of the hazel tree known by the common name Harry Lauder's Walking Stick. The tree's branches corkscrew wildly, like the gnarled staff the Scottish vaudevillian Harry Lauder sometimes used as a prop when he performed his hits "Roamin' in the Gloamin'" and "Stop Yer Tickling, Jock!"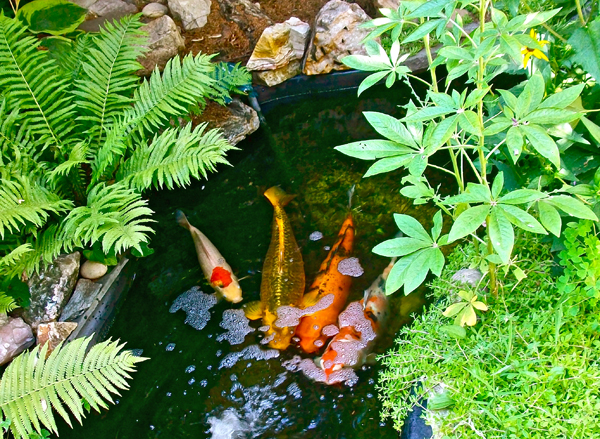 Secret Japanese Garden | 1802 W. Cortland
At first it looks like a mirror propped against the wall of the dark garage, a rectangle reflecting the greenery and searing daylight outside. In fact, it's a door, a luminous portal into another Asian-inspired oasis. Much of the foliage is authentically Eastern, including a weeping katsura tree and a Chinese maple, whose striped bark and skinny trunk set it apart from its stout Western cousins. At 20 years old, the koi in the fern-lined pond are the biggest I've seen on the tour—as their owner mentions, their average lifespan is 40 years or so, and reports put the oldest known koi at 226 years.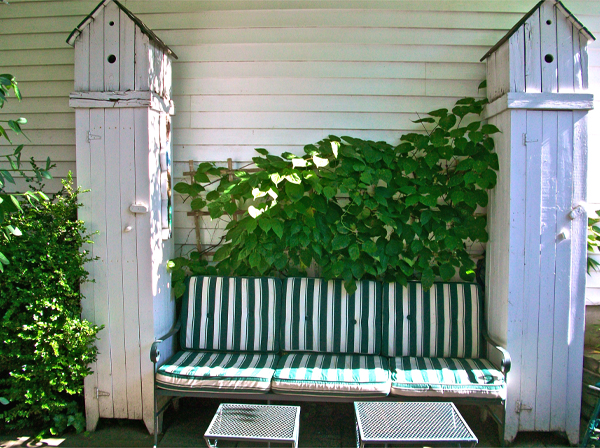 Avian Luxury Condos | 1834 N. Honore
The double-wide, lushly forested front lawn would be impressive enough. But step through a screened-in porch, and there's a brighter space with a fish pond and a striking storage solution: two high-rise birdhouses. They were picked up in rough shape while passing through Galena, an antiques mecca in northwest Illinois. After a couple of coats of white paint and elbow grease, the avian skyscrapers now hold pond supplies and other patio necessities. The openings have been screened in since the time a mother bird moved in her brood and started screeching each time the door opened.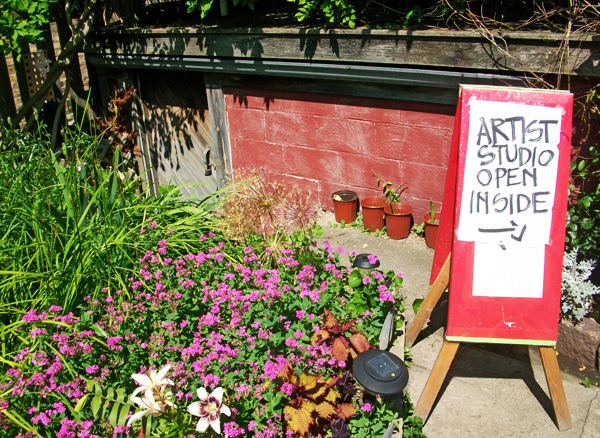 No Lawnmower Necessary | 1846 N. Hoyne
A crumbling porch and parking pad were all Sam Marts and Nicholas Sistler had to work with when they moved into the Dot House (named for its domino-patterned fence) in 1986. Fortunately, Marts is an architect and Sistler is an artist. They harvested bricks from the porch and picked up a load of old street pavers from Clark Street, and created a lawn-free landscape that still brims with life. Rain has melted the edges of the old bricks, making for a gentle, cobblestone-like surface, and vines of all kinds snake up everywhere, including easy-to-grow trumpet vine and New Dawn roses. "Did you see the Great Lakes yet?" Marts asks his guests. It takes a second, but looking down, we notice: around the brick form of Michigan's Lower Peninsula, vines and flower beds create the shapes of the Great Lakes. Lake Ontario is a small pool, with a horseshoe around the spout symbolizing Niagara's Horseshoe Falls.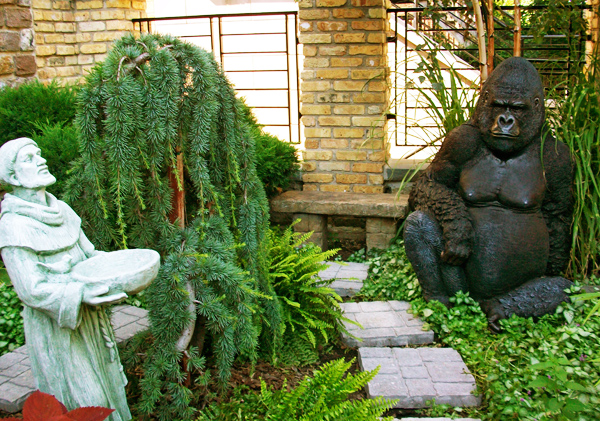 Garden Meets Putt Putt | 1934 N. Wood
It seems impossible that this double-lot garden could have been assembled in just three years. Every inch of the enormous space has been meticulously designed, from the cobblestone planters to the pièce de résistance: a triple-decker, boulder-lined waterfall spilling into a pond where koi have already spawned a second generation. Despite the hard work in evidence, the garden doesn't take itself too seriously. The freewheeling spirit of an old-fashioned mini-golf course pervades the place—one reason it's a huge hit with the kids who pass through. Angel statues stand guard atop the waterfall, a scrap-metal dinosaur crouches by the gate, and in the front yard, an unnervingly realistic gorilla eyes St. Francis with suspicion while a plaster schoolchild obliviously reads a book just beyond.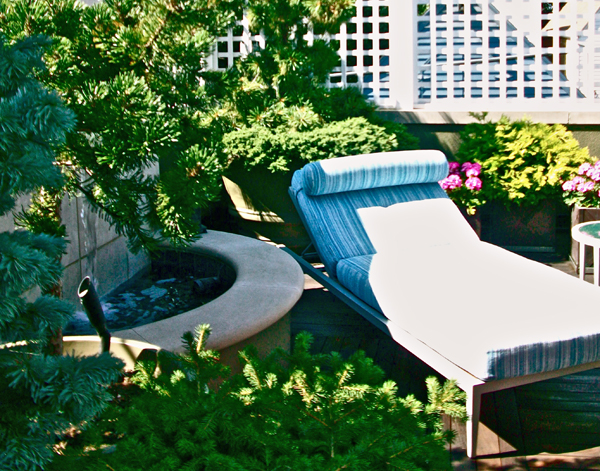 Vertical Garden | 2028 N. Churchill
One of the swankiest spots on the walk arose from one of the smallest spaces. The owners of this house had only about 20'x20' to work with—including room for parking. So they built up. From the front door, they now have a clear view of an elevated oasis outfitted with a fountain, loungers, and patio furniture whose design echoes the lattices that shield the deck from the alley. The planters holding rare evergreens are massive, but the load on the structure is reduced by the choice of materials: made of lightweight resin, the planters themselves weigh just a few pounds each.
BY: Daphne Sidor
When she's not busy writing, Daphne is an indie-pop musician, year-round bike commuter, and newbie gardener.