PigPen Theatre Co. is Exactly, Sort Of, Not Really Like James Franco
BY: Kelly MacDowell |
Mar 13, 2014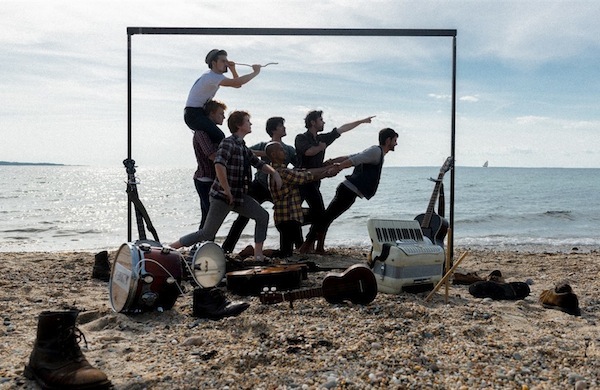 PigPen's seven renaissance men have dabbled in film, theater, music, and books. Sound familiar, James Franco?
During a TEDx event last year, Matt Nuernberger of
PigPen Theatre Co.
shared one of his secrets to great storytelling: "There's nothing more interesting than something that is
just
out of sight." It's an ironic observation for Nuernberger, whose company seems to delight in putting all of their talents on full display. Based in New York City, the guys have dabbled in just about everything (their website claims they're "currently on tour as a band and as a theatre company"). PigPen's imaginative, critically adored performances integrate everything from folk music to makeshift puppetry. These seven dashing
renaissance men
got us thinking about another entertainer: the multitalented movie star James Franco. The fact that the aforementioned TEDx presentation was held at Columbia University, where Franco earned an MFA in film, is just the tip of the iceberg. We've found five more things they have in common. Sort of.
1. After dropping out of college, James Franco broke out with a role on TV show Freaks and Geeks. The men of PigPen were also college-aged lads when they produced their first original play.
PigPen's eccentric cast of characters first met as undergrads at Carnegie Mellon in 2007. After a sitdown revealed they all wanted to produce a short play, they set to work on
The Hunter and the Bear
, the story of a man who spends every day hunting the bear that killed his son. The play, which debuted at the CMU drama school's annual performance festival, featured what would become the group's signature style of musical storytelling.
2. In 127 Hours, Franco gave an Oscar-worthy performance as a man trapped in a canyon. PigPen wrote and produced The Mountain Song, an award-winning play about a man who gets lost in the mountains looking for his daughter's wedding.
Playwriting became the company's main focus in its first few years, with several off-Broadway productions garnering
praise
from the national press. PigPen was especially well-received at the New York International Fringe Festival, with
Mountain Song
earning the arts summit's top honors.
3. Franco teaches a course in short-film production at USC. PigPen has produced a few of their own short films.
PigPen's largest film project is the animated short
Bremen
, which teases the story of their most recent off-Broadway production,
The Old Man and the Old Moon
. It's about a man whose job is to fill the moon with light but who must abandon his duties in order to search for his missing wife.
4. Franco has a book of poetry coming out in April 2014. PigPen writes their own songs…and they have a YA novel in the works.
PigPen writes original music for all of their projects, but their first proper album (also called
Bremen
) is a soundtrack for
The Old Man and the Old Moon
. The folky songs ("storyteller's music," as member Arya Shahi has called it) layer banjo, acoustic guitar, and accordion beneath lead vocalist Ryan Melia's beautifully textured baritone. The Huffington Post even named the LP one of its
top 10 albums of 2012
. And yes, PigPen is also in the process of authoring a children's novel with
Writers House
.
5. Franco volunteers with the children's nonprofit Art of Elysium. PigPen partnered with Arts for All to perform for kids at public schools throughout New York City.
Member Curtis Gillen
recalls
one of PigPen's first Arts for All shows, during which a young girl stood up and started flapping her arms like the goose being puppeted onstage. Afterward, a teacher told the group that the student was normally quiet and antisocial. They were amazed to see her engage with the show so viscerally. "That's probably the best response that I can remember," Gillen reflects. One can only hope that PigPen's upcoming performance in Chicago will make grownups want to flap their wings, too.
PigPen Theatre Co. performs at Lincoln Hall on Friday, March 28, at 9 p.m. Buy tickets here.
Photo courtesy of Eli Dagostino.
BY: Kelly MacDowell
Kelly's first concert was Fleetwood Mac and her first career was in the beauty industry. Now a style and music writer, she loves Project Runway and her dog, Watson.