Biting Into the Apple Fritter at Old Fashioned Donuts in Roseland
BY: Hillary Proctor |
Sep 16, 2013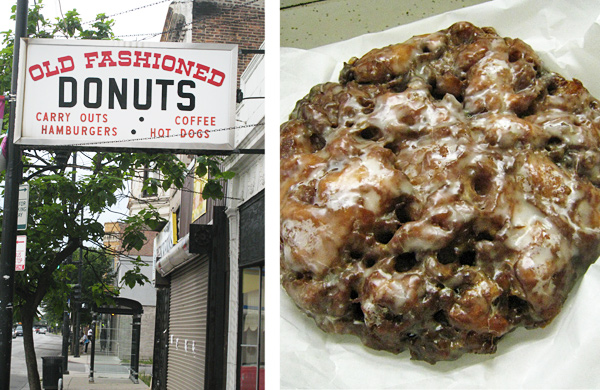 The Old Fashioned Donuts sign was easy to miss. We almost passed it as we drove down far-South Michigan Avenue, but the gathering of cars on an otherwise quiet block finally tipped us off. Two friends and I had ventured to the South Side's Roseland neighborhood early that Friday morning to taste an apple fritter that was the stuff of legend. I'd stumbled upon this famous fritter in my Chicago donut research, and each reviewer swore it was the best they'd ever tasted. I knew I had to try it for myself.
As with any great donut shop, the smell is what hit me first. Sugar, yeast, and oil flooded my nostrils as I stepped inside the door. Ahead of me, I saw the case stocked with mammoth fritters in the top row, glistening disks the size of flattened-out cantaloupes. Alongside them were donuts of all kinds, more reasonably sized but still impressive by sheer variety.
I knew I'd be getting the fritter for sure, but my eyes still scanned rack after rack of donuts as I wondered which ones would be most tempting to take home for later. "What all kinds do you have today?" I asked the woman behind the counter. "I really don't have time to tell you all that," she said, instead thrusting a menu print-out in my direction with a long list that was divided by yeast and buttermilk.

It's a no-nonsense kind of place. Old Fashioned has been serving hungry Chicagoans for 41 years, and it's clear that the donuts speak for themselves. There was a steady flow of customers the entire time we were there, most of them rattling off orders as soon as they reached the counter. While it took a little longer to decide, I eventually ended up with pineapple and toasted-coconut donuts in addition to the fritter. My friends went more traditional, one opting for chocolate-glazed and buttermilk, and the other buying a full dozen of the old-fashioneds for an office taste-test.
Sitting down with our donuts and coffee, I learned that Old Fashioned is also the kind of place that has a lot of regulars. "You know this is my seat!" said a man at the next table over from ours as someone else walked by and greeted him. Soon after, the woman at the counter called the man by name when his cell phone rang: "Larry, your phone's tripping us out!"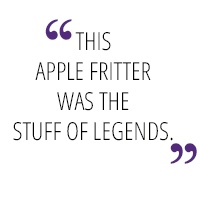 I picked up the fritter to tear off my first bite. It had the kind of heft you'd expect from a giant burger, only in sugary form. The glaze was thick, with morsels of apple tucked into every crevice. The texture of the dough was just dense enough without being too heavy. Old Fashioned fries all of its pastries in pure vegetable oil, rather than lard or shortening, and I could discern a cleaner, more neutral aftertaste as a result. I'm a firm believer that spectacular food is worth savoring, so I took small bites in order to make the comforting apple and cinnamon flavors last as long as possible.
It took all three of us to finish the whole fritter—at just $3.18, it's an excellent value. I've since heard that the fritters freeze well, and plan to make the trip again soon to stock up on several more of these fried treasures.
Photos by Hillary Proctor, Groupon
BY: Hillary Proctor
Hillary blogs about restaurants in Chicago and beyond at http://www.hillaryproctor.com/. She loves salted caramel, smoked salmon, and avocado-specific kitchen utensils.