Plate by Plate: The Superdawg at Superdawg
BY: Aimee Algas Alker |
Aug 19, 2013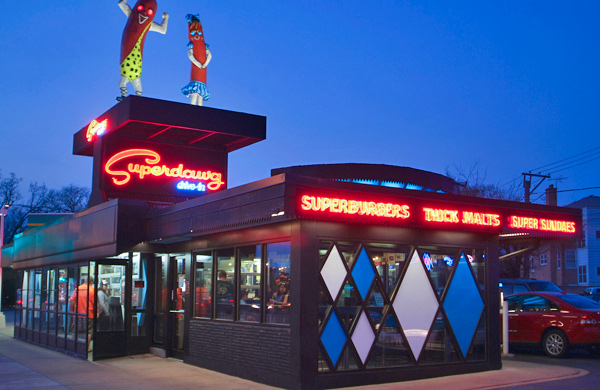 Being able to drive, finally having the wherewithal to go wherever, whenever: it's a rush when you've just turned 16. That's true even if you have nowhere in particular to go—just a trip to a fast-food spot could feel like a journey. As a newly licensed boy once told me back then, with much bravado: "I can go to Taco Bell
whenever I want
." With little disposable income—save for the minimum-wage paychecks from my job at the mall—my entertainment options at the time were pretty limited. My friends and I would often grab dinner at a fast-food drive-through and stuff our faces while on our way to wherever, music blaring.
This is what it must feel like
, we thought,
 to be all grown up and have everywhere to go.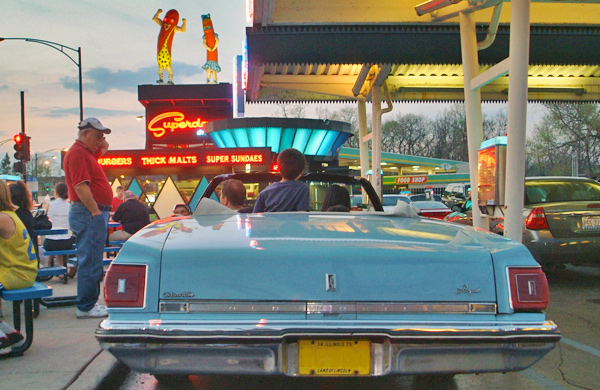 Eating in your car is the thing to do at
Superdawg
, whether you're a teenager or not. Opened in 1948, the Norwood Park drive-in still reps midcentury car culture by serving meals to customers in their parked cars. More than just a nostalgic replica, it's a relic, a true antique. Also antique are the anthropomorphic hot dogs standing sentinel atop the eatery, dubbed Maurie and Flaurie after the twosome who first opened the joint. Maurie, who's dressed as a caveman wrestler, shows off his guns to Flaurie, who bats her twinkling eyes at him in a demure blue skirt. My husband and I visited Superdawg at dusk, a time of day when the blue neon around the car stalls burns bright. If you squint hard enough to blur the 21st-century silhouettes of the cars pulled up in each stall, you could be back in the 1950s, among poodle skirts and ducktails, with the Big Bopper playing from the loudspeakers. The ordering system takes us back in time, too. The backlit menu lists options in a retro-style font with cartoon line drawings of hot dogs and shakes. When we're ready, we push a button on the metal "Order-Matic" and wait for someone inside to take our order. No LED screen flashes to confirm what we want. Instead, a tinny-sounding voice comes over the speaker, through which "ketchup" sounds so much like "peppers" that I have to spell it out. All part of the charm.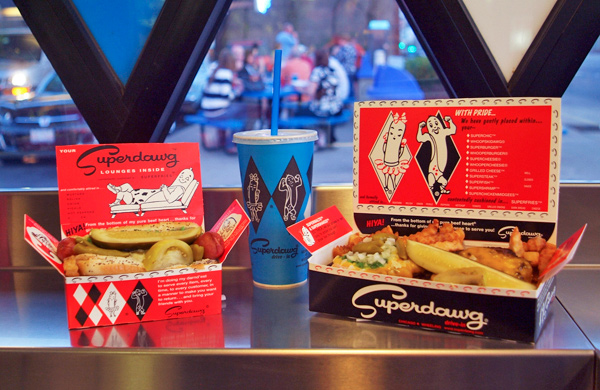 So we order, hot dogs with the neon-green relish particular to Chicago. And chocolate shakes so thick that the straws that come with them are nearly useless. Our tray arrives on the shoulder of a carhop, not on roller skates and in a poodle skirt but on foot and in a uniform polo and khakis. My husband's window is rolled down all the way, so she asks him to roll it up, just a bit, to have something to clip the tray to. The tray being on his side, it's up to my husband to start doling out the food. The drinks first—we're sharing a Coke and each have a shake. Those get placed in our console's cup holders, of which, thankfully, there are four. The hot dogs—four total—come in boxes, with fries nestled inside. One hot dog on the console, one on my lap. Precariously balanced. My lap is not substantial nor steady enough to serve as a sturdy eating surface. Especially when I need mustard, salt, and napkins handed over to me. The food? The food is amazing; Superdawg is easily the best hot-dog stand for miles. These are not your everyday Vienna beef dogs—the Superdawg is specially made from a recipe created by Maurie and Flaurie themselves. Each one is thick and meaty, without the gummy taste of filler that other dogs have. They're seasoned with a blend of salt and spice, as well as some other flavor I have never been able to put a finger on—not as cloying as anise and not as sweet as cinnamon. Truly, I've never tasted a dog quite like this one. What keeps me coming back, though, are the fries. (Full disclosure: french fries are one of my top five favorite foods; I consider myself a connoisseur.) These are the only ones I know of that blend two of my favorite features: they're both crinkle- and fresh-cut and perfectly crisp. But make no mistake, everything on this menu is good. Eating in the car, though? For the birds. The last time my husband and I visited, I forgot about the tray and opened my window all the way. Our salt and pepper, ketchup, and napkins all ended up on the ground outside our car. I couldn't imagine having kids in the car. No wonder my father, neat freak that he is, never took us there. When you're a teenager, you have nowhere to go that's your own, no place except your car. So I could see why, at that age, eating with my friends in my car felt like having a dinner party. Now that I'm all grown up—and capable of hosting a real dinner party—I see car-eating for what it is: a plain mess.