Posh Pups: Seven Boutiques for Four-Legged Friends
BY: Andrea Marchiano |
Jun 5, 2013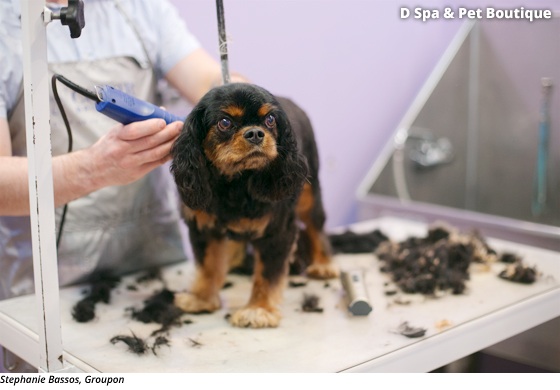 For most, the words "Chicago dog" bring one thing to mind: an all-beef frankfurter topped with all the fixin's, but absolutely no ketchup. But for others, the true top dog in Chicago is the one that barks at passing traffic and curls up at the foot of the bed at night. Though the hot dog may be more iconic, there's still a place in in the city—or at least seven places, from high-end doggie boutiques to fido-friendly bakeries—where the furry kind of Chicago dog comes first.
Tails in the City | Near North Side
Peer into the window of this boutique and you'll see a selection of elegant bow ties and party dresses that fits right in with nearby high-end retailers such as Barneys and Hermes. But there's a twist: the selection here is purely for dogs. Fashion-conscious owners will not feel neglected, though, as Tails in the City also stocks designer pet carriers. 
Dog-a-holics | Wrigleyville
The pet-loving staff at Dog-a-holics plans birthday parties for pooches. They inflate paw-printed balloons in the store's play space, and whip up organic, grain-free, and gluten-free birthday cakes for the dog of honor.
Arrfscarf | Old Town
Yogurt, vanilla, and honey: each of Arrfscarf's homemade doggie ice creams starts with this three-ingredient base. Owner Andreana and her staff then mix in locally sourced meats to create savory flavors such as peanut-butter bacon, beef brisket, and gouda burger. The staff also bakes fresh cookies and treats.
For Dog's Sake | Humboldt Park and River North
The staff at For Dog's Sake makes it their mission to stock pet foods made of all-natural and, whenever possible, human-grade and organically produced ingredients. Owners will find brands of beyond-basic kibble packed with proteins ideally suited to dogs' carnivorous palates, along with food and treats for—gasp!—cats.
Wigglyville | Boystown and West Loop
A toy isn't simply stocked at Wigglyville. First, the staff has to select it from a group of suppliers—some local, some national and international. Next, they rigorously check the item to ensure that it will not threaten a dog's health and safety while he lovingly gnaws it to bits. The products that pass the test are then sold at the store, many sporting labels designating them as American-made or eco-friendly.
D Spa & Pet Boutique | Roscoe Village
Rather than enclose four-legged clients in kennels, the groomers at D Spa & Pet Boutique let them run loose. Dogs and owners seem to love the freedom—in fact, many owners arrive early for baths or haircuts to let their dogs socialize. And when appointments roll around, groomers are as comfortable snipping breed-specific cuts as they are freestyling looks for mixed-breed pups.
Paw Naturals | West Loop
If you've ever dreamed of sharing a beer with your dog, a visit to Paw Naturals may be in order. Along with all-natural pet supplies, the shop stocks Bowser Beers brewed specifically for dogs. The chicken- or beef-broth-based drinks aren't alcoholic, of course, but they look the part in longneck bottles.