Prost! How to Celebrate Oktoberfest, Year Round
BY: Kristin Price |
Oct 1, 2013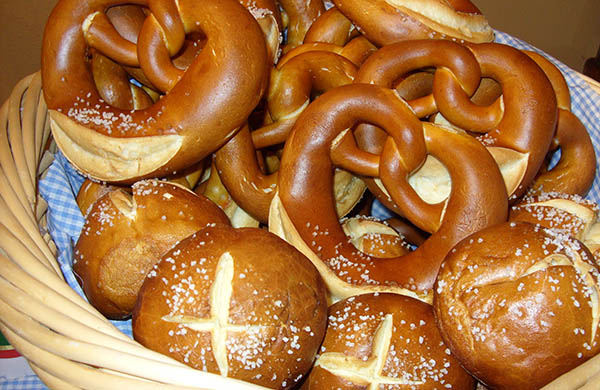 Traditional music, beer and food set the tone for Munich, Germany's yearly Oktoberfest celebration that runs for three weeks, from late September to early October.  Seattleites not able to make the trip to Munich to celebrate during this narrow window of time have plenty of local, year-round choices available to revel in the unique sights, sounds and flavors of this annual beer festival.
Von Trapp's 
Boasting a biergarten, bocce (the more easily recognizable Italian word for the game of "Boules" played all over Germany) and brats, this tongue in cheek beer hall, located on Seattle's Capitol Hill, features servers in lederhosen printed tee-shirts, beer-filled glass boots, large headed liters and traditional German dishes made in non-traditional ways. Hand crafted sausages (wursts) made in-house are prominent on a menu that even provides for the bier-loving vegetarian with offerings such as the falafel dog. A German take on chicken and waffles and a hearty, slightly spicy, Goulash topped with nuggets of crispy, salty pretzel are offered alongside more typical choices of landjager, kasespatzle and schnitzel. The imposing interior architecture of the space only adds to the amusement-park-like experience with the long bocce courts running through the middle of the hall and white-washed wood beamed, high ceilings creating a sense of a large, open biergarten space that is boisterous and lively, while contrasting tables and accents of dark wood convey to diners a warm, cozy feeling.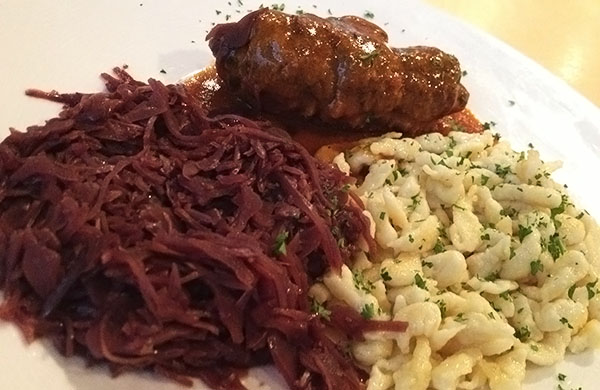 Kaffeeklatsch 
In English, Kaffeeklatsch translates to, "a social gathering around coffee". This homey German bakery, an unexpected treat along bustling Lake City Way, has birthed new purpose for passers-through to stop-over. Bring your own coffee cup and get a 15 cent discount on True North Coffee Roasters special Lake City blend. Breads are a mainstay here, with many variations on the traditional pretzel. There are soft giant pretzels, pretzel rolls, hot dogs wrapped in pretzels and even a personal-sized, gruyere-topped pretzel baguette.  Pastries, cakes, and pies round out the baked offerings, with weekend-only specialty cakes that include the dense cardamom coffeecake and a lightly whipped, baked cheesecake (Kassekuchen.) The bakery provides fresh, seasonal offerings to customers, and supports local community, by shopping their local farmers market for ingredients.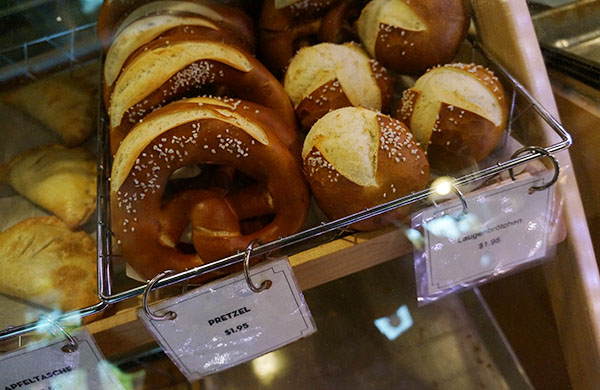 Hiedelburg Haus 
Seattle's Ravenna neighborhood is home to this intimate, dinner-only eatery, heavily steeped in German authenticity.  Small vases of fresh cut flowers don the tables, and shelves of beer steins line the blue and white walls painted to reflect the colors of the Bavarian flag. German-speaking staff and an eclectic array of music, sung in the mother tongue, share the sound space with the cuckoo clocks boldly taking note of each hour. The food is traditional Southern German fare. Popular dishes are the jägerschnitzel, thin, lightly breaded pork cutlets pan-fried and smothered in a mushroom cream sauce and the rinderrouladen, braised beef rolls stuffed with bacon and herbs drizzled with rich, dark-brown gravy. Each entrée is accompanied by buttered spätzle, made fresh daily. A warning though, don't get too attached to your menu selection before ordering; an endearing idiosyncrasy of this particular establishment is that, true to German culture, the waiter will insist that he knows what you will like best. Whichever dish ends up at the table, be sure to follow it up with the house specialty dessert, a chocolate-laden Black Forest Cake dotted with sweet cherries.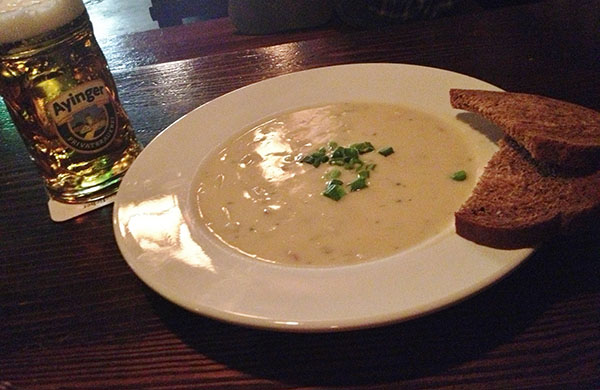 Bavarian Meat Products 
For over fifty years, this family-run business, tucked away inside Seattle's Pike Place Market, has been offering up everything one needs to get that Oktoberfest flavor at home. Shelves surrounding the perimeter of this tiny shop are fully stocked with imported grocery items from candy and cookies to spatzle and pickles, while glass deli cases are filled to the brim with home-made sauerkraut and salads, German cheeses, handcrafted sausages and wieners, and smoked meats, such as their signature sliced bacon. Behind the counter, a couple of heavy-accented ladies bark orders at each other in German as they hand out free wieners for the kids to eat while they wait for their parents. A limited supply of fresh-baked pretzels and other bakery items are also available on the weekends - if you hurry!
Die Bierstube 
A true Oktoberfest experience wouldn't be complete without "bier". This University neighborhood bar, run by the owners of a family of German pubs around town that include Prost! and Feierabend, features an extensive German beer menu. To enhance the flavor of your particular thirst-quenching choice, great pride is taken in serving it in the proper glassware imported from Germany. Table-sharing is encouraged as dark, wooden, communal tables with bench seating line the walls of the pub. Try the boot challenge with your new-found friends – tradition dictates that you must pass the boot along to everyone at the table, and continue drinking, until there's nothing left. Only once it's drained, is the boot allowed to touch the table. Luckily, if the party gets too raucous, the well-placed concrete floors beneath mean easy clean-up for dropped beer glasses. In line with the tavern atmosphere, the food selection here is wurst-heavy. Sample different flavors by ordering the German Wurst Sampler, served with sauerkraut and a pickled egg. If you're not in the mood for cased meat, snack on some fresh-baked pretzels, traditional salads or a decadent baked potato soup made with bacon, served with rye bread slices dense enough to mop up the thick creamy broth.
BY: Kristin Price
As a food lover and writer, Kristin, a Seattle native with many years of experience producing special events, understands just how much of a role food plays in our enjoyment of life's special moments. Since 2010 she has been helping readers of her blog, KristinPotPie - Savoring Delicious Celebrations, discover just how delicious life can be by sharing her recipe for making all of the moments in life celebratory through culinary delights, entertaining ideas and all the must-see and do experiences around her beloved city.