Public Service Broadcasting Gives a History Lesson You Can Dance To
BY: Will Landon |
Feb 17, 2014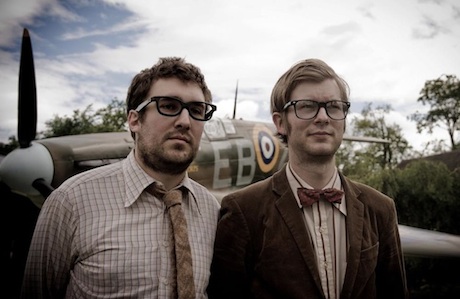 History doesn't have to be boring. Just ask Public Service Broadcasting, two London blokes who pepper their tunes with anachronistic sounds from the British Film Institute's archives.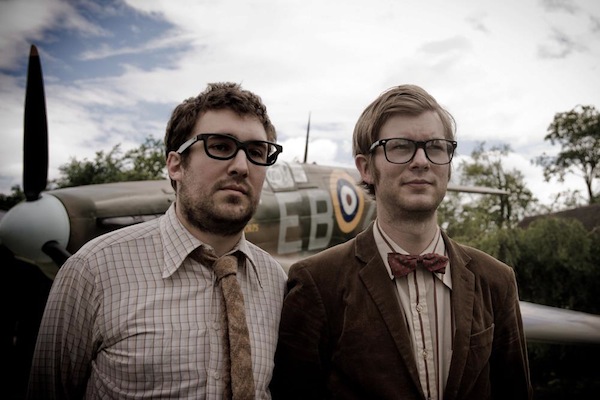 If anyone can make unabashed nerd-dom seem cool, it's London-based J. Willgoose, Esq., and Wrigglesworth, the lads behind
Public Service Broadcasting
. Recently, the bow tie–sporting history buffs were granted complete access to the
British Film Institute
's archives. They mined public-information films, propaganda reels, and other archival footage, then used their findings to make music that fuses elements of prog rock and electronica. PSB has made their mission clear with the title of their most recent album,
Inform - Educate - Entertain
. They accomplish all of the above with a multisensory live performance that pairs pulsing video collages with looped and distorted audio samples. Tracks such as the guitar-driven "Spitfire" and the drum machine–laced "London Can Take It" use anachronistic sounds—the roar of a jet engine, an air-raid siren, grainy radio narration—to recall a bygone era of British history in the most imaginative way possible. But the band's live show—which makes a stop at
Scubas Tavern
next week—doesn't just look to the past. It also finds ways to link that past with the present, whether through aggressive krautrock guitar or synth lines that oscillate between atmospheric and thoroughly danceable. Thanks to a couple of history-obsessed nerds who can't help but have a good time, the sun isn't about to set on mid-20th-century Britain. (Tuesday, February 25, at 8 p.m. $10;
buy tickets here
)
Watch the video for "Spitfire" from the band's most recent release,
Inform - Educate - Entertain.
BY: Will Landon
Will Landon is a Chicago-based writer who sings punk rock songs with the Blue Ribbon Glee Club and occasionally works for free as an assistant stage director.