GROUPON GUIDE TO NEW YORK
Q&A with Shana Tabor: Designer, In God We Trust Owner, and Purveyor of Jewelry that Swears at You
BY: Hawley Shoffner |
Apr 16, 2013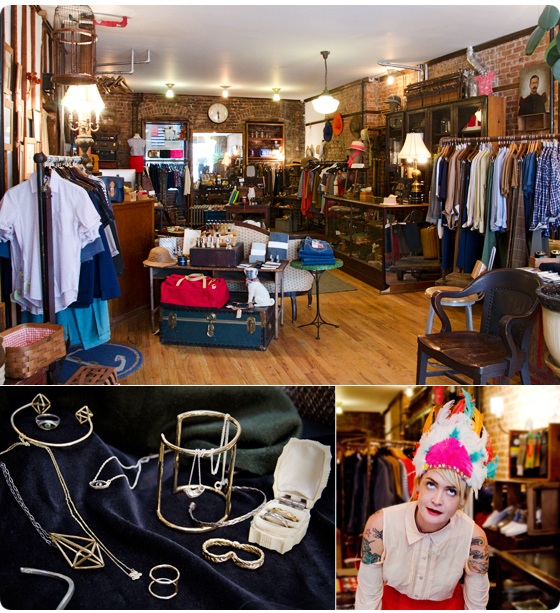 For a store that sells a
Gravel and Gold boob tote
, In God We Trust is surprisingly tasteful. Sure, there are skull-and-crossbones flasks and a line of Sweet Nothing necklaces engraved with obscene come-ons, but just check out the
Cocoa Shimmy ankle dress
or the
Castro sunglasses
and it's clear the store also possesses a hip vintage sensibility. Even the spring 2013 apparel collection, which the brand claims was inspired by "ice cream cones…dirt bikes, weed, and porn," evokes a '50s family picnic as much as '80s adult entertainment. The mastermind behind the store's delicate balance—part throwback fashion, part off-color humor—is Shana Tabor, who founded the company in 2005 and has grown it to encompass three New York City locations and a full e-commerce site. We asked Shana about In God We Trust's Commitment Collection of jewelry and what her mom thinks of the "sweet tits" necklace.
GROUPON: It's impressive that you've been able to maintain multiple IGWT locations in addition to an e-shop. How did you get started in the business? How did you get to the point where you decided to open more locations?
SHANA TABOR: Trust me, it's a lot of work, and sometimes I'm not sure how we are actually making it happen! At the beginning, none of this was my intention. I just happen to be very ambitious and have a hard time saying "no" to an opportunity. The company started very small, with a personal loan from my brother. I was basically just trying to create work for myself so I didn't have to work in my official industry for someone else.
G: Why did you name your business In God We Trust? Is it because all the items are made in-house (in the USA)? What are the rewards/challenges of making everything in-house?
ST: The name is supposed to be a comment about our focus on money. As far as us producing goods in-house, I think first and foremost everyone (myself included) that works in the studio at IGWT is a "maker." We are all very connected to the work we do…and [we] work best [when we're] not only coming up with a concept but following it through the process. This hands-on approach lends [itself] to better design and a better product. It is amazing to be able to finish a pattern for a garment and have your hands on a sample the same day. (By the way, some of our clothing is not made in-house. We do what we can with our three-person operation. What we can't handle is made in Midtown.)
G: Some of the engraved jewelry, such as the Sweet Nothing necklace, is sassy and includes curse words. What do your parents think of these? Did you come up with the sayings yourself or was it a group effort?
ST: If my parents weren't cool with what I'm doing, I would have never been able to get here…My parents have always allowed me to be me…One time, I left my mom in the store while I ran out. I came back to her trying to sell the Sweet Nothing [necklaces] and reading them out loud to a guy. She was actually trying to figure out for him what was better for his girl: "sweet tits" or "wonder buns!" I was like, "Ok mom, I got this one." Some of the sayings are just from me: shit I think is funny, an old reference from something or whatever. But yes, some are from friends or personal jokes.
G: Care to share any examples?
ST: Probably the best thing I have ever engraved was a bracelet with "buttnug" on it. [This is a] term my best friend Brooke and I individually believed we had made up when we were in junior high (we didn't grow up together), so we put it on a bracelet as an example for the store. One day some lady came in and wanted to buy the buttnug bracelet! So, it's out there.
G: What do you and the In God We Trust crew listen to while crafting jewelry at the Greenpoint location?
ST: We use Spotify. Sometimes you can come in and hip-hop is playing, sometimes Tori Amos. I let the girls pick and try to block as much of it out as I can. Honestly, if I had to pick, we would work in silence.
G: You've started making jewelry for a Commitment Collection ("Let's get serious"). Can you tell us about those designs and how the collection came about?
ST: The standard bands that we sell are all special order, so you can get them in whatever material suits your likings: pink, green, white, yellow gold, whatever. We have also been using diamonds, emeralds, sapphires. Color stones are very exciting to us. However, nothing compares to a diamond. Right now, in my eyes it all looks best in yellow gold with a diamond! Creating the collection was a natural progression for us, and it is exciting that we have had such a great customer response to it. I have been doing this job for eight years now. I started when I was 27 (yes, that makes me 35). The best part for me is seeing and understanding that our customer is actually growing up with me. Honestly, weddings and babies weren't much of a topic eight years ago.
BY: Hawley Shoffner
Hawley Shoffner is a Chicago-based writer and musician. She spends most of her time playing ukulele, drinking Hamm's, and listening to Thin Lizzy.