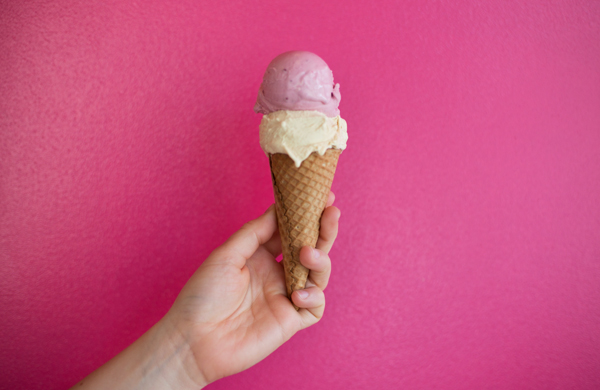 Jeni's Splendid Ice Creams (Lakeview | 3404 N. Southport Ave.)
On a bitter, snowy late-Sunday winter evening, I ventured out to Jeni's Splendid Ice Creams to get my fix of my favorite flavor: The Buckeye State. When I lived in Ohio during college, I'd developed a taste for the dark-chocolate-and-peanut-butter candies known as buckeyes—an edible version of the nuts that give the state its nickname. Jeni's blends flecks of them into a vanilla ice-cream base to make each scoop a delectable balance of salty and sweet. Those who are a bit more adventurous can blend multiple of the shop's 20 flavors in one bowl or cone: even a small order comes as two scoops.
– Christie Succop
Vanilla Soft-Serve with Vietnamese Cinnamon Caramel Topping at Belly Shack (Logan Square | 1912 N. Western Ave.)
With the right flavor, even a cold dessert can warm you up in winter. Here, a sprinkling of Vietnamese cinnamon did the job, cutting the coolness of vanilla soft-serve with a slight note of spice. The lightly burnt flavor of housemade caramel (and a drizzle of chocolate) helped keep things toasty, too. Still, I found it a little challenging to finish a heap of ice cream with the mercury hovering at nine degrees outside. Next time, I might follow dessert with a mug of hot Intelligentsia coffee or Rare Tea Cellars tea before trudging back out into the snow.
– Nathalie Lagerfeld
My Missed Dessert Connection at Black Dog Gelato (Wicker Park | 859 N. Damen Ave.)
We've all had a lost romance—a casual flirtation that could have been so much more, if only you could remember a name. I met mine on a cold December night at my favorite dessert haunt, Black Dog Gelato. The sweet, creamy gelato was the color of graham cracker, with a light aftertaste of cinnamon. I only had the one scoop, but it was rapture. Given the abundance of mysterious flavor combinations at Black Dog—sour-cherry root beer and maple cayenne bacon—it's no surprise I've forgotten what my beloved scoop was called. They all tempt, of course. But none of them can compare to my lost cinnamon love. Whatever your name, I'll always remember you.
– Sleepless in Chicago (Adam Bass)
Photo: © Stephanie Bassos, Groupon