Recipe for a Jalapeño-Spiked Bourbon Julep
BY: Melanie Faetz |
May 1, 2013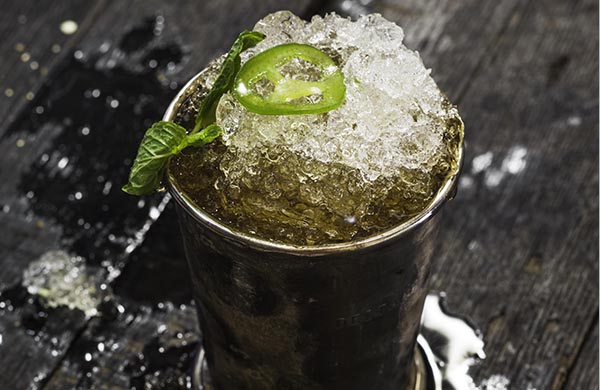 Just before the 139th running of the Kentucky Derby,
Groupon caught up with chef Edward Lee
for a conversation about the tradition of southern cooking, his trial run at pickling cheese, and his advice for curing a Derby-grade hangover. Below, in an excerpt from his forthcoming book
Smoke & Pickles
, he shares a recipe for his take on the classically potent bourbon-based cocktail.
"
Mint juleps are a part of the Derby celebrations, and everyone partakes in the ritual. But to be honest, most juleps I've had are overly sweet, cloying, and hard to finish," Lee writes. "This is my twist on the julep: It's minty and verdant with a kick of spice at the end that makes you want another sip. Serve this in pewter or silver julep cups and drink it outside on a porch sheltered by a magnolia tree."
Jalapeño-Spiked Mint Julep
(makes 1)
What You Need:
4–6 fresh mint leaves and a sprig for garnish 1 ounce jalapeño simple syrup (recipe follows) Crushed ice 2 1/2 ounces bourbon Splash of club soda 1 jalapeño slice for garnish
What You Do:
1. Place the mint leaves in the bottom of a julep cup, add the simple syrup, and gently bruise the leaves with a wooden muddler or a wooden spoon. 2. Add enough crushed ice to fill almost two-thirds of the cup. 3. Add the bourbon and stir gently, then fill the cup almost full with more crushed ice. Top with a splash of club soda. Garnish with the mint sprig and slice of jalapeño and serve immediately before a giant, floppy hat asks you to make another.
Jalapeño Simple Syrup
(makes 1 1/2 cups)
What You Need:
1 cup water 1 cup sugar 2 jalapeño peppers, chopped (seeds and all)
What You Do:
1. In a small saucepan, combine the water, sugar, and peppers and bring to a boil, stirring to dissolve the sugar. Turn off the heat and let it steep for 20 minutes. 2. Strain the syrup and allow it to cool. Keep in an airtight container in the refrigerator.
Photo courtesy of Grant Cornett