Reenact the Boston Tea Party at Boston Tea Party Ships & Museums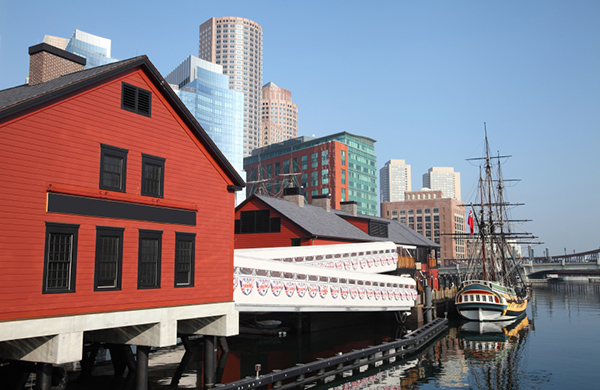 Boston is synonymous with much of America's storied history. Perhaps most importantly, Beantown rightfully claims its place as the birthplace of the American Revolution. On December 16, 1773, the Boston Tea Party officially kicked off the revolution when the Sons of Liberty tossed a taxable tea sent by the British East India Company into the Boston Harbor to protest unnecessary impositions by the Monarchy.
To pay homage to this historic event, the Boston Tea Party Ships & Museum opened in 2012 on the Fort Point Channel, giving visitors a real-life account of what actually happened in the years leading up to war. The floating museum offers daily one-hour tours that start off at the nearby Meeting House, where visitors meet Samuel Adams and listen to his speech on taxation before heading outside to Griffin's Wharf to reenact the throwing of tea crates into the icy waters.
The interactive adventure doesn't stop there. Three ships – the Eleanor, Beaver and Dartmouth – participated in the actual Boston Tea Party, and two have been authentically replicated as part of the museum's exhibits. Because of their size and scale, wide-eyed visitors can get a firsthand look at what life was like onboard the Eleanor or Beaver.
From here, guests journey into the Boston Museum for a high-tech 3D holographic video that takes them back in time. The lifelike images of colonists are projected in hologram form, and portray the vivid picture of life in Boston back in 1773. Visitors also have the opportunity to view the Robinson Half Chest, one of the actual tea chests recovered from the Boston Tea Party, and check out the dramatic movie Let It Begin Here, which recreates the events that led up to the American Revolution. End the visit at Abigail's Tea Room for a true taste of historic tea.
BY: Gayot
Gayot
GAYOT.com serves as a leading worldwide authority on the good life. Millions of readers turn to Gayot's savvy, professional reviews on dining, travel and lifestyle. From "Best of" lists and travel guides, to a searchable restaurant and hotel database, Gayot provides dependable coverage while keeping up with the latest trends and news.