Renegade Craft Fair Tests the Limits of 'Locally Handmade'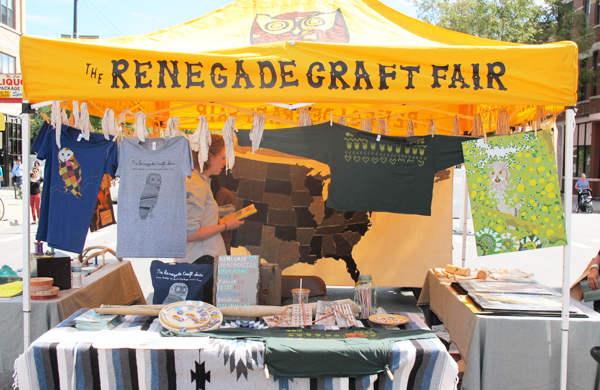 Now in its 10th year, Wicker Park's
Renegade Craft Fair
is larger than ever. On Saturday, September 7, and Sunday, September 8, the do-it-yourself indie marketplace will unite more than 350 artisans from around the world for a late-summer celebration of "all things handmade." Booths stocked with jewelry, ceramics, screen-printed postcards, and artisanal foods will likely attract tens of thousands of visitors—a number that seems at odds with the fair's historically local focus. We sat down with cofounder and director Susie Daly and sponsor-relations coordinator Mat Daly to learn about how they keep it DIY in a growing global marketplace.
GROUPON: The handmade movement has recently exploded in Chicago, but what was the climate like when you started the Renegade Craft Fair in 2003?
SUSIE DALY: In 2003, it hadn't hit mainstream culture at all. A lot of people were coming to the fair not knowing what to expect. Today, people make a trip out of it. They travel from other cities to attend, they map it out ahead of time, and [they] have their favorite artist. And a lot of the artists are now doing it full-time. They've been able to grow their business and do this cottage-industry thing. MAT DALY: It seems like it blew up so fast because the community was hungry for it, even though it didn't know it yet. There was this huge online community, and it became a way for people to make connections and see different cities.
G: In that first year, did you attract much interest from artisans based in other cities?
SD: Yeah, we had about 10 to 20 out-of-towners—some came from Olympia, Washington, and Austin, Texas. That's when we knew that we had tapped into something that didn't exist only in Chicago. That's how I came to bring the event to different cities, too.
G: Your list of cities now includes Austin, Brooklyn, Los Angeles, San Francisco, and London. Do you plan to expand to even more cities?
SD: Maybe in a couple years [we'll go to] Seattle. We get a lot of requests for Denver.
G: Do you think the event has benefited from getting more cities into the mix? Is there more diversity in terms of what people are bringing to each fair?
MD: We had one artist a few years back who made pedals that worked like a
theremin
. A theremin is a weird instrument that creates tones based on how close your hand is to it, so you can make different sounds by touching it. I want people to be doing stuff like that—really weird projects. That's the beauty of having so many creative, interesting people throwing their ideas out there. You get really cool stuff.
G: Are there any other ways in which the artisans have evolved since you've started the fair?
MD: [They've] become much more sophisticated and professional. … It's not "I'm doing this for fun" but "I'm doing this for my job." There's so much more of an online infrastructure now. It's grown exponentially in every direction—there are more people making stuff, and there are more people serving those people by selling supplies. SD: The work has grown, too. … It's refreshing to see stuff that isn't birds, owls, mustaches, and snarky jokes.
G: The fair now seems like so much more than a marketplace—you host workshops, food vendors, and even performance artists. What inspired this?
MD: At the time the event was growing, there were also all these vendors with the food-truck movement. The food thing is a DIY craft, so it fits in. The marching bands have become a big thing in the last 10 years, and they fit in well. We just love having music, food, and a bar—making a place where people want to hang out for a while. You want people to be inspired and have a good time while seeing all this awesome stuff and supporting local makers.
G: In your opinion, has Renegade played a significant role in bringing DIY crafts into the mainstream?
MD: As the popularity of the DIY ethos spreads, people are taking more risks and trying more things. Renegade is a really good window into that. It's an interesting look at human creativity crossing at so many different places.
G: Now that you've reached your 10th anniversary, where do you see yourself in five years?
SD: Hopefully, we'll have branched out to a few more cities and be working with other organizations to raise the visibility of the business and crafters. MD: The future is really bright based on what we see people making now.
Visit the Renegade Craft Fair on September 7–8. The fair stretches along Division Street between Damen Avenue and Paulina Street. Read about where to find pre- or post-festival fuel here.
Photo courtesy of Renegade Craft Fair