GROUPON GUIDE TO WASHINGTON-DC
Restore an Old Lawn Chair With These Tips from Vintage Renewal's Jeanne Connolly
BY: Will Landon |
May 30, 2014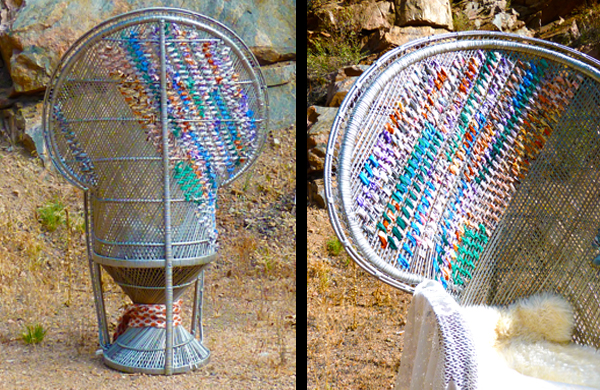 Just because Jeanne Connolly spends her days restoring furniture doesn't mean her certificate in fashion design is going to waste. On the contrary, the blogger and owner of the Colorado-based restoration studio
Vintage Renewal
draws much of her inspiration from vintage clothing and designers. She even sees a connection between the way people dress and the way they decorate: "Someone who can be daring in their wardrobe can easily be someone who can be daring in their home decor," she said. With her keen eye and outgoing nature, it's little surprise that Connolly loves teaching others just as much as she loves creating. Her main advice for an aspiring restorer is simple: think hard about why you're doing it. "There are people that just want to save money, and then there [are] people that want to make something unique. If you can pull off both, that's great." Thinking of restoring an old piece of furniture to suit your personal style? Below, Jeanne shared six tips that can help guide you along the way.
1. Be resourceful but selective.
"The old me would have thrown [any old chair] in the back of my car and [driven] it straight to my art studio," Connolly said. But these days, she's more particular. Now, a found piece has to at least have "good bones" and look like it will stand up to the "abuse that a makeover can bring," or else it's not worth her time. "I don't think I would bother with a chair that has a broken arm because that can be pretty intense to fix," she said, though she allowed that legs "usually can be replaced."
2. Choose your paint carefully.
"Most pieces—no matter what the material—need a good sanding and painting as a first step," Connolly said. For this, she uses materials that are nontoxic and easy to work with. "[Get] a good exterior latex or oil-based paint for the most durable finish," she recommended. "For a clear finish, use a [Minwax Helmsman] spar urethane. … [They] contain special UV blockers to reduce the sun's graying effects." As you go, "sand between coats to keep a smooth finish."
3. It's OK to spray.
Connolly loves the air compressor she uses for airbrushing, which produces a nice even coverage. If you choose spray cans, though, be warned: "People often misuse common spray paint and get paint clumps because they haven't shaken the can long enough. I made that mistake myself on my first spray-paint DIY. Now, I almost make a dance out of it, I shake it so long."
4. Add some fabric accents.
If you're buying new, Connolly recommends fabrics from
Sunbrella
. But one of her favorite finds was some "amazing vintage vinyl" she found at a "weird surplus shop." She even turned to clothing to put the finishing touches on her peacock chair (pictured above). "I used vintage scarves to create the design on the back," she said. "[They've] withstood two mountain seasons outdoors. The paint needs to be touched up [due to] the elements, but the scarves are in fantastic shape."
5. Get weird with patterns.
"We've been coming out of a real floral rage, and I love me some floral, but I'm excited for more tribal, geometric patterns," Connolly said. "There are a lot of things that are supersimple [and] in style, [like] an arrow or triangles." An easy way to achieve the effect: potato printing, which is "taking an actual potato and, like a stamp, [carving] out the part you don't want to print."
6. Sealing is essential.
"Always use a protective coat on your outdoor furniture," Connolly said. "If you have a chair [outside or] by a window, you can easily get fading." To keep your fabric from suffering similar weather damage, use protective sprays. Connolly recommends high-end
303 Fabric Guard
or a less heavy-duty spray like
this one
by Scotchgard, both of which provide stain and water resistance. Ultimately, though, the best way to preserve a cushion is to take it inside between uses.
Like what you saw at the top of this article? See how Jeanne completed that project here. And make sure your yard is as beautiful as your restored patio furniture with lawn and garden deals in your city.
Photo courtesy of Jeanne Connolly
BY: Will Landon
Will Landon is a Chicago-based writer who sings punk rock songs with the Blue Ribbon Glee Club and occasionally works for free as an assistant stage director.