Reunited, Failure Still Dabbles in Space Rock and Sci-Fi
BY: Dan Caffrey |
May 2, 2014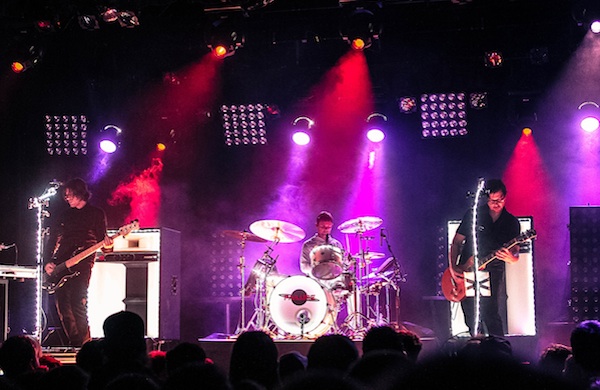 Failure
is the
Deadwood
of rock bands, having frustratingly ended just as they were approaching the peak of their powers. The band's third and final album, 1996's
Fantastic Planet
, is by far their best, melding the serrated drone of grunge with the checked-out tunefulness of space rock, despite not quite fitting into either of those genres. Luckily for fans, Failure's original trio of vocalist/guitarist Ken Andrews, bassist Greg Edwards, and drummer Robert Gauss have reunited for a North American tour and a new album that Andrews expects will be out "by the first quarter of next year." We checked in with the frontman about the usual topics: space rock, science fiction, and sharing baby photos with Tool.
GROUPON: How do you guys feel about the term "space rock"? Fantastic Planet got slapped with that title when it came out, and I know some bands hate being boxed into such a specific genre.
KEN ANDREWS: I don't think it totally sums up the band, but at the same time, I kind of welcome it. At the time, when we were together, it didn't exist. People didn't know what to call us, and that was a little bit of a problem for people, especially some [of the] press. Some people would flat-out say we were grunge, even though we knew that we weren't and most of our fans knew that we weren't. So I almost feel like "space rock"…although it wasn't invented as a genre just for us, it almost needed to be coined in order to genre-ize bands like Failure.
G: Are you a science-fiction fan?
KA: Oh, yeah. We're all huge science-fiction fans. When writing
Fantastic Planet
, we were watching a lot of sci-fi movies. It definitely informed that album aesthetically.
G: What are some of your favorite sci-fi films?
KA:
2001: A Space Odyssey
would definitely be in there. Actually, on this tour, we're going to do what we did at the first show we played in 16 years, at the
El Rey
back in February. We did an intro film instead of [having] an opening band. We took scenes from some of our favorite movies—a lot of them being sci-fi—and just strung them together. There are scenes from
2001: A Space Odyssey
,
Fantastic Planet
, and
Solaris
—the original Tarkovsky one.
G: Not the George Clooney remake?
KA: I
like
the George Clooney one! [
laughs
] I thought it was cool. I thought [the ideas] in that movie were the same as the original.
G: So, do the lights go down so the audience can focus on the film like they would an opening band? Or is it just something that plays in the background?
KA: No, you focus on it. We want people to watch it. The way it transitions from the last film element into us playing is seamless.
G: You were a film major in college before Failure got signed. When was the last time you did any kind of behind-the-camera work? Did you abandon it once Failure took off?
KA: No, I've definitely dabbled over the years since Failure started. I co-directed and came up with the original concept for the "Stuck On You" video. And I edited the Tool video [for
"Prison Sex"
] with [Tool guitarist and visual artist] Adam [Jones] back in the day.
G: You guys recently toured with Tool, which was a reunion in itself.
KA: Oh yeah, like crazy. We've been playing shows with Tool since 1990. We were joining forces before either of us got signed. Then we saw each other at social stuff here and there, but for the most part, we lost touch with each other. So it was awesome to get back together with those guys and fully experience the crazy arena-rock thing they are now.
G: Backstage, are you guys all pretty laid-back these days?
KA: Oh, yeah. Everyone's older. The guys in Tool have been doing this now for a long time. They have their routine of what they like to do, but we got some hang-time with them. It was good to catch up and share baby photos [
laughs
].
Failure plays the Metro (3730 N. Clark St.) on Thursday, May 22, at 7:30 p.m. Tickets are $29 and can be purchased here. You can catch them on tour through June 19.
BY: Dan Caffrey
Guide Staff Writer
Outside of Work, Dan is a playwright, Senior Staff Writer for Consequence of Sound, and contributor to The A.V. Club.