20 Questions with Chef Rocco Dispirito
BY: Mae Rice |
Feb 25, 2015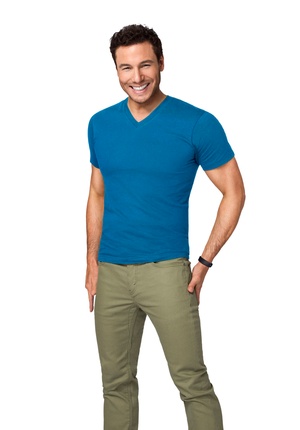 In his latest book, Cook Your Butt Off, chef Rocco Dispirito proposes a life hack—one much better than the usual "wear your sweatpants as a scarf." Instead, the New York Times–bestselling author proposes turning cooking into a workout, a system he calls "Cardio Cooking." His book brims with tips on keeping your heart rate up while you cook, as well as his signature healthy and delicious recipes.
This book is far from Rocco's first foray into the world of cooking. He's been a mainstay of culinary TV for years, and he's also written 10 other acclaimed cookbooks (in fact one of his early books, Flavor, won a James Beard Award).
Below, we ask the accomplished chef 20 rapid-fire questions about food, fitness, and his flawless V-neck T-shirts.
20: Cook Your Butt Off emphasizes exercising while cooking. But what's a type of workout you do not recommend incorporating into your cooking routine?
I would avoid burpees, jump squats, and kettlebells while sautéing chicken!
19. The cover of Cook Your Butt Off references "fat-burning foods." What are some fat-burning foods?
Eggplant, chilies, and quinoa.
18: Celebrities like Sherri Shepherd and Whoopi Goldberg follow your Pound a Day diet. What was first meeting them like? Do you ever get starstruck?
Of course I do. I did with both Whoopi and Sherri.
17: You've appeared on The View and Good Morning America. Do you have any fun behind-the-scenes stories from morning TV?
Once my mother gave Diane Sawyer a bear hug, because she is such a fan.
16. How about stories from Millionaire Matchmaker, where you guest-starred and cooked a meal?
It turns out Patti is a really good cook!
15. When one of your books appears on the New York Times bestseller list—as at least three of yours have—how do you typically find out?
My editor calls me the minute they get the word.
14. And how do you celebrate?
Champagne, always.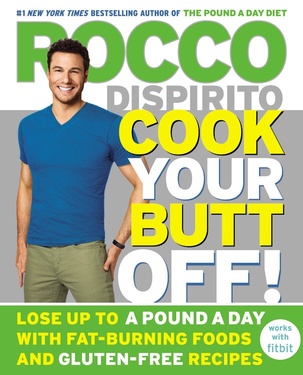 13. You're a weight-loss coach as well as a chef, author, and TV personality. What do you do to keep your clients motivated on their weight-loss journeys?
I keep them accountable on a daily basis by tracking their weight loss and calorie burn, using Fitbit and the Aria scale. [The Aria scale measures weight, but also BMI, lean body mass, and other metrics.]
12. Visitors to your website will find recipes for lasagna, bacon-wrapped, and other foods that aren't classically "healthy," that you've reimagined into low-calorie dishes. Which dish are you hoping to reinvent next?
I am working really hard on cholent [a slow-cooked Jewish stew] at the moment.
11. What's a dish or snack you love that doesn't need reinventing—it's just innately healthy?
Any vegetable.
10. If you could only give one cooking tip to someone trying to lose weight, what would it be?
Purge sugar from your life like that longtime boyfriend who keeps borrowing money from you.
9. If you could only give one fitness tip to someone trying to lose weight, what would it be?
Wear a Fitbit and track your activity.
8. What would you say to someone who finds vegetables just plain gross?
Let me cook them for you.
7. How did you first get interested in cooking with weight loss in mind?
I had a wake-up call after a doctor's visit, and vowed to change my diet.
6. If you could go back in time, what advice would you give to yourself when you were just starting out as a chef?
Be more patient, and stay curious.

5. When it comes to food, what's your biggest guilty pleasure?
A grandma-style pepperoni pizza.
4. What's your favorite chain restaurant?
3. What's your favorite restaurant, period?
Hard to say. I go to Balthazar a lot, though.
2. This is old news, but in 2002, you were named the Sexiest Chef Alive by People. How did that affect your relationships with ... other chefs?
They never mentioned it, so I'm not sure they even saw it.
1. In all of your press photos, you're wearing V-neck T-shirts. Where do you get them? Why do they look so much better than other T-shirts?
You're kidding, right? They are 2(x)ist, and I usually buy them at Bloomingdale's.