Rock-and-Rollers the Boogers Handpick Songs for Kids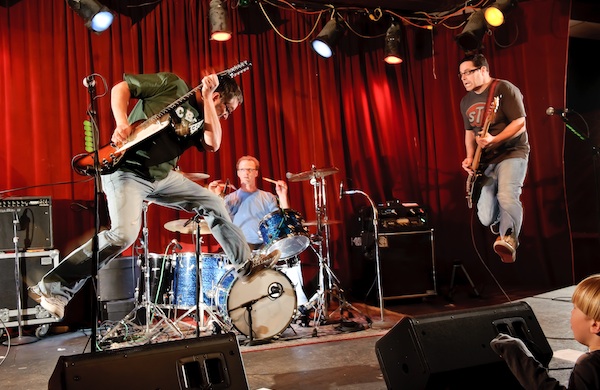 A Chicago punk rocker offers a rough-edged alternative to Barney. Kids learn, parents rejoice, everyone wins.
Three experiences prepared Dr. Paul Crowe for his current musical venture: earning a PhD in developmental psychology, becoming a father, and opening for Dee Dee and Marky Ramone. Shake it all together like a bottle of punk-rock baby formula and you wind up with Crowe's alter-ego: Crusty Booger.
Crowe—or Crusty, rather—is the frontman of the Boogers, a band that describes itself as "the Wiggles' worst nightmare." Their power-chord-heavy brand of rock draws as much from Crowe's years in dingy punk clubs as it does from his recent background in childhood development. Though unconventional, to say the least, the combination has racked up awards and earned the Boogers praise from NPR's All Things Considered.
Though they might sound rough around the edges, the band's call-and-response songs wouldn't be out of place in a classroom. They help kids master conversational skills, teach them how words are built through rhyming, and encourage them to dance with a speedy, steady tempo. But the biggest perk for parents may be that the sound strays far, faraway from the sugary-sweet confections offered by other children's artists. This is undoubtedly rock-and-roll—but instead of "I Wanna Be Sedated," you get "I Just Wanna Play." (Sunday, March 2, at 12 p.m. All ages, naturally. $6; get tickets here)
Photo: Peter Wochniak