Rock, Paper, or Scissors: How to Crush Any Opponent
BY: Tyler Clark |
May 2, 2014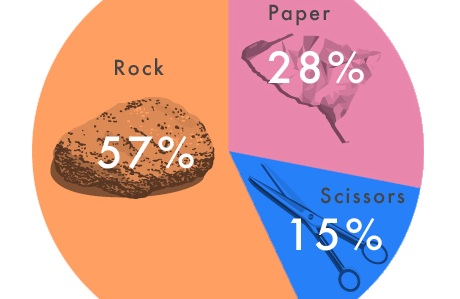 Rock, Paper, Scissors. As one of humanity's oldest games, it's been used to settle everything from disputes over who gets the last piece of pizza to who has to take out the week-old bag of fetid garbage. Researchers at Zhejiang University just released a
study
to help determine how you should strategize  your second and third throws, but they couldn't help you figure out what to throw first. Recently, we asked thousands of people from 56 cities a simple question: rock, paper, or scissors? More than 17k weighed in, and their answers may surprise you.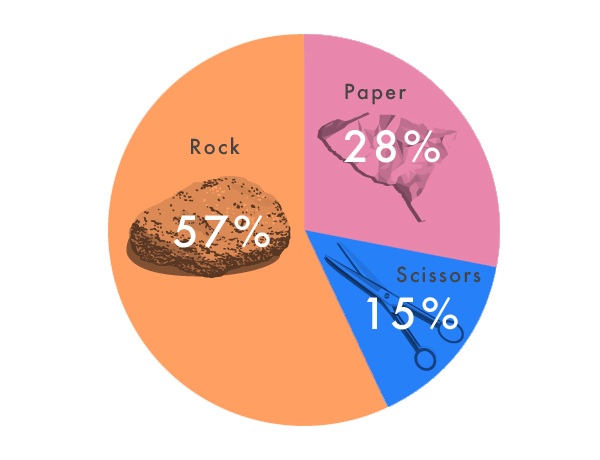 Rock: Hard to beat? Hardly.
According to our poll, rock comes first in the game's name for good reason. A stone's throw swept the first-place rankings in all 56 cities, with support topping out at a staggering 67% in central New Jersey (call it the Bon Jovi effect). Seventeen other cities registered support at or above 60% for the hard stuff.
Scissors: Not the Sharpest Choice
The results weren't kind to everyone's favorite paper slicer. Scissors performed dismally across the board, only earning 15% support survey-wide. Although residents of Rochester, NY, picked scissors second with 25%, the twin blades only crack 20% in two other cities (Charlotte, NC, and Albany, NY), and dip below 10% twice (in rock-crazy Raleigh-Durham, NC, and Miami). With rock cruising to an easy victory and scissors barely making the cut, that means…
Paper: A Page from the Winning Playbook
If you want to win a round of rock, paper, or scissors, think like the good folks of Indianapolis. At 37%, the Circle City gives paper its highest level of support, and it's a smart move. With rock skyrocketing and scissors languishing near the bottom of everyone's list, our stats indicate that a throw of paper almost guarantees a win or a tie. According to the averages, throwing paper would result in a loss only 15% of the time. Now that we have solved the mystery of how best to play RPS, next up: how to come out on top when you are challenged to a round of heads or tails.
Illustration: Dav Yendler.
BY: Tyler Clark
Tyler is a writer, storyteller, and musician from Chicago. His stories have appeared on stage at shows including Mortified, Story Club, and Lethal Poetry.