Rolling Oldies: Chicago's Oldest Bowling Alleys
BY: Emily Wachowiak |
Apr 24, 2013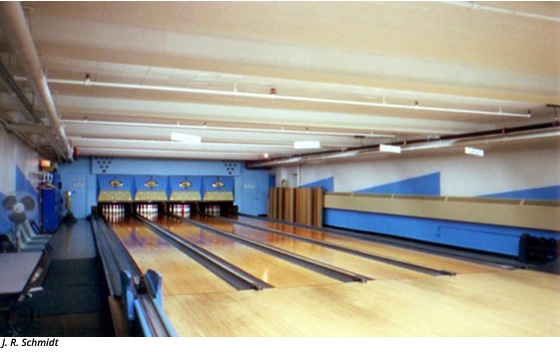 Bowling historian
J. R. Schmidt
doesn't just remember pinboys from old articles and photographs—he actually tried his hand at the job himself in the late 1950s. Around the age of 12, he and his friends begged the owner of
Irving Park Bowling Lanes
(which still stands today) to let them set pins before the alley switched over to automatic pinsetters. After only a few afternoons, he wasn't sad to see the job go. "[It was] a very difficult job, and it didn't pay very much," he remembered during our interview. A fifth-generation Chicagoan and a lifelong bowler, Schmidt has a nearly encyclopedic knowledge of Chicago's bowling alleys, past and present. I asked him to walk us through several local bowling centers that have stood the test of time, and he shared his insights into the sport's history along the way.
The four-lane bowling alley in the basement of St. John's Lutheran Church.
Southport Lanes | Lakeview
Likely the only place around where you have to keep an eye out for legs at the end of the lane, Southport Lanes still employs human pinsetters. Though the games might move a little slower, bowlers can sample more than 30 on-tap beers while they wait for the staff to clear out fallen pins or nudge 7-10 splits just a few millimeters closer together for an extra fee. The 90-year-old, four-lane alley also harkens back to its speakeasy roots with its original wooden bar, a billiards area, and a vintage mural featuring scantily clad women, perhaps a nod to the brothel that once occupied the second floor. Although the lanes are only available by advance reservation, Schmidt noted that Southport avoids the hazards of the pinboy heyday—an "unreliable workforce." "There was always a labor problem," he said, "If the pinboys didn't show up, then who's going to set pins?" The sport was also subject to whims of current events: during World War II, many alleys experienced a pinboy shortage. Thankfully, the invention of automatic pinsetters in the 1950s negated the need for pinboys and led to what Schmidt calls "the first big boom in bowling." Despite technological advances, Southport carries on the pinboy tradition and invites bowlers to thank these diligent pinsetters by stuffing tips into the holes of their bowling balls before rolling them—slowly—down the lane.
Timber Lanes | North Center
Many old bowling alleys still rely on manual scoring, and Timber Lanes is no exception. The eight-lane center dishes out pencils and scoring sheets, but novice bowlers shouldn't feel intimidated. Schmidt recalled some professional bowlers who "never had to keep score in their life" before joining a Professional Bowlers Association tour, where they had to learn to tally and check for errors. The Timber Lanes staff is more than happy to explain scoring basics before bowlers roll their first ball down the center's real wood lanes (another relic of a bygone era—most modern lanes are synthetic). Boasting a full bar, Timber Lanes is yet another Chicago alley that's not shy about championing its purported speakeasy past. In fact, the space didn't acquire its first lanes until 1945. This doesn't surprise Schmidt, who notes that beer has always gone hand-in-hand with bowling. "When Prohibition ended," he noted, "one of the ways the breweries tried to get back in business was sponsoring bowling teams all over the place." During the 1950s, the Budweisers of Saint Louis were considered one of the greatest professional teams, and Chicago breweries followed suit with teams sponsored by Tavern Pale and Meister Brau. Timber Lanes carries on its own league tradition with amateur men's, women's, and mixed leagues rolling nightly.
St. John's Lutheran Church | Portage Park 
A far cry from Chicago's profusion of speakeasies-turned-alleys, St. John's represents a more wholesome side of bowling history. Built in the 1920s, St. John's four-lane basement bowling center was by no means an anomaly. Schmidt estimates that hundreds of church alleys may have once dotted the Chicago landscape, though that number dwindled to about two dozen by 1960—many of them tucked inside Lutheran churches. Although this may be a tribute to Martin Luther himself, whom Schmidt joked might have been "history's first celebrity bowler," a far more likely reason is that many early bowlers in the United States were Lutherans from Germany, which is considered the birthplace of the sport. Regardless of its origin, the St. John's bowling center tops Schmidt's list of historic Chicago alleys, and he once described it as "the most distinctive tenpin facility in Chicago" in
Bowlers Journal International
. The cozy space, which is available only for private parties, features automatic pinsetters (lovingly maintained by devoted parishioners) and manual scoring.