Root-Beer Floats—in Quotes
BY: Melanie Faetz |
Jun 4, 2013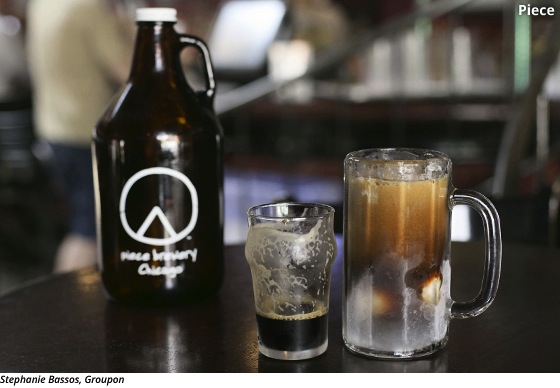 Whether you want to indulge like a Beatle or buzz like a drunken bumblebee, Chicago has a root-beer float—title used loosely—to make it happen.
If You're Feeling Nostalgic
Anna Held Florist and Soda Fountain Cafe | Edgewater
Located on the first floor of Chicago's historical Pink Building, built in 1916, this combined flower shop and ice-cream parlor is also one part sentimentality. Gifts, knickknacks, and blooms decorate the space, but the main attraction for any dessertist stretches across the left wall—an old-fashioned soda fountain where jerkers mix scoops of Homers vanilla ice cream and Barq's root beer in perfect proportion.
Margie's Candies | Bucktown
Margie's Candies opened in 1921, and not much has changed since. Visitors to the vintage corner shop can grab a foam-topped root-beer float at the counter before sliding into a mustard-hued booth—perhaps the same one where the Beatles or Al Capone once enjoyed their Margie's treats.
If You Make Your Cheese Sandwiches on Artisan Bread
Au Cheval | West Loop
From its scrambled eggs with foie gras to its fried housemade-bologna sandwiches, Au Cheval does diner food better. The same holds true for its desserts and drinks—for a combo of the two, try the root-beer float made with Berghoff root beer, fresh from the tap, and malted vanilla gelato from the local
Black Dog Gelato
.
If You Want to Buzz Like a Summer Bee
Boiler Room | Logan Square
Tucked beneath the L's California Blue Line stop, the Boiler Room draws in thirsty crowds daily with its PB&J special: a slice of pizza, a PBR tallboy, and a shot of Jameson for $7.50. Do something different—but still get two drinks in one—by ordering a boozy float made with Left Hand Brewing Company's Milk Stout Nitro and house Jameson ice cream.
Piece | Wicker Park
After a couple slices of thin, New Haven–style pizza and a sampling of Piece's award-winning microbrews, keep the feast going with a slightly fruity float made with framboise and vanilla ice cream.
25 Degrees | Near North Side
A trio of "adult" floats help to wash down the gourmet burgers on 25 Degrees' menu. The Beam 'n' Beer spikes IBC root beer and vanilla ice cream with Jim Beam rye; the Ruby Red blends Bruce Cost ginger ale with Pama-hibiscus syrup and vanilla ice cream; and the Orange Whipped hides a mix of Crush soda, Grand Marnier, and vanilla ice cream under a thick swirl of whipped cream.
If You Think Ice Cream Gets in the Way
Standard Bar & Grill | Wicker Park
Whether you're celebrating a team win or trying to forget about a loss at this sports bar, sometimes Miller Lite is a little too Miller Lite-y. That's when the root-beer float cocktail steps in with its satisfying blend of root-beer vodka, cream, Frangelico, and Coke.
The Solstice | Lincoln Park
The Root Beer Float is just one of the numerous creative martinis on the menu, along with the Carrot Cake martini, the Peanut Butter Cup martini, and the Key Lime Pie martini.